---
FAST FACTS HAWAII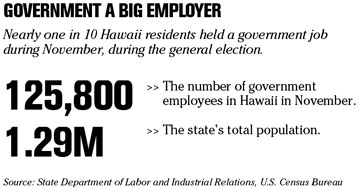 ---
NATION / WORLD
Verizon to allow ads on cell phones
Verizon Wireless
, among the nation's most widely advertised brands, is poised to become the advertising medium itself.
Beginning early next year, Verizon Wireless will allow placement of banner advertisements on news, weather, sports and other Internet sites that users visit and display on their mobile phones, company executives said.
The development is a substantive and symbolic advance toward the widespread appearance of marketing messages on the smallest of screens. Advertisers have been increasing the amount they spent on mobile marketing, despite lingering questions about the effectiveness of ads on portable phones.
Verizon officials said their initial foray would be a cautious one -- they will limit where ads can appear, and exclude certain kinds of video clips.
JAL to raise international airfares
Japan Airlines Corp.
, Asia's biggest carrier by sales, said it will increase domestic fares as much as 5.6 percent due to high fuel costs.
Japan Airlines will increase the domestic fares during the period of April 1 to Sept. 30 next year, it said in a statement today. It has applied to raise international fares by as much as 7 percent.
The airline said it expects high fuel prices to continue into the future. The increase is the third time the carrier has raised domestic fares since January 2005.
Japan's jobless falls to 8-year low
Japan's inflation rate rose last month and the jobless rate unexpectedly fell to an eight-year low, backing the central bank's case that the lowest interest rates among major economies need to rise.
Core consumer prices, which exclude fresh food, climbed 0.2 percent from a year earlier, the statistics bureau said today in Tokyo. The unemployment rate dropped to 4 percent from 4.1 percent in October, the bureau said in a separate report.
Bank of Japan Governor Toshihiko Fukui said yesterday that recent inflation and consumer spending information has been "somewhat weak" and the bank should examine more data before deciding whether to raise rates. Today's numbers also showed household spending fell at the slowest pace this year, keeping alive the possibility the bank may take action next quarter.
Iran may run out of oil by 2015
WASHINGTON » Iran is suffering a staggering decline in revenue from its oil exports, and if the trend continues income could virtually disappear by 2015, according to an analysis published yesterday in a journal of the National Academy of Sciences.
Iran's economic woes could make the country unstable and vulnerable, with its oil industry crippled, Roger Stern, an economic geographer at Johns Hopkins University, said in the report and in an interview.
Iran earns about $50 billion a year in oil exports. The decline is estimated at 10 percent to 12 percent annually. In less than five years exports could be halved and then disappear by 2015, Stern predicted.
For two decades, the United States has deployed military forces in the region in a strategy to pre-empt emergence of a regional superpower. Iraq was stopped in the 1991 Persian Gulf War, but a hostile Iran remains a target of U.S. threats.
---
BUSINESS PULSE