SHERATON HAWAI'I BOWL
1
National ranking in points scored and yards per game
8
Games in which Adam Leonard had 10 or more tackles
10
Passing yards for Colt Brennan to reach 5,000 for season
1992
Only Hawaii team with 11 wins. Current team has 10
Picture of perfection
Samson Satele has been a fixture in the starting lineup for 53 games
They say there are no statistics to evaluate offensive linemen. That's not completely true -- even when you toss out pancakes and decleaters, which were created by desperate team publicists.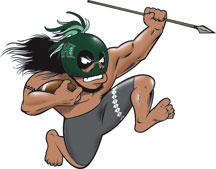 Most linemen don't care about numbers, anyway. Samson Satele, however, leads the nation in one important stat (not to even mention that the offense he plays on leads Division I in yards and scoring). Today's start in the Sheraton Hawaii Bowl gives him 53 for his career. It's the most for anyone now in college football.
It also means a career of perfect attendance in the starting lineup for the strongman from Kailua, who has received All-WAC recognition the past four seasons.
Satele said he is proud of the streak, but conceded that it pales compared to the kind of durability players at the next level display.
"I think about it, and that's a lot," said Satele, who also realizes the record is aided by the fact that UH plays one more game than most other college teams each season. "But you think about the NFL, and those guys, Olin Kreutz and them, are up to a hundred something. So my streak is just a little JV thing compared to theirs."
Satele's streak is more impressive considering he is a lineman, and is involved in contact nearly every play. It's not a question of if the trench-dwellers will get hurt, but of how much pain they can tolerate, and how quickly they can recover.
Satele said he had one close call.
"One time (in 2004) I got hurt during a game. The next week I was feeling sore on Wednesday," said Satele, whose string remained intact despite shoulder surgery. "But then came Friday, Saturday, and the lights came on. So I just told Coach I could play."
Playing with pain is part of being a leader, and Satele -- the offensive team captain this year -- has been considered a leader since his freshman year.
"His play on the field makes it just natural," senior right tackle Dane Uperesa said. "People look to him to make plays. Especially now that he's the center. He makes all the calls and he's the most vocal one on the field, because he has to be.
"He's taken it upon himself to not only make calls, but to make sure we're ready to go every time we hit the field. We always talk about scoring every time we get on the field, every possession we have. He echoes that to us, the receivers and to (quarterback) Colt (Brennan)."
Satele -- who played tackle and guard until this year -- could have gone into the NFL Draft after last season. He decided to return for his senior year and play center. Now that he's getting ready to enter the pros he's been keeping an eye on Kreutz, the Bears' perennial All-Pro from Saint Louis School.
"Since he plays center, I watched him a lot this past season in the NFL and learned a lot just watching him on TV. He's so explosive off the ball, he's the best center in the NFL," Satele said. "Technique covers everything. He has a lot of power, too, a lot of strength. When you have good technique like Olin, everything else comes easy."
---
Ones to watch
The Warriors are tops in the nation in total offense
(15) Colt Brennan
Quarterback
Junior | 6-3 | 196
Greatest season in school history for an offensive player capped by WAC Player of the Year nod, sixth place in Heisman Trophy voting and numerous other honors.
(7) Davone Bess
Receiver
Sophomore | 5-10 | 195
Led team in receiving for second year in a row. ... Fifth in nation with 7.0 receptions per game. ... 10 or more catches three times in 2006.
(4) Nate Ilaoa
Running Back
Senior | 5-9 | 254
Rushed for 159 yards in Purdue win. ... Leads team with 1,674 all-purpose yards. ... Tops squad with 18 touchdowns.
(98) Melila Purcell
Defensive End
Senior | 6-5 | 276
Led UH with 13.5 tackles for loss and 7.5 sacks. ... Topped WAC and 28th in nation with four forced fumbles. ... Three sacks and QB KO against New Mexico State.
---
Team at a glance
Offense
Bold
denotes probable starters
NO.
NAME
HT.
WT.
CL.

QB

15
Colt Brennan
6-3
196
Jr.

6
Tyler Graunke
6-0
202
So.

RB

4
Nate Ilaoa
5-9
254
Sr.

21
Reagan Mauia
6-0
296
Sr.

X

84
Jason Rivers
6-2
192
Jr.

88
Chad Mock
6-0
177
Sr.

H

7
Davone Bess
5-10
195
So.

5
Michael Washington
5-7
165
So.

Y

1
Ryan Grice-Mullins
5-10
179
So.

82
Ross Dickerson
5-10
198
Sr.

Z

3
Ian Sample
5-10
196
Sr.

89
Malcolm Lane
6-1
181
Fr.

RT

72
Dane Upersa
6-4
310
Sr.

62
Keith Ah-Soon
6-1
294
So.

RG

55
John Estes
6-2
290
Fr.

73
Larry Sauafea
6-2
313
Jr.

C

64
Samson Satele
6-3
298
Sr.

60
Marques Kaonohi
6-1
273
Sr.

LG

65
Hercules Satele
6-2
288
Jr.

77
Aaron Kia
6-4
283
Fr.

LT

70
Tala Esera
6-4
308
Sr.

78
Keoni Steinhoff
6-3
269
So.
Defense
Bold
denotes probable starters
NO.
NAME
HT.
WT.
CL.

DE

98
Melila Purcell
6-5
276
Sr.

91
Ikaika Alama-Francis
6-6
285
Sr.

94
David Veikune
6-3
258
So.

97
Renolds Fruean
6-4
276
Sr.

NT

67
Mike Lafaele
6-0
302
Jr.

99
Lawrence Wilson
6-1
291
Sr.

LB

26
Micah Lau
5-9
218
Jr.

41
Solomon Elimimian
6-0
224
So.

44
Adam Leonard
6-0
236
So.

8
Tyson Kafentzis
6-1
230
So.

33
C.J. Allen-Jones
6-1
224
So.

28
Erik Pedersen
6-0
197
Fr.

10
Timo Paepule
6-2
255
Jr.

53
Blaze Soares
6-1
224
Fr.

C

23
Gerard Lewis
5-9
168
Jr.

9
Ryan Keomaka
5-10
173
Jr.

FS

42
Leonard Peters
6-1
211
Sr.

30
Dane Porlas
5-10
179
So.

SS

31
Jake Patek
6-0
202
Sr.

20
Michael Malala
6-2
209
Sr.

C

38
Myron Newberry
5-8
164
Jr.

34
A.J. Martinez
5-10
179
Jr.
Special Teams
Bold
denotes probable starters
NO.
NAME
HT.
WT.
CL.

P

25
Kurt Milne
6-0
205
Sr.

PK

86
Dan Kelly
6-3
202
So.

40
Briton Forester
5-9
171
Fr.

PR

38
Myron Newberry
5-8
164
Jr.

7
Davone Bess
5-10
195
So.

KOR

89
Malcolm Lane
6-1
181
Fr.

82
Ross Dickerson
5-10
198
Sr.

LS

57
Jake Ingram
6-4
268
So.

H

11
Inoke Funaki
5-11
195
Fr.

SS

57
David Farmer
6-0
231
So.