SHERATON HAWAI'I BOWL
Dancing with the Devils
Hawaii and Arizona State will battle at Aloha Stadium in the Sheraton Hawaii Bowl on Christmas Eve
When Hawaii plays Arizona State today, the nation's most productive offense goes against one of the Pac-10's more talented defenses.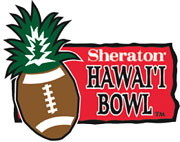 The Sheraton Hawaii Bowl also offers a matchup of two of the country's most colorful slogans.
The Warriors' is "E'o na toa, eo na toa, e." Rough translation: "This is battle, you must respond."
The Sun Devils respond to "Answer the Scratch." That one has had people scratching their heads all season.
Sheraton Hawaii Bowl
Who: Arizona State vs. Hawaii

Kickoff: 3:05 p.m.

Where: Aloha Stadium.

Tickets: $10-$45. Available online at SheratonHawaiiBowl.com or by calling 548-BOWL (2695).

TV: ESPN.

Radio: 1420-AM
Ian Scheuring, an ASU freshman tackle from Radford, explained that it comes from old-time dog fighting. The "scratch" was the line the dog had to go to fight in the next round. Dogs that had enough and didn't want to fight anymore did not go to the line, failing to "answer the scratch."
"It's basically about not giving up," Scheuring said.
"To me it means you fight to the end," junior tight end Zach Miller said. "You never give up. You're always giving it your all every play. You're going to die on the field. Just playing your butt off."
The biggest question for the Sun Devils today is if they will answer the scratch one more time for a coaching staff that won't be around next year to prescribe bear crawls if they don't. Do they love Dirk Koetter and his assistants enough to lay it all out, or does today's game become just the extension of a laconic week at the beach?
For the Warriors, motivation stems from several sources, including a potential climb back into the Top 25, a perch they attained while winning nine games in a row; but UH (10-3) is coming off its only home loss of the season.
Coach June Jones and the underclassmen want to send the seniors out winners, and the seniors want to keep the momentum going for next year -- whether Heisman candidate Colt Brennan is in the fold or in the pros.
PREGAME BOWL activities have always had a bit of boxing weigh-in aspect to them, with a combustible combination of tension and testosterone floating around and needing just a little spark to turn camaraderie into chaos. Usually the cooler heads prevail and things remain peaceful until kickoff.
The haka -- the aggressive go-to-battle dance that Hawaii and other teams with Polynesian players have incorporated as pregame ritual -- adds another flammable element to the mix.
Last week, Oregon and BYU players nearly scuffled on Fremont Street in Las Vegas when some of them took the haka a little too seriously.
But UH safety Leonard Peters -- a gentleman off the field, a monster on it -- said the Warriors' haka is more about firing themselves up and defending their turf than challenging the opponent.
"It's kind of like, 'If you pass this line, this will happen to you,'" Peters said.
Here, at the bowl banquet the other night, jawing and posturing resulted in no physical contact.
But the message was clear.
Come today at Aloha Stadium, it will be "E'o na toa, eo na toa, e" and "Answer the Scratch."
The battle lines are drawn.
What to look for
Conference credibility is among the things at stake today when Hawaii and Arizona State meet in front of a national TV audience. UH is favored by more than a touchdown
Overview: The Sun Devils (7-5) were 4-5 in the Pac-10, and the Warriors (10-3) went 7-1 in the WAC.
The teams have played each other six times, Hawaii winning once -- in their last meeting, in 1979.
Arizona State has won bowl games the past two years. Hawaii is 3-1 in postseason games since June Jones became coach in 1999, including the Oahu Bowl that season. UH lost the 2002 Hawaii Bowl to Tulane, and beat Houston and UAB in 2003 and 2004.
The layoff between the end of the regular season and the bowl didn't affect the UH offense in those games, as it scored 54 and 59 points.
"We take a week off, and then we have more than enough time to get back into rhythm with what we're doing. I think we've maintained it pretty well," Jones said.
Also, the Warriors are the healthiest they've been all season.
"We've got a couple guys with nagging stuff, but I think all-in-all we're healthy," Jones said.
Arizona State's Dirk Koetter is coaching his last game after being fired last month. He hasn't lost his sense of humor despite being a touchdown-plus underdog.
"We're bringing out Dean Smith and going four corners," Koetter said, when asked about stopping Hawaii's offense, which leads the nation in scoring and total yards.
When Hawaii has the ball: QB Colt Brennan is one touchdown pass away from David Klingler's record of 54 in one season. Brennan said he will likely return for his senior season, but this could still be his final game as a Warrior.
WR Jason Rivers had two of his best games in Hawaii bowls, combining for 18 receptions, 291 yards and four TDs in the 2003 and 2004 games.
He and SB Davone Bess, the top receiver, are just two of a half-dozen viable targets for Brennan's passes.
Arizona State has 31 sacks, with DE Dexter Davis leading the way with five, and UH allowed six against Oregon State on Dec. 2. The Sun Devils defense was ranked 114th nationally in yardage allowed in 2005, and improved to 27th this year.
Senior CB Keno Walter-White, junior CB Chris Baloney and freshman S Ryan McFoy have returned interceptions for touchdowns for ASU.
When Arizona State has the ball: The Sun Devils have a balanced attack featuring TB Ryan Torain, who rushed for 1,069 yards and is third in the Pac-10 with 89.1 per game.
TE Zach Miller is also a vital cog, for the running game and as the team's leading receiver.
QB Rudy Carpenter hasn't been as consistent as he was last year, but he is capable of big games.
Two key UH defenders are the healthiest they've been all season: NT Mike Lafaele and FS Leonard Peters could be poised for big games.
Special teams: UH's Dan Kelly missed two field-goal tries in the Warriors' 35-32 loss against Oregon State on Dec. 2.
ASU's Terry Richardson averages 33.6 yards per kickoff return. He and UH's Ross Dickerson both have 100-yard runbacks this season. Dickerson has two in his career.
Bess started returning punts in the Purdue game, and is averaging 17.2 yards per runback.
---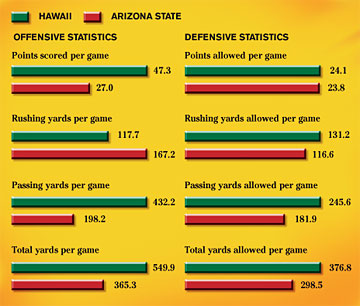 ---
Statistical Leaders
RUSHING



ATT
YDS
AVG.
TD
LONG
AVG/G

Hawaii

Nate Ilaoa
113
893
7.9
13
38
74.4

Colt Brennan
79
351
4.4
5
30
27.0

Arizona State

Ryan Torain
205
1,069
5.2
6
40
89.1

Keegan Herring
91
540
5.9
6
65
45.0
PASSING



COMP
ATT
INT
TD
YDS
LONG


Hawaii

Colt Brennan
373
517
11
53
4,990
63

Tyler Graunke
32
43
0
4
501
62


Arizona State

Rudy Carpenter
171
306
14
21
2,332
62

Danny Sullivan
6
15
0
0
46
27
RECEIVING



REC
YDS
YPR
YPG
TD
LONG

Hawaii

Davone Bess
91
1,155
12.7
88.8
14
49

Jason Rivers
58
870
15.0
66.9
8
62

Arizona State

Zach Miller
49
481
9.8
40.1
4
23

Michael Jones
15
246
16.4
20.5
2
50
DEFENSE



SOLO
ASSISTS
TOTAL
TFL
SACK
INT

Hawaii

Adam Leonard
59
49
108
3.5-9
1-2
1-5

Solomon Elimimian
45
36
81
2-.5
0-0


Arizona State

Josh Barrett
51
23
74
7.5-17
1-2
2-40

Beau Manutai
39
21
60
5.5-13
1-3
0-0