DRAWN & QUARTERED
Manga magic
Two series add a splash of fantasy to students' lives
As I wrote in our "Drawn & Quartered" column last month, high school sure is a tough place, having to deal with teachers, bullies, tests, teen crushes and, most of all, your own insecurities.
But that's nothing compared with what kids who have magic powers have to go through when they attend special magic schools: teachers, bullies, tests, crushes and insecurity.
So they might not be so different after all. Well, there's always the strict government regulation, and the ostracizing and labeling that comes from attending a particular school known for a certain trait ...
Oh, wait. Never mind.
In any case, the "magic school" subgenre of Japanese manga simply adds another way in which teens can feel bad about themselves or gloat about their superiority.
In "Psychic Academy," by Katsu Aki, young Ai Shiomi is pushed into attending the Psychic Academy, one of several special schools set up around the world in the near future after the defeat of the Dark Overlord, who used psychic abilities to try to conquer the world.
Ai is no stranger to those powers, with childhood friend Orina being an Academy student and Ai's brother being the one and only vanquisher of the Overlord -- and who tends to shower embarrassing amounts of affection upon his little brother in public.
But in the shadow of these powerful psychics, insecure Ai believes the discovery of his own aura is a mistake and that he doesn't belong. In truth, he possesses one of the strongest auras, so much that a powerful magical rabbit -- a perverted creature who up till now has shunned everyone -- latches onto him immediately.
Even before school begins, a love triangle gets cooking that consumes a good part of Ai's woes. While he's fascinated by the fiery (literally; her power deals with fire) Mew, there's also the longtime attraction between him and Orina.
Most of the early appeal of "Psychic Academy" is its formulaic fun, following Ai as he navigates the usual pitfalls of adolescent life and sorts out his feelings about Orina and Mew. There's also lots of fan service, with most of the girls sporting chest sizes that would put Pamela Anderson to shame.
At its core, the manga is simply about teens trying to find their place in the world, with aura abilities making it more difficult against a populace that fears and mistrusts those powers, and the usual rebels who say they should use their powers to rule.
"Psychic Academy" was also made into a 24-episode anime, available on two DVDs from Tokyopop.
'Dreamers' anime offers more depth
Worth mentioning in conjunction with the "Someday's Dreamers" manga is the delightful 12-episode anime, released stateside by Geneon. The anime takes the manga story and expands it immensely, adding new anime-exclusive characters and situations and offering more depth to existing characters.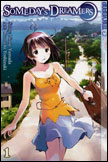 Yume is the character who benefits from this approach the most. At turns prone to outbursts of bug-eyed emotion and self-loathing in the manga, she comes across as more mature and likable in the anime. Where it feels like the supporting cast conflicts with her in the manga, here it complements her, with new characters like fellow mage trainee Angela and friendly bar assistant Haru.
All of this is backed up by a soft piano soundtrack and a gentle, ambling pace.
---
Jason S. Yadao, Star-Bulletin
THE HEROINE has a slightly different task in the manga "Someday's Dreamers," by Norie Yamada and Kumichi Yoshizuki. Here, high-schooler Yume Kikuchi is her way to Tokyo to spend her summer break training in the Bureau of Magic. The girl's mother was one of the bureau's most renowned employees.
Rather than focus on Yume's training in the magical arts, the stories look at the effects of her talents on the people she's contracted to help -- and the impact of those people on her, as well. We watch as Yume is alternately praised and harangued by people over her power and witness past events that helped shape her views of magic.
In this neo-Japan, magic users from the bureau use their powers to, in a nutshell, make people's wishes come true. They focus on the client's desire and make it come to life. Because the magician must channel that emotional power, understanding and empathizing with the client is necessary.
This proves to be Yume's greatest power and her greatest weakness. While she has the empathy, it also reaches the point where, as her instructor Oyamada says, she leaves a part of herself with the client. After Yume uses her power -- and herself -- to fulfill a particularly difficult and heartbreaking wish, she loses all enthusiasm for magic.
Along the way, we discover Oyamada has his own demons, and the head of the bureau, seeing a way to help both of them, decrees that for Yume's final exam, she must successfully use magic on Oyamada.
As in "Psychic Academy," "Someday's Dreamers" takes place in a world where magic is still largely misunderstood and sometimes feared, leading to persecution and disdain of magic users. The manga is an intense series that packs a good deal of emotional impact into two volumes.