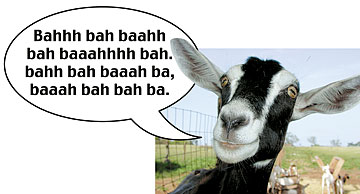 COURTESY OF SURFING GOAT FARM
Ba baaa baaa babah baaa ba bah baaa baabaaaa ba baaaah baaa ba baaah baaaaaah
TRANSLATION: Surfing Goat Dairy proves a big cheese with strong demand from hotels and restaurants
THE GOATS at Surfing Goat Dairy do not actually know how to surf, nor do they even dally close to Maui's surf breaks.
But the name and image are catchy -- and have proven to be a successful logo for owners Thomas and Eva Kafsack, who launched the business of running a goat farm in Upcountry Maui five years ago.

SURFING GOAT DAIRY
Address: 3651 Omaopio Road
Kula, Maui, HI 96790
Phone: (808) 878-2870
Online: www.surfinggoat dairy.com
Motto: Da' Feta Mo' Betta

"They do surf, but only on land," said Thomas Kafsack. "Goats hate water, but Maui is famous for surfing, so we wanted to point to Maui without using Maui in the name."
The Kafsacks, German expatriates who picked up and left everything they owned seven years ago to move to Maui, ventured into the business of raising goats and making goat cheese on a 42-acre farm in Kula with little to no experience.
Thomas Kafsack, 54, used to run a computer software company in Hamburg, Germany, called Wohndata. His wife, Eva, was a high school teacher.
But both seem to have shepherded their business into a slow, but gradual success.
To its credit, Surfing Goat Dairy has put itself on the map in the world of cheese by winning several national competitons over the years from both the American Cheese Society and the American Goat Dairy Association.
Surfing Goat Dairy on Maui produces more than 25 different cheeses and specialty gourmet products which are distributed to hotels, restaurants and shops, both in Hawaii and on the mainland.
Among regular clientele that Surfing Goat Dairy can list are the Four Seasons Resort Hualalai on the Big Island, Halekulani in Waikiki, Roy's Kahana Bar & Grill in Lahaina and the Flying Pig in New York.
Besides Down to Earth Natural Foods in Kahului, the cheese can be found at The Cheese Shop in Carmel, Calif., as well as the Wine Galerie & Market in Atlanta.
But Surfing Goat's catchy name was invented not only to market "goat cheese from paradise," but to tap into the tourism market, Hawaii's No. 1 industry. Consider it part of the state's new niche of ag-tourism.
More than 7,500 visitors paid for tours of the dairy farm last year, according to Thomas Kafsack's log, compared to about 6,600 last year and 5,200 in 2004.
The choices range from a 20-minute tour for $4 to a "walk with the herd" for $10. A two-and-a-half-hour grand dairy tour goes for $12, and a tour and barbecue costs $25.
Kafsack estimates the paid tours have become about one-third of the business.
Cheese production, however, is still the primary profit maker -- with 50 percent of it going to hotel and restaurant accounts on a regular basis.
Cheese products at the farm sell for between $18 and $28 a pound. There are three lines -- the Aloha line, which is a moderate price point; the Paradise line, which features exotic combinations of cheese with "herbs de Provence," for instance; and "Shark Bites," a premium line that pairs the cheese with 23-karat gold flakes, smoked gourmet oysters and black truffles.
The top-selling item is "Ping Pong Balls" -- balls of plain, fresh chevre in oil.
The Kafsacks experiment in their kitchen, and try the new recipes out on visitors and staff at the farm for six months before official adoption.
Kafsack insists that the cheese is delivered fresh, and never more than two days old to the restaurants.
Slow, steady growth
The Kafsacks have learned to run a goat farm by trial and error.
In the beginning, they sunk $3.5 million into the purchase of the 42-acre farmland, an underground irrigation system, fencing, barn and dairy.
They toured Europe seeking to learn the art of making cheese from the best they could find -- in Austria, Germany and France.
The first 40 goats came from a Big Island farm that ran out of business.
Their first lesson: you need feeders and waterers to transport goats.
Their second lesson: you need to check regularly for diseases like caprine arthritis, which one year infected half of the does.
Now the goats get regular checkups.
They also live a bucolic life on Maui -- roaming pastures of Buffel and Kikiyu grass, while feeding on two scoops of grain mix that includes corn, oats, barley and molasses.
No pesticides, herbicides or growth hormones are used, according to Kafsack.
"We want happy, healthy goats here," he said.
Currently, there are 79 goats on the farm, a mix of Swiss Saanens and French Alpines. The Kafsacks are expecting about 150 new kids (baby goats) when the 10-week birthing season kicks off the day after Christmas.
Of the baby goats, the Kafsacks only keep between 10 to 12, while selling off the rest. The strategy is to keep only the best milkers to boost production.
"We keep only the very best milkers," he said.
Nevertheless, the herd is growing. When the Kafsacks first started the farm, they bought 40 goats from a Big Island farm, a population which has since doubled, not counting the babies that are coming.
Every goat, confirmed Kafsack, is named at birth.
Some are named after celebrities, like Bob Hope, and others named after mayors, like Mufi and Charmaine.
They also have been waiting patiently -- for more than five years -- to receive the proper permits to open a 10-room Bed & Breakfast on a one-acre lot they purchased next to the farm.
Doing so would require permits for a subdivision, said Kafsack, but he hasn't given up on the idea. "They know this is what we want to do," he said of Maui county and state officials.
The idea would be to one day offer visitors a dairy experience and tour along with room and board, he said, much in the same way Italy offers "cooking tours" in its vineyards.
Growing bigger does have its challenges. The farm only has a staff of seven which has to multitask, from milking the goats to answering phone calls, packaging cheese, manning the retail store and giving tours.
"We need more people just to help with our visitors," Kafsack said.
The cost of doing business on Maui is also expensive. Kafsack estimates that a bale of hay on Maui averages about $23, three times more than it would be on the mainland.
Alfafa supplements, shipped in the mainland, along with the goats' diets of corn, oats and barley, also add up. Irrigation alone averages at least $2,000 a month, he said.
The profit margin is pretty slim, so far, but the Kafsacks wouldn't give up the farm for anything else.
"Before, I worked 16 to 18 hours a day (as the owner of a software company), but only six days a week," Kafsack said. "Now it's 16 hours, seven days a week that my wife and I are working. But you can hardly compare ... it's a very rewarding experience."