| | |
| --- | --- |
| | Island Mele |
---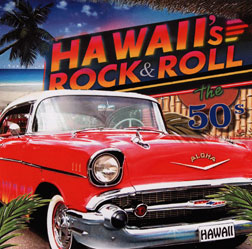 Hawaii's Rock 'n Roll - The 50's
Various Artists
(TMP 1380)
"Uncle Tom" Moffatt answered the prayers of many long-time residents when he released "Hawaii's Rock 'n' Roll -- The 60s," an anthology of that era's top local cover bands and teen acts. He's now doing the same thing for folks who were teens here in the '50s.
The biggest hit is "Susie Darlin'," by Robin Luke, one of only two local artists to reach one of the six major Billboard charts between 1955 and 1960. Moffatt was apparently unable to get the rights to another national release, "Close to My Heart" by Ronnie Diamond, which didn't make the national charts but should have; Diamond is instead represented by one of his later recordings for a local label, "Why?"
The Royal Drifters stand out with two garage-band gems, "Da Kine" and "S' Why Hard" -- either one of which could have been a national hit. Other standouts include "Leahi" and "Bye Baby" by Lance Curtis (aka Dick Jensen), and "I Do" and "Pretty Little Hula Girl" by the Jokers. The nadir is plumbed with Darlene Yoshimoto's bland cover-band renditions of two Connie Francis hits.
---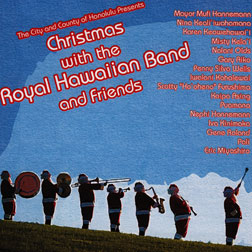 Christmas With The Royal Hawaiian Band And Friends
Royal Hawaiian Band and guest artists
(Royal Hawaiian Band CDRHB 82376)
Singing Mayor Mufi Hannemann adds another recording credit to his resume with this album. Hannemann is joined by two talented showroom veterans, his brother Nephi Hannemann and Iva Kinimaka, on "Christmas Time Again, Aloha," and teams up with Pali on "Do You Hear What I Hear." Nina Keali'iwahamana and Karen Keawehawai'i are among the other guests who replace the Royal Hawaiian Band's own resident vocalists.
RHB fans will applaud two instrumental selections, and the band backs Iwalani Kahalewai on an arrangement of "Old Scottish Melody (Auld Lang Syne)" that also makes good use of the musicians' talents. Tradition also is respected with a number by the RHB Glee Club and with selections that feature the voices of the band's own soloists. One of the things that made the RHB unique in years past was that it was self-contained; celebrity guests can relegate a band or orchestra to tertiary status.
The final track, "Christmas Song (Chestnuts Roasting on an Open Fire)," is beautiful, but because it was recorded by a jazz combo rather than the RHB, it belongs on another album.
---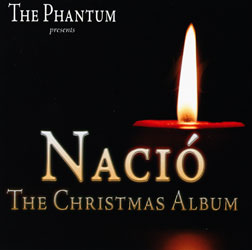 Nacio - The Christmas Album
The Phantum
(Phantum Sound 07786)
This beautiful album by California-based musician-producer Danny Gutierrez includes a former island resident, vocalist-arranger Tinu Diaz, who sings lead on two selections and co-wrote others. It's a stretch, perhaps, to include the album as "local," but their album of powerful bilingual contemporary gospel is one Hawaii would be proud to claim.
Gutierrez provides all the instrumentation except bass and drums on two selections, and succeeds in creating the feel of an orchestra rather than the thin sound of synth tracks. Diaz and the other members of the choir sing with a heartfelt enthusiasm that transcends the language barrier imposed by Spanish-language selections. It isn't necessary to understand the Spanish lyrics to feel the singers' emotion.
Diaz steps forward on "The Christ is Born" and "I Will Answer" and shows that modern Christian music need not be bland or overwrought. "His Name is Jesus," featuring Jamie Hernandez, is a Christmas song for all seasons -- equally appropriate for performance in church any Sunday.
John Berger
, who has covered the local entertainment scene since 1972, writes reviews of recordings produced by Hawaii artists. See the Star-Bulletin's Today section on Fridays for the latest reviews. Reach John Berger at
jberger@starbulletin.com
.