Salt Lake girl adds Miss Hawaii Teen to list of titles
CONGRATS TO Salt Lake resident
Serena Karnagy
, who was named Miss Hawaii Teen 2007 at the Sheraton Waikiki on Sunday.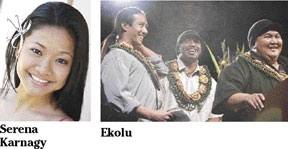 Karnagy succeeds Hannah Thomas, who traveled to Palm Springs in August to participate in this year's Miss Teen USA pageant. But the 16-year-old is no rookie when it comes to this kind of competition -- besides all the time she spends acting, modeling and practicing karate, Karnagy has also managed to rack up more than a dozen pageant titles in the past few years.
"I have like 14," she wrote in an e-mail last week. "The recent ones are ... Hawaii's Miss Teen, Miss National Island Paradise, Miss Teen Hawaii Oahu, Miss Teen Cover Girl, Miss Teen VIP (and) Miss V International."
Also crowned last weekend was Chanel Wise, who will reign as Miss Hawaii USA 2007. The Kapiolani Community College sophomore is a part-time dancer for Malu Productions, and has aspirations to become a crime scene investigator ...
YOU CAN celebrate the holiday season Southern style on Friday, when Dangerous Mindz Entertainment teams up with BRNP and Visual X to present the "Christmas Crunk Party" at Richardson Field.
Doors open at 7 p.m. that night, with access provided via the entrance to the Arizona Memorial. DJs E-Double and LT will get the crowd warmed up, followed by live performances by Complete, Caution and Lil' Gutta, Monyaaa, GTS, T-Qron, Devious and Charlie & Charlie.
Tickets are $10 in advance, $15 at the gate; call 772-8600 or 636-4486 ...
ALSO ON FRIDAY: Funky4Corners hosts "Cypher Sessions" at the Waipahu Fil-Com Center, featuring a 10-versus-10 grudge battle between B-Boy crews Killawun and Crazy Actions. A writers' battle is also planned, and there will be open decks and an open mic for those who want to get some shine. Doors open at 5 p.m. ... Local promoters Unity Crayons land at Ong King for an all-ages party that starts at 8 p.m. The Hell Caminos, Josh86, Marc Youth, Megan Daykiller and Bianca Wax are scheduled to perform ... Palomino presents "Friday Nite Live" from 7 to 9 p.m. at the restaurant, with 20 Degrees North playing this weekend and Edgewater on Dec. 29 ...
PIPELINE CAFE will host "The Maui Invasion" on Saturday, as Waiehu Records and Island 98.5 team up to present a showcase of the best bands to come from the Valley Isle.
Party people 18 and over are welcome, and the night will feature live performances by Ekolu, Nuff Sedd, Kohomua and Rod Da Fire. Spencjah will be on stage between sets to hand out early Christmas presents and keep the crowd pumped ...
LOCAL RETAILER DIG Lifestyles celebrates the holidays on Saturday as well, with a Christmas party at Indigo planned for the 21-and-over crowd.
This one-time event takes the place of Indigo's regular "Electrolyfe" weekly, with the Nocturnal Sound Krew's DJ Compose and Zack Morris stepping up to provide a hip-hop/neo soul soundtrack in the restaurant's Green Room. Over in the Opium Den, it will be all about the best dance hall and reggae music with Empire Sound DJs Lukas and Loriel spinning until 2 a.m. ...
DON'T FORGET: "In the Mix" returns to its regular schedule next week. Be sure to keep up with the latest from Clubland every Tuesday on the Star-Bulletin's Entertainment page, as well as my home here in HiLife, in Thursday evening and Friday morning editions.
Merry Christmas ...