---
FAST FACTS HAWAII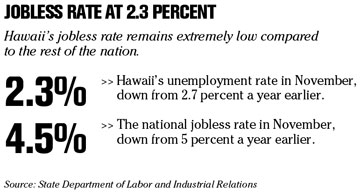 ---
HAWAII
New York firm buys Aqua Waikiki hotel
CR Wave, an affiliate of New York-based investment group
Ramsfield Hospitality Finance
, has bought the 247-room Aqua Waikiki Wave Hotel for an undisclosed sum from
Aqua Hotels & Resorts
.
Aqua Hotels, which recently spent millions positioning the Aqua Waikiki Wave Hotel as its flagship property, will continue to serve as the hotel's management company, said Mike Paulin, owner and chief executive of Aqua Hotels. "No change in management or personnel is taking place," Paulin said.
The hotel is next to the International Marketplace and less than a block to Waikiki Beach. Rates in 2007 will range from $150 to $380 for a suite.
Jobless rate drops to 2.3 percent
Hawaii's seasonally adjusted unemployment rate fell to 2.3 percent last month from 2.7 percent a year earlier, the state said yesterday.
Despite the increase, the percentage of the labor force on unemployment stood at almost half the national average of 4.5 percent, underscoring strong demand for workers in Hawaii.
November marked the fourth straight month Hawaii's jobless rate hovered below 3 percent, the state Department of Labor and Industrial Relations said in a news release.
The labor department's departing director said in a statement that greater numbers of jobs have benefited the islands.
"Hawaii's economic prosperity is due in no small part to the job growth and low unemployment we have sustained over a substantial period of time," said Nelson Befitel.
Jetstar to begin flights next week
Australia-based
Jetstar
will begin flying between that country and Honolulu on Wednesday morning.
Hawaii is the latest destination to become part of Jetstar's growing international operations. The carrier will boost the number of annual air seats to Hawaii from Australia by about 156,000.
Jetstar, which operates a fleet of Airbus A330-200 aircraft, will provide two levels of service from Hawaii. Seats to Sydney will start at $356 each way, while seats to Melbourne will begin at $366 one way. Starclass fares, the company's luxury category, will begin at $736 each way.
Hawaiian finalizes Boeing deal
Hawaiian Airlines' parent said yesterday it has finalized the purchase of three Boeing 767-300ER aircraft it previously leased from
Ansett Worldwide
and amended the lease of four other 767s it leases from Ansett.
Hawaiian Holdings Inc., which announced in November it had signed a letter of intent for the arrangement, said it financed the purchase of the three aircraft with cash and debt.
The airline said it anticipates depreciating the acquired aircraft, which began service in 2001, over a 20-year remaining life. In conjunction with the aircraft purchase, Hawaiian raised $126 million in floating-rate debt financing from CIT Leasing Corp.
[HAWAII INC.]
ON THE BOARD
» The Hawaii Dental Association has announced its officers for 2007:
Dr. Carl Kobayashi
, president;
Dr. Darrell Teruya
, president-elect;
Dr. Joyce Hagin
, vice president;
Dr. Gary Umeda
, treasurer; and
Dr. Neal Tamura
, secretary.
» The Hawaii Pest Control Association has installed its new officers and directors for 2006-2008: Rodney Ono, president; Terence Manago, first vice president; Jerry Edlao, second vice president and maui director; John Montalbo, third vice president; Jason Sahara, secretary; Dave Lau, treasurer; and Alvin Fukuyama, immediate past president.
» The Chartered Property Casualty Underwriter Society has named Kenneth K. Kanehiro as a national governor during the society's 62nd annual meeting in Nashville, Tenn. He is a past president of the CPCU Hawaii Chapter and was elected to a three-year term.
» The Roofing Contractors Association of Hawaii has installed its new officers and directors for 2006 -2008: Steve Maero, president; Guy Akasaki, vice president; Tai Ai, secretary; Charlie Beeck, treasurer; and Mike Tory, immediate past president.
AWARDS
» The Fellows of the American Bar Association has elected
Michelle Tucker
of
Sterling & Tucker
as a fellow. Election to membership is limited to one-third of 1 percent of the attorneys registered to practice in each jurisdiction.
» The Wharton School of the University of Pennsylvania has given Garret Y.H. Choy and Anna U.J. Kim its certificate in retirement planning. They are financial professionals with AXA Advisors in Honolulu, and are two of only 150 financial professionals nationwide to complete the program.
---
NATION / WORLD
Norman Mineta to join Horizon Lines' board
Horizon Lines Inc.
, which has the second-largest shipping operation in Hawaii, said yesterday that former U.S. Transportation Secretary Norman Mineta will join its board effective Jan. 1.
Mineta, 75, is vice chairman of Hill & Knowlton, one of the world's top public relations firms. His career includes 20 years in the U.S. House, as well as cabinet service under the last two presidents.
He joined the administration of President Bush in January 2001 and was the longest-serving Transportation Secretary in the history of the post. He also served as U.S. Commerce Secretary under President Clinton.
Mineta will replace retired Adm. James Holloway.
30-year rates rise for a second week
WASHINGTON » Rates on 30-year mortgages, after sinking for a month, crept up for the second week in a row.
Nevertheless, 30-year mortgage rates are still lower than they were for the corresponding week a year ago.
Mortgage giant Freddie Mac reported yesterday that 30-year, fixed-rate mortgages averaged 6.13 percent this week. That was up slightly from 6.12 percent last week but was down from 6.26 percent a year ago.
"This could bode well for housing in the new year," said Frank Nothaft, Freddie Mac's chief economist. "Indeed we have seen a spike in refinancing activity over the past few weeks as rates have come down. Borrowers who have adjustable-rate mortgages that are scheduled for a rate adjustment in 2007 may want to consider refinancing those loans now," he said.
Shorter-term adjustable mortgage rates have climbed this year, while movements on longer-term fixed-rate mortgage rates have been more subdued.
China's hot economy may cool
BEIJING » China's sizzling economy will slow slightly next year but still should grow by a robust 9.8 percent even as Beijing extends controls to cool off an investment boom, the Central Bank said in a report published today.
The forecast was in line with outside estimates but well above the 8 percent target for 2007 set by a government strategy report released this month. It would be by far the highest growth rate for any of the world's major economies.
Growth this year should be 10.5 percent, said the Central Bank report, which was carried on the Web site of the official China Securities Journal newspaper. That was in line with earlier official forecasts.
Communist leaders want rapid growth to reduce poverty. But they are trying to stop an investment boom in real estate and other industries where they worry that overspending on unneeded factories and other assets could ignite inflation or a debt crisis.
---
BUSINESS PULSE