---
FAST FACTS HAWAII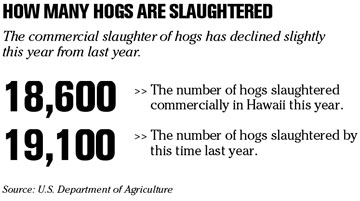 ---
HAWAII
Republicans name Rutledge businessman of the year
The National Republican Congressional Committee has named Anthony "Tony" Rutledge Sr. its Hawaii Businessman of the Year.
The committee says Rutledge, who is the organization's Hawaii representative on its business advisory council, was named because of his "willingness to provide invaluable input."
Rutledge owns Star Beach Boys Inc., a concession business on Waikiki beach that rents out boogie boards, surfboards and other equipment. He is also former president of Unity House, a local nonprofit labor organization where his tenure ended because of a federal prosecution alleging fraud and conspiracy.
Rutledge was sentenced in February to probation after pleading guilty to a single felony charge of filing a false 1997 tax return for Star Beach Boys. He also was required to disassociate himself from Unity House. All other charges against Rutledge were dismissed.
Rutledge said he was pleased to receive the honor. "I have always supported such Republican ideas as tax reform and debt reduction because those concepts help small businesses and working families," he said.
Central Pacific sells portfolio
Central Pacific Financial Corp.
said yesterday it will record an after-tax loss of $954,000, or 3 cents a share, after completing a sale in its investment portfolio that will reduce the bank's net interest income volatility and boost future earnings and net interest margin.
The parent of Central Pacific Bank sold $109 million in available-for-sale investment securities with an average yield of 3.6 percent and reinvested the proceeds in new investment securities with an average yield of 5.6 percent.
Cyanotech gets filing extension
Cyanotech Corp.
has been granted an extension until Feb. 20 to file its fiscal first- and second-quarter earnings results with the Securities and Exchange Commission.
The extension was approved by the Nasdaq Listing Qualifications Panel, which recently held a hearing on a company appeal to prevent the delisting of Cyanotech's shares from the Nasdaq SmallCap Market.
The Kona-based company has delayed filing its reports during a review of an inventory accounting issue.
In its letter to Cyanotech, the Nasdaq panel said that the accounting issue was identified internally and that the company was taking the appropriate action to address it.
"The accounting issues causing the delay do not appear to involve any intentional misconduct or impropriety," the letter said.
Central Pacific, BOH rated 'buy'
Bank of Hawaii Corp.
and the parent of Central Pacific Bank were both started off as "buys" in new coverage by analyst Thomas Monaco of New York-based
Sterne, Agee & Leach
.
Monaco put his price target for Central Pacific Financial Corp. at $42 a share. His price target for Bankoh is $60 a share.
NATION / WORLD
In other news ...
» The
Ford Motor Co.
expects
Toyota
of Japan to unseat it for good next year as the No. 2 company, behind
General Motors
, in the American car market, a position Ford has held since the 1920s, according to internal Ford projections.
Singapore Air to buy 9 more Airbus planes
SINGAPORE >>
Singapore Airlines
said yesterday it will buy another nine
Airbus
A380s, with an option for six more, in a much-needed boost for Airbus as it winds up a year dominated by production problems that set A380 deliveries back two years.
Singapore Airlines will be the first carrier to fly the world's largest passenger jet when it takes delivery of the first 555-seat A380 next October.
The airline already has 10 A380s on firm order -- a deal reached in 2001.
The carrier is also planning to lease 19 Airbus A330s and its regional airline, Silk Air, is ordering up to 20 Airbus A320s, the airline announced.
IRS spending less time on corporate audits
The Internal Revenue Service has cut deeply the time that it spends auditing the nation's largest corporations, according to data made public yesterday.
The report, obtained by Syracuse University researchers, showed that the IRS had reduced the time spent on each audit by 21 percent in the last five years, to 958 hours from 1,210 hours. At the same time, the number of actual audits, which had increased in the last two years, has fallen back to the level of 2002.
Nike's profit zooms ahead 8 percent
BEAVERTON, Ore. >>
Nike Inc.
said yesterday that sales growth in Asia and a tax agreement with the Dutch government boosted earnings 8 percent in the second quarter for the world's largest athletic shoe and clothing company.
Profits rose to $325.6 million from $301.1 million a year ago.
---
BUSINESS PULSE