---
FAST FACTS HAWAII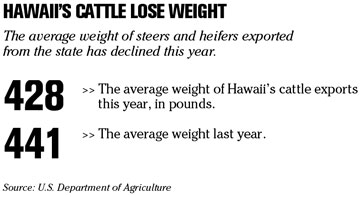 ---
HAWAII
Marathon expo event draws 69,421 people
Honolulu Marathon organizers say that 69,421 people passed through the turnstile for the event's expo at the Hawaii Convention Center from Dec. 6-9.
That number was higher than expected -- 6,434 clicks more than the Honolulu Marathon Expo last year, to be precise.
The three-day expo is a companion event to the marathon, where participants must go to pick up their race packets, but can also shop for running shoes and other items. Michael Golojuch Jr., Honolulu Marathon Expo director, estimated there were about 100 vendors at the expo this year, the third year it's been held at the convention center.
Local actress Kelly Hu and "Lost" stars Yunjin Kim and Naveen Andrews were on hand at the expo, signing free framed photos of themselves.
A total of 24,573 runners finished the 26.5-mile marathon course, according to organizers.
2 interior design firms will merge
Interior design companies
Studio Becker
and
TCB Island Interiors
announced yesterday that they will be merging Jan. 1 and will call the new Honolulu-based company Archipelago.
Archipelago will be a one-stop design studio. Studio Becker is owned by Rick Cowan, sister Tiare Cowan-Broad and Cowan-Broad's husband, William Broad. TCB Island Interiors is owned by Tiare Cowan-Broad.
The three employees at Studio Becker and the two at TCB will retain their jobs.
[HAWAII INC.]
PROMOTIONS
» Hawaii Pacific University has promoted
Lloyd Fujie
to chief financial officer and senior vice president for operations. He will be responsible for long-range university planning, developing a decentralized budgetary system, overseeing the Oceanic Institute, and managing the university's financial health. He joined the university at the beginning of 2006 and previously served for 32 years at
Deloitte & Touche LLP
.
>> Steve Winter has been promoted to vice president of operations for the Outrigger Condominium Collection. He previously served as regional director of Oahu operations and general manager of the Ourigger Luana Waikiki. Pam Cabrera replaces Winter as general manager of Outrigger Luana Waikiki. She previously served as the property's assistant general manager since 2004. Scott Dougherty has been hired as general manager of Outrigger Maui Eldorado. He previously served as rooms division manager for ResortQuest at Papakea, Maui, and has over 10 years experience in hotel and condomium management.
» Central Pacific Bank has promoted Ashley Y. Ji to assistant vice president and investment consultant. She has over 12 years experience as a licensed financial advisor, and is trained in securities and life insurance, specializing in retirement planning. Sheila A. Montayre has been promoted to assistant vice president and business banking officer I. She will oversee customer relationships with new and existing business accounts. She has more than 15 years of lending experience, specializing in commercial and business loans. Miles M. Sato has been promoted to assistant vice president and information security officer and manager. He has over 13 years of information security experience. Gordon T.H. Sun has been promoted to assistant vice president and investment consultant. He has nearly 14 years experience as a licensed financial advisor, trained in securities and life insurance, with a focus on investments. Jason S. Williams has been hired as assistant vice president and investment consultant for the bank's investment services arm. He has nearly 10 years experience as a licensed financial advisor, trained in securities and life insurance, specializing in retirement planning.
» City Mill has promoted Reed Young to training administrator. He will oversee all aspects of training including product knowledge, customer service, equipment and cashier training. Sandra Hee has been promoted to store manager of the Kaneohe store, replacing Young. She will oversee all aspects of management including sales, merchandising and inventory control. She has worked various positions in the company since 1994.
» The Mauna Lani Resort on the Big Island has promoted Geoff Pearson to director of sales from associate director of sales. He will manage and direct the resort's sales team. He joined the sales staff in 2000 after leading the resort's rooms division for six years. Joan Palmtag has been promoted to regional sales director. She will be responsible for generating new sales leads and servicing key travel accounts along the Pacific coast. She joined the resort in 2000 as sales director and will be based in Palm Springs, Calif.
---
NATION/WORLD
Dell picks ex-airline chief as CFO
DALLAS »
Dell Inc.
chose a familiar face for the computer maker's latest executive change. The name should ring a bell in the airline industry as well.
Former American Airlines chief Don Carty, who left three years ago when American's parent was struggling to remain solvent, returned to the executive ranks of a major Texas company yesterday as Dell's vice chairman and chief financial officer.
Carty has been a member of the Round Rock-based computer company's board of directors since 1992 and has chaired the audit committee for much of that time. He will assume his new duties Jan. 1.
"Don has had a long association with the company and we are delighted that he is joining our senior leadership team," Michael Dell, company founder and chairman of the board of directors, said in a statement.
From two delays in earnings reports to an unprecedented recall of faulty batteries, Dell has had a rough year.
Thai stock market swings back up
BANGKOK, Thailand » Thailand's stock market opened nearly 9 percent higher today, recovering from a historic fall that shook regional markets and sparked concerns over another Asian financial crisis.
Shares on the Stock Exchange of Thailand jumped 8.9 percent to open at 677 after the market tumbled nearly 15 percent the day before in reaction to new rules restricting foreign investment aimed at stemming the baht's surge. Shares continued to climb to a 10.6 percent gain by midday.
In the wake of the market turmoil, Thai authorities lifted controls imposed just 24 hours earlier on stock investments, although Finance Minister Pridiyathorn Devakula said curbs on foreign investment in bonds and other debt instruments would remain.
The Stock Exchange president, Patareeya Benjapolchai, praised the about-face as a "positive action" that would restore investor confidence by showing that authorities moved swiftly to solve a problem.
"We believe the market will recover, though it will take awhile to match the losses," she told reporters.
---
BUSINESS PULSE