---
FAST FACTS HAWAII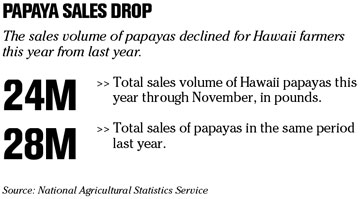 ---
HAWAII
State hits securities firm with $1M fine
The state securities commissioner has issued a preliminary cease-and-desist order against the
Swiss Group
of Honolulu and is seeking an administrative penalty of $1 million against the company's principals.
The state alleges that the Swiss Group has solicited, offered, sold or transacted unregistered securities without being registered as dealers, salesmen or investment advisers in the state.
Three individuals -- Joseph W. Sullivan, Daryn K. Murai and Chad S. Morisato -- are principals of the Swiss Group. Sullivan is listed as the Swiss Group's chief executive, president, secretary, treasurer, director and registered agent, as well as the administrator of the Web site www.theswissgroupltd.com.
The site describes the firm as a financial holding company incorporated in the Bahamas, Belize and Marshall Islands that works with a worldwide network of financial companies. It advertises investment securities with a 10 percent return compounded quarterly for a three-year-term.
State records indicate the Swiss Group has been incorporated since February 2004, with an address at 350 Ward Ave.
Murai and Morisato are vice presidents as well as agents for the company. Morisato does business as Swiss National Bank with a Web site www.swissnationalbank.com.
Under the order, Sullivan, Murai and Morisato would be permanently barred from registering in the state to sell securities, and will be subject to an administrative penalty of up to $100,000 per violation.
NATION / WORLD
Harrah's agrees to $16.7M offer
LAS VEGAS »
Harrah's Entertainment Inc.
, the world's largest casino company, has agreed to a $16.7 billion offer from two private equity groups, two people with knowledge of the negotiations said.
The agreement with Apollo Management Group and Texas Pacific Group came late last week but lawyers for both sides have been working out the details, said the sources, who spoke on condition of anonymity because of the sensitivity of the talks.
EBay to shift strategies in China
Acknowledging that the online auction market in China is enticingly fast-growing but frustratingly tough to crack,
eBay
will shut its main Web site in China and enter into a joint venture with a Chinese company instead, a person briefed on the plans of the companies said yesterday.
EBay will take a 49 percent stake in the venture, the person said, with Tom Online Inc., an Internet company based in Beijing, taking the majority share and administering the venture, which has yet to be named.
The plans call for eBay to put $40 million into the venture and Tom Online to contribute $20 million. Meg Whitman, eBay's chief executive, is to make the announcement tomorrow at eBay's office in Shanghai.
Thai stocks dive on new rules
BANGKOK, Thailand » Thai stocks plummeted nearly 9 percent today after the central bank announced rules to discourage foreign inflows late yesterday in an attempt to stem the baht's surge.
The Stock Exchange of Thailand's benchmark SET Index declined 63.65 points, or 8.7 percent, to a five-month low of 666.9 in midday trading. The hardest hit sectors were banking and oil and gas.
The Bank of Thailand yesterday unveiled its toughest measures yet to clamp down on speculative inflows that have lifted the Thai currency, the baht, to a nine-year high.
Investors offer $10.9B for orthopedics maker
INDIANAPOLIS » A group of private investors that could include a founder of
Biomet Inc.
has offered $10.9 billion in cash for the Warsaw, Ind.-based orthopedics maker as they seek to capitalize on baby boomers who want to turn back the clock.
The consortium offered $44 per share, 27 percent more than Biomet's closing price on April 3, the last trading day before the merger talk began. The offer is $1 per share higher than what one analyst said would be justified last week.
Wall Street greeted the news with skepticism. Biomet shares fell 41 cents, or 1 percent, to close at $41.59 in trading Monday on the Nasdaq Stock Market.
Eli Lilly raises its bid for ICOS Corp.
NEW YORK »
Eli Lilly & Co.
bumped up its offer for
ICOS Corp.
by 6 percent, to $34 per share, or $2.3 billion yesterday ahead of a vote on the deal that two proxy firms were advising against.
Lilly originally offered $32 per share, in a cash deal valued at $2.1 billion, in an agreement signed in October.
While Proxy Governance Inc. advised shareholders to accept the offer, Institutional Shareholder Services and Glass Lewis & Co. said the deal should be rejected.
ICOS shareholders had been scheduled to vote on the offer at a meeting today, but that meeting has been postponed until Jan. 25. The boards of both companies approved the revised deal. ICOS shares gained 50 cents, or 1.5 percent, to close at $33.85, while Lilly shares sank $1.29 or 2.4 percent, to close at $53.23.
---
BUSINESS PULSE