---
FAST FACTS HAWAII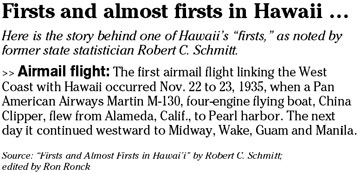 ---
Most online investors reinvest in their portfolios
Instead of using their year-end gains to invest in real estate, most online investors want to put their money back into their portfolios, a recent survey from
Scottrade
shows.
Sixty-three percent of investors plan to put their gains back into an online brokerage account, while only 14 percent plan to buy a house. This marks a departure from recent years when investors had shifted their money to the booming real estate market, according to Scottrade.
"The high percentage of investors who plan to reinvest their gains shows some level of confidence in the market," said Rodger Riney, founder and chief executive of Scottrade. "We're also seeing people begin to think about retirement accounts at earlier ages, which is a good thing."
More than a quarter of investors intend to use the money for retirement, while 22 percent will deposit it into a savings account. Fourteen percent will reinvest in a full service brokerage account. Just 6 percent said they will give their money to charity, whereas 9 percent will put it toward a vacation.
Scottrade, an online investment firm, surveyed 400 online investors during October.
Keep job hunting during holidays
Instead of trimming the tree, try sprucing up your resume during the holiday season.
As many as 20 percent of job seekers put off their job-hunting efforts until after the holidays, but employers may be ready to hire you before the ball drops on the new year.
"It is important for job seekers to keep the job search momentum going into the holidays," said John Challenger, chief executive of outplacement firm Challenger, Gray & Christmas Inc. "Many jobs are filled during that period and the hiring process for others is too far along by the time January arrives."
Challenger noted that many companies have already set their budgets for the coming year, so managers know how many people they can hire. Challenger offered the following tips for holiday hunting:
» Work part-time: Get your foot in the door by offering to fill in for vacationing employees during the holidays.
» Volunteer: The holiday season is a great time to volunteer for nonprofit organization. Not only can you increase your network, but you can also hone your skills between jobs.
» Seasonal thank you: Instead of sending a generic thank you card after an interview, spice it up with a holiday card. It's heartwarming and memorable!
Many parents play video games
They grew up with Atari and the first generation of Nintendo, and now a recent survey shows that a majority of moms and dads still play video games.
Nearly three in five parents play video games themselves, according to a survey from Activision Inc., a video game manufacturer. Among them, half spend the time playing with their children, while 49 percent play their children's games by themselves. Almost three-fourths said they feel comfortable that playing video games is part of the family's life together.
To insure that games are kid-friendly, 52 percent of parents research the games using game reviews or previews and gaming Web sites, while 56 percent rely mostly on the Entertainment Software Rating Board rating system.
Eighty-four percent of parents are familiar with the rating system, and four out of five pay close attention to games' ratings.
"It was gratifying to see that ... parents are aware of, researching and active in their children's video game purchasing and playing," said Robin Kaminsky of Activision.
Activision conducted 1,014 online interviews with children and parents in September.
---
BUSINESS PULSE