---
Keiki Kalikimaka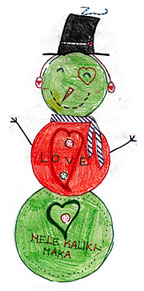 Today's ornament, a colorful snowman, comes from Keina Drageset, 9, a student of Mrs. Hasegawa at Hahai'one Elementary School. "Keiki Kalikimaka" runs daily through Christmas Eve; a tree with all the featured ornaments will run on Christmas Day.
Satoru's Art Gallery opens its doors
Local artist Satoru Abe has set up new digs in Moiliili with Satoru's Art Gallery. "The gallery is a work of art," his postcard announcement states.
Abe's new space opens about six months after he closed a gallery in Kalihi.
The gallery, located at 905-A Makahiki Way, is open to visitors 10 a.m. to 2 p.m. Mondays to Fridays and 11 a.m. to 2 p.m. Saturdays. Call 945-3939 or 224-2251.