---
FAST FACTS HAWAII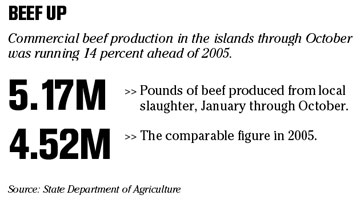 ---
HAWAII


CPB makes it easy to buy its shares Central Pacific Financial Corp.

has established a direct purchase and dividend reinvestment plan that will allow shareholders to increase their stock holdings in the company and for new investors to make an initial investment in the shares.

Plan enrollment materials and plan information soon will be distributed to shareholders of record, Central Pacific Bank's parent said.

For additional information, go to www.wellsfargo.com/shareownerservices or contact the plan administrator of Wells Fargo Shareowner Services at 1-800-468-9716.
NATION


AOL executives to leave in shake-up

NEW YORK » Three AOL executives who reported to former Chief Executive Officer Jonathan Miller will leave as part of a reorganization of the

Time Warner Inc.

unit, a person briefed on the plan said.

Jim Bankoff, AOL's executive vide president of programming, Joe Redling, the chief marketing offer, and spokesman John Buckley will quit, said the person, who declined to be identified because an official announcement hasn't been made. The reorganization will be made public at the beginning of next week, the person said.

Time Warner Chief Executive Officer Richard Parsons is tightening his grip on the Internet unit. He replaced Miller with Randy Falco, a television veteran from NBC, last month in a plan to revamp the company and boost online advertising. Ron Grant, who helped Time Warner president Jeff Bewkes craft the plan, returned to AOL to assist Falco.
'If I Did It' would-be publisher fired
NEW YORK » O.J. Simpson's would-be publisher, Judith Regan, was fired yesterday, her sensational, scandalous tenure at Rupert Murdoch's
News Corp.
ending with the tersest of announcements.
"Judith Regan's employment with HarperCollins has been terminated effective immediately," HarperCollins CEO Jane Friedman said in a statement.
Friedman offered no reason for the announcement, but it comes less than a month after Murdoch's cancellation of Simpson's hypothetical murder confession, "If I Did It," a planned book and Fox television interview that was greeted with instant and near-universal disgust when announced.
HarperCollins and Regan's publicist could not be reached for comment.
Worm hits via antivirus program
SAN FRANCISCO » A computer worm is attacking some business PCs through a flaw in antivirus software by
Symantec Corp.
, a security company warned yesterday.
EEye Digital Security, based in Aliso Viejo, Calif., said the worm, dubbed "Big Yellow," began attacking some computer systems on Thursday -- seven months after eEye first discovered the flaw.
Symantec released a patch to address the flaw in May, but it's up to its corporate customers to install it. Officials at the Cupertino, Calif.-based security software company said yesterday it had so far received three reports of systems affected by the Windows-based worm.
1st oil-shale leases in 30 years granted
DENVER » The U.S. Interior Department granted leases yesterday for shale oil extraction experiments, a step allowing companies to determine how to tap into an estimated 100-year supply of oil locked in rock formations under Colorado, Utah, and southwest Wyoming.
The leases, the first granted in 30 years, were issued for 10-year terms to Shell Frontier Oil & Gas Co., Chevron USA and EGL Resources Inc. for 160-acre parcels for research and development projects in northwest Colorado.
---
BUSINESS PULSE