---
FAST FACTS HAWAII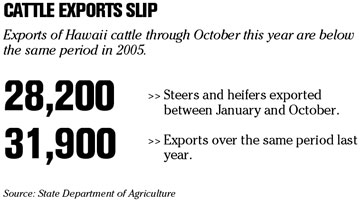 ---
HAWAII
Aloha, Hawaiian match Mesa's Dec. 24-25 fare
Mesa Air Group Inc.
's go!, which earlier this week announced a $29 one-way fare, said yesterday it is offering a special $25 fare for every available seat that can be used on interisland flights on Dec. 24 and 25 between Honolulu and Lihue, Kahului, Kona and Hilo on Dec. 24 and 25. Tickets will be available starting today. There are no restrictions other than seat availability.
Aloha Airlines and Hawaiian Airlines, who matched the $29 fares, said they will said they also will match the $25 fare.
Pacific Wings will fly you free Dec. 25
Pacific Wings
, a Maui-based interisland carrier that provides service to some of Hawaii's most rural communities on the neighbor islands, said yesterday it will celebrate the holiday season by giving away every seat for free on Christmas Day.
The 32-year-old commuter airline, which flies six nine-seat Cessna 208s, said tickets will be available through its reservations center at 808-873-0877 on a first-come, first-served basis. Pacific Wings began taking reservations today. The center is open from 8 a.m. to 6 p.m., with a limit of two seats per caller.
Separately, Pacific Wings said it has reached an electronic-ticketing agreement with Northwest Airlines to allow passengers and travel agents the opportunity to book e-tickets that include flights on both carriers.
NATION / WORLD
Costco posts 10 percent profit rise
ISSAQUAH, Wash. »
Costco Wholesale Corp.
, the nation's largest wholesale club operator, said yesterday its first-quarter profit rose 10 percent and said it would take a $45 million second-quarter charge related to stock option grants.
For the quarter ending Nov. 26, net income totaled $236.9 million, or 51 cents per share, compared with $215.8 million, or 45 cents per share, a year ago. Revenue climbed 9 percent to $14.15 billion from $12.93 billion last year. Sales at stores open at least a year, a key industry gauge called same-store sales, rose 4 percent.
Analysts polled by Thomson Financial were looking for earnings of 50 cents per share on sales of $14.06 billion.
In connection with its review of stock option grants, Costco said it will increase the exercise price on certain options granted from 2000 to 2003 and make payments to employees to cover new taxes that may occur.
30-year mortgage rates edge up
WASHINGTON » Rates on 30-year mortgages, after falling steadily for a month, edged up slightly this week but still remained well below the levels of a year ago.
Mortgage giant Freddie Mac reported yesterday that 30-year, fixed-rate mortgages averaged 6.12 percent, up from 6.11 percent last week. Last week's rate had been the lowest level this year except for the week of Jan. 19, when the 30-year mortgage dipped to 6.10 percent.
Rates on 15-year, fixed-rate mortgages, a popular choice for refinancing, averaged 5.86 percent this week, up from 5.84 percent last week.
For one-year adjustable rate mortgages, rates edged up to 5.45 percent, compared to 5.43 percent last week. Five-year adjustable rate mortgages were unchanged at 5.92 percent, the same as last week.
No Harrah's announcement yet
LAS VEGAS » A special board committee of casino giant
Harrah's Entertainment Inc.
ended a meeting yesterday without announcing a decision on whether it will back a multibillion dollar buyout offer, according to a person close to the matter.
The special committee, consisting of all 11 members of the board except chairman and chief executive Gary Loveman, had been meeting in New York since Wednesday to weigh any offers it received by the end of Tuesday.
Among the offers was one from private equity firms Apollo Management Group and Texas Pacific Group to take the company private. Penn National Gaming Inc., a casino and horse racing track operator based in Wyomissing, Pa., reportedly also is interested in bidding for Harrah's. Another option being considered was a plan to recapitalize the company by borrowing money to give shareholders a large dividend or to repurchase shares the person said.
CBS revives music label named after itself
LOS ANGELES »
CBS Corp.
has launched a new recorded music label -- reviving the name of long-defunct CBS Records -- through which the company plans to release music and promote artists on its networks' stable of television shows.
CBS Records aims to market its artists and their music in television shows produced by CBS Paramount Television and aired across several broadcast and cable networks, including CBS, the CW, NBC and USA Network, New York-based CBS Corp. said yesterday.
The label, in the works for months, was being officially announced today.
Dell delays quarterly filing over investigation
NEW YORK » Computer and server maker
Dell Inc.
said yesterday it is delaying the filing of its full third-quarter results as the company and regulators continue to investigate some of its accounting practices.
In a document filed with the Securities and Exchange Commission, Dell said it was delaying its quarterly report for the period ended Nov. 3 because of questions raised during investigations by the SEC, the U.S. Attorney for the Southern District of New York, and the company's audit committee.
The investigation covers reserves and other balance sheet items that could affect previous results.
Japan's corporate sector gradually recovering
TOKYO » The Bank of Japan's Tankan business confidence survey shows the corporate sector is gradually recovering, Economic and Fiscal Policy Minister Hiroko Ota said.
The quarterly survey, Japan's most closely watched gauge of business sentiment, showed confidence among large manufacturers climbed to a two-year high of 25 points in December from 24 in September, the Bank of Japan said today in Tokyo.
The survey indicates "sentiment in the corporate sector is gradually and firmly recovering," Ota told reporters in Tokyo today. "The Bank of Japan should take into account the risk of the economy slowing" when considering its interest-rate policy.
Bank of Japan Governor Toshihiko Fukui and his colleagues will conclude their final policy meeting of the year on Tuesday.
---
BUSINESS PULSE