What next? A reality check on the U.S. role in Iraq
THE IRAQ Study Group got some things right, some wrong. It's right in designating the war policies of the Bush administration as bankrupt. It's right in demanding a new direction. It is on the right track in reflecting the fact that the American people are fed up with the continual inadequacies of the war support system. But being, still, a political body, the Iraq Study Group passed some glaring realities on the way to its useful recommendations. Here are five that have to be encompassed in the formulation of a new administration Iraq strategy that can be pursued in conjunction with a Democratic Congress. For each we need to be able to separate out what is vs. what we want.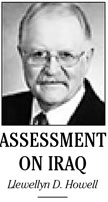 » FIRST: Iraq is already at least two countries; we are not going to leave behind a single political unit in what is today Iraq. Iraq is not a country. There are three basic units among the population in Iraq: Arab Shia, Arab Sunnis and Kurds (who are assertively not Arabs). The latter have been given special status since the 1991 Gulf War when the United States began protecting their independence from the Saddam government under the No Fly Zone policy. They have special status under the current Iraqi constitution. They are not going to be integrated back into any Iraqi system that is controlled by Arabs. They are concretely linked with Kurdish populations in Turkey, Syria and other surrounding states. Those neighboring states fear the rise of "Kurdistan" and there is substance in their fears.
Ultimately the land will be distributed three ways: Arab Shia, Arab Sunni and Kurds. There will be three countries, not one. We should be thinking about the future of Iraq in terms of a division like India, Pakistan and Bangladesh or the former Yugoslavia.
There will be three political units where Iraq has previously existed. Sen. Joe Biden has suggested that we begin thinking about a republican political division of Iraq. It's not just that we should, we don't have any choice.
Countries have divided into self-ruling ethnic communities before. Examples are India-Pakistan-Bangladesh, the former Yugoslavia and Singapore-Malaysia. Sri Lanka is in the throes of such a division. They all have religious cleavages that are unrepairable and all have been bloody. But Iraq is already bloody and is getting more so by the day. The national boundaries of a divided state won't be perfect and there will be continuing displacement of large numbers of people. It will take a huge outside force (Sen. John McCain's proposal) to compel them to live together in peace. There are two countries inside Iraq now, Arab and Kurd. There will be three no matter how hard we resist.
» SECOND: There IS a civil war in Iraq. Let's stop arguing about it. No more talk show discussions on "is it or isn't it?" The ongoing argument about whether there is a civil war is destructive to the analytical process of determining where we are in the conflict and what we need to do strategically.
There is a civil war between Arab Shia and Arab Sunni in Iraq. It has been going on for some time. It's getting worse. The basic definitional criteria for a conflict being a civil war are 1) that there be two or more warring sides within a political boundary, 2) that the conflict is about political control or agenda setting, and 3) that there be some minimum number of casualties on each side. Whatever numbers might be set for the latter, conflict in Iraq meets the test.
The fact is that there are multiple wars going on in Iraq and no reason why we shouldn't be able to comprehend a complex war system and deal with its component parts. There is no rule of war that says that only one war can be going on at a time. The Iraq war is a conflict multiplex.
Yes, there are outside parties that are encouraging and aiding the sides in this civil war. But this was also the case in the American Civil War and most other civil wars. The fact that Iranians or Hezbollah or regional Sunnis or the United States are aiding one side or another doesn't exempt it from being a civil war.
None of which is to say that there aren't other wars going on in Iraq. The United States invaded and attacked the regime of Saddam Hussein to eliminate his stockpiles of weapons of mass destruction (or other ex-post facto reasons). There is still an international war between the United States and the (remnant) forces of Saddam's ethnic Sunni government. There is an insurgency with a variety of ethnic and tribal forces opposing the U.S. presence in Iraq. And there are terrorist organizations attacking both U.S. forces and the Iraqi government (and sometimes tribes!). We should be able to separate out these four wars and deal with each of them as their own unique entity. The separate wars each require their own set of strategies and tactics.
There is clearly a political agenda on the part of those resisting the use of the civil war terminology, with their fear that it will change the nature of U.S. support for the American effort there. But U.S. popular support for the Iraq war has been in free fall for the last year and isn't likely to be salvaged under any scenario. Let's see the situation for what it is and at least have it clear in our own minds.
And an important footnote here: Iraqi Shias are Arabs. Iranian Shia are Persians (technically Caucasians). The two groups might cooperate in the short term but in the long term there is a racial divide that will be maintained in separate political and nationalistic entities.
» THIRD, democracy is a cultural phenomenon, not a political or military one, and cannot be imposed in Iraq. We were able to put in place a voting process that produced a barely competent government. But coup rumors have been circulating for months and the government's military arm is in disarray. The Iraqi government was put in place by voting but it is not a democratic government.
It is a common misconception that the polling booth represents a democracy end-product rather than a sometimes dysfunctional symptom. Democracy is an adversarial way of life and doesn't fit well with every operable culture. It isn't fitting into Iraqi or Afghan culture. It's true that some cultures should be curtailed or perhaps shouldn't survive (those that permit slavery or limit women's rights, for example). But there are powerful cultures in these countries. Changing the political culture is something that takes generations, not two U.S. presidential terms.
If voting by itself was an indicator of being democratic, most countries would have to be counted in that category. Democracy involves respect for individual and minority rights, a rule of man-made law, a free press, political institutions that insure continuity, a separation between religious and state leaderships, restrictions on hereditary hierarchies and a multitude of critical societal functions, along with the opportunity to choose leaders and directions. Iraqi societies are far from having the necessary ingredients and, if offered the opportunity to have them, perhaps would not choose them anyway.
» FOURTH, we can't withdraw ground troops from Iraq in the near future. As retired Army Chief of Staff Jack Keene argued (New York Times, Dec. 7), "Based on where we are now, we can't get there." American troop withdrawal can't be gradual. Once some troops are known to have been removed, the Iraq environment will change completely, like liquid water to crystalline ice at 32 degrees. With the first sign of departure, new allies will be sought by various sides among the many racial, religious, tribal and political sides in Iraq. Regional rather than global politics will suddenly become dominant. Ironically, the Democratic Party congressional ascendancy in November will make a "cut and run" policy less likely to occur as Democrats in charge act more cautiously in the view of the cameras and a global audience.
Most importantly, American troop withdrawal from Iraq is not a question that can be separated from issues of Iraqi infrastructure, Iraqi government military capability (especially air force), logistical ability to accomplish troop movement (American or Iraqi), relationships with allies and a plethora of related issues that are being ignored in the political season. Before troops can be withdrawn from Iraq, the support structure around it -- including 25,000 or so private security contractors (a private military), large U.S. corporate contractors, U.S bases and high-tech equipment and many foreign employees that have come to Iraq seeking work -- have to be removed from the country. We can't have a repeat of the Saigon scene with the last American helicopter leaving, but with American civilians clinging to the rungs.
» FIFTH, with credit due to the Iraq Study Group, there will be no solution to the Iraq problem or its spider's web of Middle East conflagrations without a solution to the Israel-Palestine dispute. We may be able to suppress the Iraq illness but the Israel-Palestine infection will remain. Israel's presence and behaviors -- whether we agree with them or not -- are acidic in global politics. They won't go away and ignoring them, as the Bush administration has insisted on doing, only feeds the monster that the United States created by substituting spite for military strategy in Iraq.
The report of the Iraq Study Group has helped reframe the debate in the United States about how we will deal with the Iraq and Afghanistan wars. It will box in the Bush administration and limit some of the excesses that have been perpetrated on behalf of ever elusive "victory" in Iraq. But it isn't the end of the story. Before we can get to Mark Danner's "Third Act" in the Iraq drama (N.Y. Review of Books, Nov. 25), we have to get real.
---
Llewellyn D. Howell is director and senior research fellow at the Asia Pacific Risk Institute in the College of Business Administration at the University of Hawaii-Manoa.