---
FAST FACTS HAWAII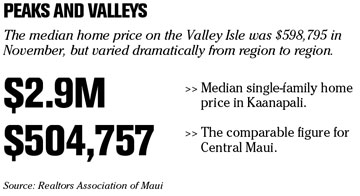 ---
HAWAII
Isle employers less optimistic about hiring
Honolulu area employers are less optimistic about hiring than they were a year ago about their prospects for hiring during the first quarter of 2007, according to
Manpower Inc.
's Employment Outlook Survey.
The quarterly survey found that from January to March, 38 percent of the companies interviewed plan to hire more employees, while 24% expected reduced payrolls. Another 31 percent expect to maintain their current staff levels and 7 percent are not certain of their plans, the company said.
Hawaii's unemployment rate hit an all-time low of 2.1 percent in October, the third straight month that the state had the lowest jobless figure in the nation, according to state data.
"Employers in the Honolulu area are significantly less optimistic about hiring than they were a year ago, when 40 percent of companies surveyed thought job gains were likely and 3 percent intended to cut back," said Manpower spokesperson Sunny Ackerman.
Nationwide, of the 14,000 U.S. employers that Manpower surveyed, 23 percent expect to add to their payrolls during the first quarter of 2007, while 11 expect to reduce staff levels, 60 percent expect no change, and 6 percent are undecided about their hiring plans next quarter.
Load factor drops at isle airlines
Hawaiian Airlines
' load factor decreased on its systemwide routes in November as the carrier added capacity, while smaller interisland rival go! saw its percentage of seats filled remain steady, albeit at reduced levels.
Hawaiian reports only its systemwide numbers and does not break out figures for its interisland and trans-Pacific routes. Aloha Airlines does not report traffic figures at all.
Hawaiian said yesterday its load factor in November fell 4.4 points to 85 percent from 89.4 percent the year before. But the number of passengers it carried in November increased 8.6 percent to 530,159.
Mesa Air Group Inc.'s go!, reported a load factor of 63.7 percent in November. Go!'s highest load factor ever was the 82.5 percent it achieved in June during the three weeks following its debut. Its load factor then fell to 73.9 percent in July, and has been in the 60 percent range since.
Go! carried 57,383 passengers in November.
NATION/WORLD
EPA revises fuel-economy formula
WASHINGTON » Car buyers will be facing a new form of sticker shock when they browse dealer lots starting next year.
The U.S. Environmental Protection Agency yesterday issued new testing procedures that will cause fuel economy estimates on the stickers of new vehicles to drop an average of 12 percent for city driving on most 2008 model year vehicles, and 8 percent for highway driving.
Highly fuel-efficient vehicles are expected to see the largest slide, with ratings for city driving dropping by as much as 30 percent and highway driving estimates falling 25 percent from current levels.
Mileage estimates for gas-electric hybrids likely will be 20 percent to 30 percent lower for city driving and about 10 percent to 20 percent lower on the highway, the agency said.
The changes respond to consumer complaints that fuel economy estimates are frequently less than advertised.
EPA's new system will take into account data from vehicle tests designed to more accurately assess high-speed driving, rapid acceleration, the use of air conditioning and driving in cold temperatures.
"EPA's new fuel economy sticker ensures American motorists won't be stuck with higher than anticipated charges at the pump," said EPA Administrator Stephen L. Johnson in a statement.
Nissan planning to build new fuel-cell vehicle
TOKYO »
Nissan Motor Co.
announced plans yesterday to launch a next-generation fuel cell vehicle in the early 2010s in Japan and North America .
Nissan Chief Operating Officer Toshiyuki Shiga, outlining the company's "Nissan Green Program 2010," said the company introduce from fiscal year 2010 gasoline engine technologies that will enhance fuel economy and at the same time reduce carbon dioxide emissions equivalent to diesel engine levels.
The company aims to introduce a new fuel-cell vehicle using an improved fuel stack -- the main part of such vehicles -- developed in-house after 2010 that will offer performance on par with gasoline-power automobiles, Shiga said.
But for the mid-term future, Shiga said the company plans to focus on the internal combustion engine as the primary power source for its vehicles, and will concentrate on improving engine efficiency.
Dutch ditch 'free to air' analog TV and go all digital
AMSTERDAM, Netherlands » The Netherlands ended transmission of "free to air" analog television yesterday, becoming the first nation to switch completely to digital signals.
Few Dutch consumers noticed, because most get TV via cable. Only around 74,000 households relied primarily on the old-fashioned TV antennas.
The bandwidth formerly used by analog has been licensed through 2017 by Dutch former telecommunications monopoly Royal KPN NV. Under its agreement with the government, KPN bore the cost of building digital broadcasting masts and must continue to broadcast three state-supported channels and several regional broadcasters free of charge. In return, it can use the rest of the open bandwidth to charge around $18.50 a month for a package of other channels that is comparable with cable.
---
BUSINESS PULSE