2006 ALL-STATE BOYS VOLLEYBALL
Half of the first team is made up of important players from Punahou's perfect season
The one team that came closest to upsetting Punahou this season was Iolani.
For Raiders coach Mike Among and many other court generals, finding a way to contain Spencer McLachlin was priority one, two and three.
The collaborating minds never found a way to solve the puzzle, and Punahou went 21-0 to capture its 27th state championship in 34 years of the tournament's existence. McLachlin, a 6-foot-7 senior, is no stranger to success. His 15 kills and nine digs led Punahou to a sweep of Kamehameha-Hawaii in the state final, capping his career with a third straight Star-Bulletin Player of the Year honor.
The voting by coaches and media was near unanimous. His teammate and classmate, setter Riley McKibbin, finished second in the voting, while Iolani's superb junior, Brad Lawson, was third.
Joining them on the All-State first team are middle blocker Max Halvorson and defensive specialist Colan Ishii of Punahou, outside hitter Tri Bourne of Maryknoll and opposite Chandler Kaaa, a standout sophomore from Kamehameha-Hawaii.
Kamehameha-Oahu's outstanding senior, Jordan Inafuku, received numerous votes after playing every position for the Warriors. Inafuku, who will play at Stanford with McLachlin and former Iolani standout Kawika Shoji, was selected to the first team as a utility player.
Coach of the Year honors went to Peter Balding of Punahou. Kamehameha-Hawaii's Guy Enriques was a close second, followed by Kaui Mendonca of Roosevelt and Shawn Doo of Maryknoll.
One coach was left in awe by season's end.
"We thought with all the graduation in the past few years, the level would drop down, but it hasn't," Hawaii Baptist coach Teoni Obrey said.
The development and sophistication of McLachlin's skills allowed Punahou, with McKibbin's finely tuned sets, to add all kinds of wrinkles to its attack.
"At some point, we said, we've got to try and take advantage when he's in the back row," Among said. "But he was equally effective, if not better, from the back. He killed us from there."
» There have always been setters with good talent, but a lack of weapons to use. Then there have been setters with an arsenal to work with, but skill is lacking.
McKibbin combined his unmatched skills with the state's most talented team. The Buffanblu weren't just a one-punch attack. They developed a variety of ways to use their hitters. Up front, Punahou was able to move McLachlin away from the block, a testament to McKibbin.
"I almost voted for Riley (as player of the year)," Among said of the USC-bound senior. "You tend to overlook the job he did because he made it look so easy."
» The Warriors were one of the smaller Division I teams in the ILH this season. Inafuku, at 5-11, is one of the few players who excels at any position. His talent, however, was matched by his positive leadership for a team that lacked returning experience.
"I think if Kamehameha won it at ILH, he would've been the best player in the state," Obrey said. "For his size and what he does. I didn't expect Kamehameha to do as well as they did. Everything he does raises the level of the team."
» Lawson's team came up just a little short of qualifying for the state tournament, but his performance and presence on the court weren't forgotten.
"Oh my goodness. He was definitely the most dominant player I've seen in a while," Obrey said. "Single-handedly, against us and Punahou, he kept his team in it. Against Punahou, he was all-world. He's only a junior, and that's really, really scary."
» Despite coming from another school (Academy of the Pacific), and then playing for a team that doesn't have a home gym, Bourne lifted the Spartans to new heights.
"He made major improvements since his junior season. He grew a couple of inches and he was pretty dominant," Obrey said. "He seemed to have matured on the court. He's really developed into an all-around player. It's unfortunate he couldn't play at states."
» Kaaa has a chance to become, perhaps, the best volleyball player in BIIF history. His versatility and the Warriors' all-around size allowed Enriques to utilize Kaaa in many ways.
"He's very, very talented," Obrey said. "And the thing is, he's very young. He's setting some, plays opposite. He has a huge upside, definitely a D-I player in college. He might be one of the most dominant players in the state already."
» Halvorson elevated his game in the postseason, providing much of the force in Punahou's dominant block.
"He is a very intelligent, quick learner. Whatever you teach him, he absorbs quickly," Obrey said. "I know Coach Peter was very high on him. Out of any other middle, he really, really improved."
» Ishii was a midseason addition to an already stacked Punahou lineup, but Balding's search for excellence prompted some changes for an unbeaten team.
"When they moved Erik (Shoji) to the outside, they used (Ishii) at the libero position," Obrey noted. "He was really, really good. Really consistent, an unsung player who you didn't see much, but when he stepped into the lineup, he solidified their team and took them to a different level. You didn't think they could get better, but it was a good lineup change."
---
2006 All-State Boys Volleyball
Honorable Mention
Outside Hitters
Kamuela Kalehuawehe-Valentine, Kamehameha-Maui
Timothy Moyer, Kalaheo
Joshua Walters, Kamehameha-Hawaii
Jasen Suwa, Waiakea
Christian Kahookaulana, Kamehameha-Hawaii
Komokana Fernandez, Honokaa
Rama Camarillo, Kamehameha-Maui
Clifton Pires, Kalaheo
Donovan Nieves, Pearl City
Joziah Estavillo, Leilehua
Jovi Casares, Pearl City
Juraishalei Murray-Thornton, Campbell
Chris Newcomb, Waimea
Chalsen Agrade, Waimea
Jordan Cox, Kauai
Louis "Bula" Hoopai III, Hana
Justin Neuhart, Molokai
Opposites
Uluwehi Keaunui, Roosevelt
Dominic Hart, Hawaii Baptist
Aaron Osorio, Waiakea
Middle blockers
Bryce Kozuki, Roosevelt
Holden Gorbea, Hana
Branden Medeiros, Waiakea
Scott Hamilton, Kamehameha-Hawaii
Sean Lum, Hawaii Baptist
Kealoha Kramer, Kamehameha-Hawaii
Lawrence Villafania, Leilehua
Ryan Mar, Radford
Jordan Furukawa, Campbell
Daniel Morisato, Kalani
Travis Styne, Kauai
Jon Beralaas, Kapaa
Manu Adolpho, Molokai
Kevin Brown, Seabury Hall
Richard Herring, Maryknoll
Harold Kaiwi, Hana
Setters
Huaka Kuamoo, Kamehameha-Hawaii
Reid Nebrija, Pearl City
Daniel Rodrick, Kapaa
Kaulana Kalauli-Rowe, Hilo
Bryce Wong, Maryknoll
Defensive specialists
Jay Hanagami, Waiakea
Romel Vargas, McKinley
Matthew Cheape, Mililani
Kelsey Hesapene, Waimea
Tyler Terai, Maryknoll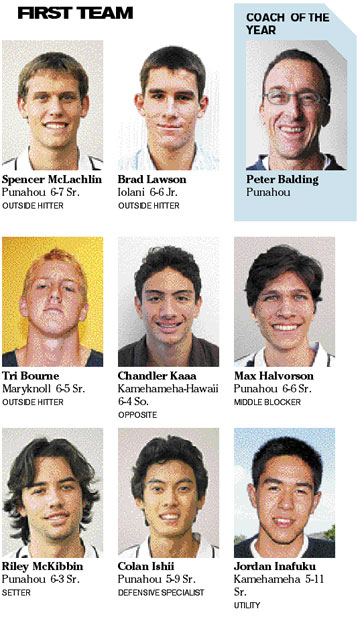 Second Team

Pos.
Name
School
Ht.
Yr.

OH
Erik Shoji
Punahou
5-11
Jr.

OH
Clifton Asuncion
Kamehameha
6-1
Jr.

OH
Reese Haine
Mid-Pacific
6-1
Sr.

OP
Maddison McKibbin Punahou
6-3
So.

MB
Tim Harrison
Punahou
6-3
Sr.

S
Nicholas Castello
Maryknoll
5-8
Sr.

DS
Skyler Tajima
Iolani
5-10
Jr.
Third Team

| | | | | |
| --- | --- | --- | --- | --- |
| Pos. | Name | School | Ht. | Yr. |
| OH | Andrew Love | KS-Hawaii | 6-1 | Sr. |
| OH | Kaina Palama | Roosevelt | 6-2 | Jr. |
| OH | Jesse Lafua | Waianae | 6-0 | Sr. |
| OP | Kahale Morgan | Kamehameha | 5-9 | So. |
| MB | Tyler Caswell | Kalaheo | 6-6 | Sr. |
| S | Kyle Maki | Roosevelt | 5-6 | Sr. |
| DS | Lester Akeo | Kamehameha | 5-8 | Sr. |
| DS | Joby Ramos | Roosevelt | 5-7 | Fr. |