---
Keiki Kalikimaka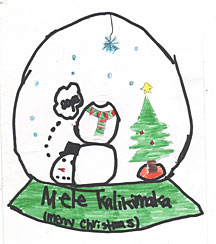 Today's ornament was crafted by Shelby Kaneshiro, 11, a student at Sacred Hearts Academy. "Keiki Kalikimaka" runs daily through Christmas Eve; a tree with all the featured ornaments will run on Christmas Day.
GIFT IDEA


Make it a HOT Christmas

The Hawaii Opera Theatre offers a Red HOT Holiday Gift Bag for fans of big, bold singing. The $99 package (valued at $200) includes:

» Two premium seats to a 2007 season opera, or one seat to two operas. Take your pick of "Samson & Dalila," Feb. 2, 4 and 6; "Don Giovanni," Feb. 16, 18 and 20; or "Madama Butterfly," March 2, 4 and 6.
» A $20 dining certificate to MAC 24-7 in the new Hilton Waikiki Prince Kuhio.
» A keepsake photo taken at the Blaisdell Concert Hall on opera night.
» A HOT open house backstage pass tour (for "Samson & Dalila").
» A HOT coffee mug.
» One-year subscription to Cabaletta, the HOT newsletter.

The packages are available only at the HOT Box Office, 985 Waimanu St., through Dec. 22, while supplies last. Call 596-7858.
RESTAURANT REPORT


Dinner specials

Coming up at the Hilton Hawaiian Village:

"A Sugar Plum Dinner Package": Includes a ticket to Ballet Hawaii's "Nutcracker" on Friday, dinner at Bali by the Sea or the Golden Dragon, souvenir program and transportation to the Neal Blaisdell Concert Hall. Cost is $85. Call 947-7888.

A Pacific return: Chef Jean-Marie Josselin, formerly of A Pacific Cafe, returns as a guest chef at Bali by the Sea for a four-course dinner Dec. 19. Josselin's menu centers on entrée choices of Slow-Roasted Lamb Loin with Pumpkin Seed Ravioli or Slow-Cooked Salmon with Licorice and Five Spice Orange Foam. Cost is $65. Call 949-4321, ext. 39.
Wine tastings
Formaggio in the Market City Shopping Center hosts:
"Bathing in Bubbles Part 1": 2 to 4 p.m. today. Featuring Taittinger, Charles Heidsieck, Piper Heidsieck, Nicolas Feuillatte and Perrier Jouet. Cost is $30, which includes an Eisch champagne flute.
"Flavors of Italy": 1 to 3 p.m. Saturday. A tasting with chef Donato Loperfido, of his wine collection. Cost is $20, with appetizers.
"Bathing in Bubbles Part 2": 2 to 4 p.m. next Sunday. Featuring Laurent Perrier, Veuve Clicquot, Pommery, Moet & Chandon, Roederer and more. Cost is $30, including a Riedel champagne flute.
Reservations required for all events. Call 739-9463.