Bigger Waldorf campus opposed
Niu Valley residents fear expansion will add traffic and noise
Some Niu Valley residents want to block a private school's $4.5 million plan to expand its 2.5-acre campus with a high school, fearing increased traffic and noise will disrupt their tranquil neighborhood.
Honolulu Waldorf School is seeking a conditional use permit from the city to break ground on a two-story facility that would house about 80 high school students who have been taking classes in leased buildings in Kahala since 1996.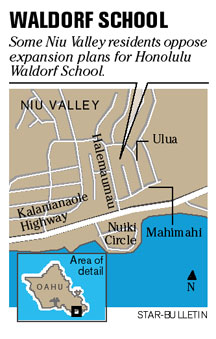 The East Oahu school, which has about 240 students from first through eighth grades at the Ulua Street site, needs the extra classrooms because its lease in Kahala with Kamehameha Schools will expire in 2011, said Kim Payton, president of the school's board.
Plans call for a 10,400-square-foot building at the southwest corner of the existing Niu Valley campus. Under a "green" design by Group 70 International, the building would use recycled materials, natural lighting and energy-efficient cooling systems, the school said.
But the plan scares some residents, and about 70 people voiced their concerns yesterday during a three-hour public hearing held by the city's Department of Planning and Permitting.
School officials, teachers, alumni, students and their parents testified that merging the two campuses, which are separated by about 3.5 miles, would be more practical and would streamline the transition between grades.
Residents, however, associated the new school with traffic gridlock, lack of parking, pollution, noise and even crime.
Alexander Lau, a senior at the school, said he feels residents are assuming that an influx of teens will bring drugs and other problems near their homes. But the 17-year-old stressed that Waldorf students are known to help communities through 100 hours of volunteer service that are required for them to graduate.
"I'm convinced that bringing the high school students to the lower school campus will not disrupt the community," Lau said. "Our high school students do not fit the typical teenage stereotype."
Speaking against the school's plan, area resident Jeannine Johnson noted that the proposed expansion had been opposed twice by the Kuliouou/Kalani Iki Neighborhood Board, as well as by hundreds of residents with the Niu Valley Community Association.
The plan, she argued, might become acceptable to the community if it were significantly reduced. The only other alternative, she said, would be for the school to build elsewhere.
"Waldorf claims it has now outgrown its Kahala campus," Johnson said. "We in Niu Valley claim that Waldorf has outgrown its Niu Valley campus as well."
The school, established in 1961 by a small group of business and community leaders, has been searching for a new site for a high school for 10 years.
And despite looking for vacant properties everywhere from Kailua to Kalihi Valley, the not-for-profit school can't afford land prices, according to Payton. Still, he said he remains hopeful that the two sides will reach an agreement so that the new building can be completed by the summer of 2009.
"There's no permanent solution," Payton said. "We just have to keep trying."
City officials expect to decide whether to approve the school's request for a building permit around Jan. 9.