---
FAST FACTS HAWAII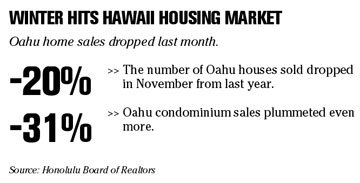 ---
HAWAII


Brew Moon eateries for sale at $850,000

Brew Moon Restaurant and Microbrewery at Ward Centre and the Brew Moon on the second floor of Local Motion in Waikiki are on the market for $850,000 total.

The restaurants are listed by Business Brokers Hawaii. Owner Marcus Bender is selling Brew Moon to focus on his beverage businesses and is open to different proposals, listing broker Mark Heilbron said.

"It could be a sale, or it could be a partnership or a joint venture. It depends on who the buyers are and what they bring to the table," Heilbron said.

Brew Moon first opened at Ward in 1998 at a cost of about $2.5 million. Bender bought the restaurant six years ago, two years after its founders went bankrupt.
5 Kahala Mall theaters to reopen
Consolidated Theatres
plans next Friday to reopen five of eight Kahala Mall movie theaters that were shuttered by a flood caused by torrential rain in March, mall officials said yesterday.
The three remaining theaters are to reopen sometime next month. The theater space bore the brunt of the flood damage at the mall. Of the eight theaters, 6, 7 and 8 suffered the most damage, mall officials said at the time.
Representatives for Consolidated could not be reached yesterday.
Maui home sales fell in November
The median sales price of single-family homes in Maui County fell 18.5 percent in November, according to data released yesterday by the Realtors Association of Maui, while condominium prices gained 9.8 percent.
The November median price for Maui houses was $598,795, with 109 homes changing hands, versus a median of $734,500 in the same month last year, when 86 homes sold. Last month's single-family median is the lowest since February 2005, when the median price was $575,000, association figures show. The record monthly median in the county is $780,000, reached in May 2005 and matched in July of this year.
Maui's median condo price last month was $515,000, versus $469,000 in November 2005, the association said. However, the number of condo units sold was only 66, way down from 147 in the year-earlier month.
NATION


Regulators fine Grant Thornton

WASHINGTON » Federal bank regulators have fined the accounting firm

Grant Thornton LLP

$300,000 for what they called "reckless conduct" in its audit of

First National Bank of Keystone

, a West Virginia institution whose collapse in 1999 was one of the costliest U.S. bank failures in the past decade.

The Office of the Comptroller of the Currency, the Treasury Department agency that regulates nationally chartered banks, yesterday announced the civil fine and order against Grant Thornton, which was signed by Comptroller John Dugan on Thursday.

Chicago-based Grant Thornton disputed the agency's findings and said it will challenge the sanction in a federal appeals court.
Study finds suspicious CEO grants
NEW YORK » About 1,150 options granted to chief executives at the lowest stock price of the month were the result of manipulation, according to estimates in a Harvard Law and Economics paper released yesterday.
The study looked at "lucky" grants, which it defined as grants given to chief executives at the stock's lowest price for the month. It found the grants were more likely when the payoffs from luck were high. Even for the same CEOs, grants were more likely to be given at the lowest point in months in which the potential payoffs from manipulation were relatively higher, the study found.
Ex-Duke Energy manager accuses it of kickbacks
CINCINNATI » A former manager at
Duke Energy Ohio
has filed a lawsuit accusing the utility of paying millions of dollars in kickbacks to large industrial customers to win their approval of a 2004 rate increase.
John Deeds, 33, of Mount Carmel, was "abruptly terminated" in May shortly after he asked his superiors in writing about large payouts totaling $20 million in 2005 to unnamed large industrial and commercial customers, according to the lawsuit.
Deeds' lawsuit, filed Thursday in U.S. District Court, is seeking lost pay, compensatory damages and up to $40 million in punitive damages and attorneys fees.
"We believe the allegations are totally without merit, and we intend to defend against them vigorously," said Steve Brash, a spokesman for Duke Energy Ohio, which operated as Cinergy Corp. until it was acquired by Duke Energy in April.
The lawsuit says Cinergy's Cincinnati Gas & Electric Co. asked the Public Utilities Commission of Ohio in January 2004 for an electric rate increase and needed support from large industrial users to win approval.
BlackBerry sues Samsung over BlackJack
Research In Motion Ltd.
, the maker of BlackBerry e-mail phones, said
Samsung Electronics Co.
's BlackJack handset infringes the BlackBerry trademark.
Samsung's use of "BlackJack" in connection with a so- called smart phone "constitutes false designation of origin, unfair competition, and trademark dilution," Research In Motion said in a lawsuit filed yesterday in Los Angeles federal court. The suit seeks a court order barring use of the BlackJack name and unspecified damages.
Expedia offers to buy back $660M in stock
Expedia Inc.
, the world's largest Internet travel agency, offered to buy back as much as $660 million of stock, sending the shares up the most since its initial public offering in July 2005.
The company offered yesterday to pay from $18.50 to $22 a share for as many as 30 million shares of stock, about 9.8 percent of the total stock outstanding.
Two ratings companies lowered their outlook on the debt of Bellevue, Wash.-based Expedia.
---
BUSINESS PULSE