| | |
| --- | --- |
| | Newswatch |
---
Seized property to be auctioned
The state Attorney General's Office plans an auction tomorrow of property that was forfeited or seized in criminal prosecutions. The event, conducted by Rosen Auctions, will begin at noon in the Neal Blaisdell Center's Pikake room. The property includes a 2005 Toyota Tacoma Crew Cab pickup, a customized motorcycle and other vehicles; as well as automotive parts, jewelry, stereo equipment and tools. A list of the items is at
www.rosenauctions.com
.
300 to graduate from Chaminade
About 300 graduates will receive degrees at
Chaminade University of Honolulu
's 49th Winter 2006 Commencement Ceremony on Monday, starting at 7 p.m.
Chaminade regent Robin K. Campaniano will be the commencement speaker for the event at the Neal S. Blaisdell Concert Hall. Campaniano is also president and chief executive officer of AIG Hawaii Insurance Co.
The undergraduate speaker is Angelique Francoise Showman, who is receiving her bachelor of science degree in forensic sciences. Graduate student speaker Marlene Akiko Zeug is receiving her master of business administration degree. Tickets are needed for admission.
Former travel agent wins harassment case
A former travel company customer service agent was awarded $1.2 million yesterday in First Circuit Court in Honolulu in a sexual harassment case against her former employer, according to her attorneys.
Rieko Aoki alleged she was terminated from Tactical Affairs Corp., doing business as H.I.S. Hawaii, a Japan-based travel agency, after she resisted sexual harassment from her manager and others at the company.
The jury returned a verdict that awarded Aoki $135,000 in compensatory damages, $1 million in punitive damages against H.I.S. Hawaii and $100,000 in punitive damages against the manager, according to a news release sent out by Aoki's attorneys.
Attorneys for H.I.S. Hawaii were unavailable for comment late yesterday.
Power failures blamed on strong winds
Several power outages yesterday on Oahu were likely related to strong winds, said a Hawaiian Electric Co. spokesman.
About 6,200 customers in the Hawaii Kai, Niu Valley and Portlock areas were without power from about 11:30 a.m. to 1:30 p.m. after a 46 kilovolt line tripped off.
The line is one of two in the area. The other line had lost power at 5:09 a.m. and transferred power to the second line. Customers lost power when the second line tripped at 11:31 a.m., said HECO spokesman Jose Dizon. Power was restored by 1:27 p.m.
Power also was out for about 1,000 customers in Lanikai from 5 to 9:17 a.m. after a tree knocked down a power line. In Portlock, about 80 customers lost power from 8:55 to 10:17 a.m. after a palm frond fell into the lines, Dizon said.
Only 1 rescue made in high North Shore surf
The waves were big, as expected, but lifeguards were not too busy along the North Shore yesterday.
With the National Weather Service warning residents to prepare for 22- to 28-foot waves, ocean safety personnel rescued one person and took 451 preventative actions (reminding people to adhere to warning signs posted along the shores and heed lifeguard warnings).
Honolulu Emergency Services spokesman Bryan Cheplic said the lone rescue was made on Sunset Beach, and the person was OK.
The high-surf advisory remains in effect for the North Shore until 4 p.m. today. Surf heights are expected to reach 20 to 24 feet on the North Shore and 10 to 12 feet along west- facing shores of Oahu.
Coming this weekend in your Star-Bulletin:
Sunday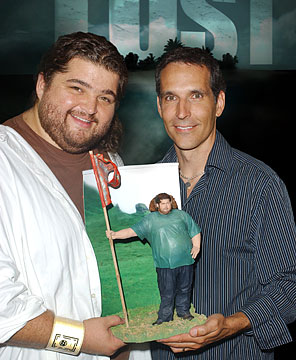 COURTESY OF MCFARLANE TOYS
Today:
Celebrated comic book writer and toy designer Todd McFarlane says he hopes the line of "Lost" action figures that just hit stores will become a perennial release, so that he can eventually make his way through the entire growing cast. Also, in Honolulu Lite Extra!, Jon Farmer finds that people will pay for the oddest things, if you approach them correctly. For example, trash -- if it's packaged as art.
Business: The tight labor market has forced many Hawaii businesses to cover extended hours and additional traffic with shoestring budgets. Also, professional holiday light hangers are answering the call so that homeowners won't get hurt and will have more time to devote to other seasonal activities.
Travel: The environmentally friendly Polar Star expedition vessel churns through the sea encountering fascinating wildlife and exploring isolated islands.
---
THE GOOD NEIGHBOR FUND
---
Monetary gifts may be sent to:
Honolulu Star-Bulletin's
Good Neighbor Fund
c/o Helping Hands Hawaii
P.O. Box 17780
Honolulu, Hawaii 96817-0780
Clothing, household items and gifts can be donated at the Community Clearinghouse, 2100 Nimitz Highway.
You may also participate in the Adopt-A-Family program, in which businesses, employee groups, social clubs, families or individuals can help a specific family.
Call 440-3804 for information about the program or to arrange for pickup of large items.
---
| | |
| --- | --- |
| | Police, Fire, Courts |
---
NEIGHBOR ISLANDS
Jeep spotted in ocean spurs search for driver
Coast Guard and Maui county rescue personnel searched for a possible occupant from a Jeep found in waters off McGregor Point yesterday, but the search was called off after officials concluded the vehicle had been empty.
The Coast Guard and Maui fire and police departments responded a report of a Jeep spotted in the water. The vehicle was later found to be stolen, Maui fire officials said, and they assumed it had been dumped off the 200-foot cliff.
A Coast Guard plane, helicopter and 47-foot motor lifeboat, along with the fire helicopter and Maui police and fire ground crews, searched for an unknown person reported to be in the vehicle off McGregor Point, the Coast Guard said.
Fire department divers also searched inside the vehicle.
The Coast Guard made a one-square-mile search from the area and fire officials searched within a few miles of the point, but found no one in or around the Jeep.
The search was suspended when it was discovered that the report of a person in the Jeep was a "false alarm," a Coast Guard official said.
Passing vessel rescues fisherman off Lanai
A good Samaritan fishing vessel picked up the owner of another fishing boat who got lost paddling a dinghy on his way back to his boat.
The Coast Guard said the fishing boat Desperado picked up the man five miles southeast of Lanai.
The man had tried to paddle out to shore early yesterday, got disoriented and could not find his own vessel, a Coast Guard spokesman said.
The Coast Guard searched through the night from 12:35 to 9 a.m. yesterday.
The Desperado contacted the Coast Guard at about 9 a.m. yesterday to say the missing man was located.
HONOLULU
Gunman flees after robbing Halawa store
A male suspect robbed a Halawa convenience store at gunpoint early yesterday morning, according to a police report.
Police said an unknown male walked into the Stadium Mall Fastop convenience store at 4:57 a.m. shortly after it opened, pointed the gun and robbed the 46-year-old female store manager.
The suspect fled after the woman escaped his grasp and she yelled for help. The case is pending investigation.
Suspect, 26, arrested in Nov. 21 purse-snatch
Police have arrested a 26-year-old Iwilei man who allegedly snatched a woman's purse two weeks earlier in the Kapiolani business district.
Police said the man allegedly forcibly took a 52-year-old woman's handbag about 8:35 p.m. Nov. 21 outside an apartment complex.
A witness saw the suspect run and then flee in a getaway car and got the license plate number. Police arrested the man Tuesday on suspicion of robbery.
LEEWARD OAHU
Man held for alleged sex assault of juvenile
A 30-year-old man has been arrested for allegedly sexually assaulting a juvenile while she was asleep last month.
Police said the assault happened at about 2:45 a.m. on Nov. 1 in Aiea.
Police arrested the man Wednesday for investigation of second-, third- and fourth-degree sexual assault.