Tonouchi to host book launch
Lee Tonouchi, Hawaii's "pidgin guerrilla," has helped coordinate another provocative issue of the Kapiolani Community College literary publication Ka Nani. "Bumbye Hawai'i" is a booklet shaped and designed like a Waikiki entertainment guide.
'Bumbye Hawai'i'
Reading and book launch: 6 to 8 p.m. tomorrow

Place: Native Books, Ward Warehouse
The collection looks at present and possible scenarios of the island state, featuring interviews
with Gov. Linda Lingle and Jon Osorio, director of the University of Hawaii's K
a
makakuolani Center for Hawaiian Studies.
Like the school's previous publication, "Hip-Hop Hawai'i," there's the usual array of student contributions. "Seems like one overwhelming majority of Hawai'i's young people not very optimistic about how Hawai'i going be," Tonouchi says in his introduction.
Designer Lisa Mizuire and graffiti-influenced illustrator Zhi Situ have done a solid job putting together the booklet. The overt sexualization of "exotic Hawaiian women" is effectively parodied.
One particularly effective combination of graphic and text is the treatment of Albert Leung's poem "Force." Placed alongside Situ's depiction of Pele as an energy industry marionette, Leung mourns that "With her armored face, / concrete working gloves, / and smokestack ears, / her lava flows and dries / like tears."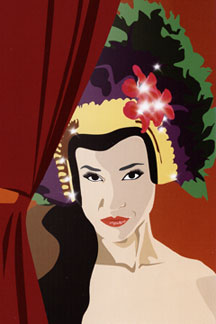 On the following page, Sakitsu Hayataru offers a striking and fanciful interpretation of the Hawaiian goddess in "Pele -- Japanese Interpretation," illustrated with the help of Adobe Photoshop.
Other highlight contributions include Alex Domingo's "The New Luna," a speculative story of the return of the oppressive plantation system in the guise of a bio-fuel industry. And multiethnicity gets a comic workover in David Hsin Shan Lee's poetic rant, "The Boiling Pot."
Tonouchi writes that the use of the pidgin word "bumbye" in the title can be taken two ways: either for its usual meaning of "later on" or as a cautionary preface to a future that may result in the further erosion of the aloha spirit.
---
"Bumbye Hawai'i"
is available at the book launch., Kapiolani Community College or can be ordered from Tonouchi at
hybolics@lava.net
.