Car aficionados will also rock on this weekend
GUESS I'M going against the grain for a second week in a row. Last week, some people called me crazy for choosing to attend the
Pearl Jam
concert instead of the University of Hawaii Warrior football game against Oregon State. This Saturday, I plan on being at the Blaisdell for "Hot Import Nights" instead of the big
U2
concert at Aloha Stadium.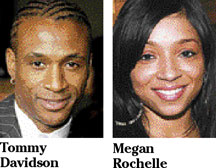 As one of the biggest events of the year for car enthusiasts, "Hot Import Nights" will attract thousands of people to the sickest rides that prowl the streets of Honolulu. Throw in vendor booths, beautiful women and a number of afterparties, and you've got yourself quite a night.
Doors open at 5 p.m. Saturday, with HIN spokesmodel Ursula Mayes hosting a "Queen of the Scene" competition and Playboy Playmate DJ Miss Lisa holding things down on one of the event's entertainment stages. A "Glo-Go Dancer" contest is also planned, with local dancers squaring off against an all-star crew assembled by promoters.
Once HIN wraps up at the Blaisdell, it's time for the afterparties. DJ Groove and models Mia Valerio, Jeri Lee, Nina Kay, Kailiyah Rey and Michelle Anderson are scheduled to appear at Venus, while Cat Gutierrez and Jenny Chu will be at Zanzabar. Pipeline will host another "official" MySpace.com party, with special appearances by model Francine Dee and rapper Battlecat ...
SPOTTED AROUND town in recent weeks: Actor and stand-up comedian Tommy Davidson took the time to pose for a picture at Zanzabar with DJs Big John, Billy G and Da Lion of Judah ... However, that most definitely wasn't Bono in the club a few days later. No security around the guy, and he even asked DJ Peter Lau to play a U2 song. How tacky is that? ... National recording artist Megan Rochelle made an appearance at Pipeline Cafe last Friday, a day before opening for Monica with the NB Ridaz during a secret show at the Ocean Club ...
ONE OF the best ways to warm up for a few hours of shopping at Ala Moana Center is with a cocktail.
At Panya Bistro, happy hour runs daily from 4 to 6 p.m. and from 9 p.m. to closing. More than a half-dozen martini choices are available for $6 each, and there's always food available.
The bar area is a good place to sit and people-watch. Michelle Wie, Fiji, Jake Shimabukuro, Mahealani Richardson and Beth Chapman have all been seen there in recent months ...
KAPAHULU KAFE celebrated its grand re-opening last weekend with an evening of kava and live entertainment.
Owner Daren Kimura now offers lunch from 11 a.m. Monday through Friday, and is open until midnight seven days a week. The grand re-opening also coincided with Kimura's decision to expand his kava offerings, which now include Jell-O and haupia shots with the equivalent of a bowl of kava inside.
Last Saturday, boxer Jesus Salud and bodybuilder John Ligsay Jr. were on hand to sign autographs, while Ernie Cruz Jr., slam poet Kealoha and The Girlas' Candy Yasuda showed up to support ...
LOCAL RAPPERS have a chance to open for Paul Wall later this month, thanks to Cinnamon Red Entertainment.
A special music showcase is planned for Dec. 21, the night before Wall's concert at Hawaiian Waters Adventure Park. Those who enter will compete for the chance to serve as his opening act, and will have the opportunity to network with and get feedback from a select group of recording industry representatives.
The deadline to register for the "Cinnamon Red Music Showcase" is Dec. 15. Visit www.myspace.com/cinnred for more information ...