---
FAST FACTS HAWAII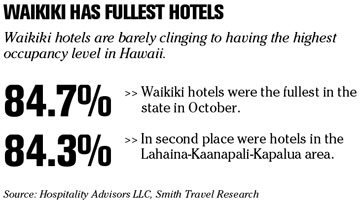 ---
HAWAII
City debt gets upgrade from S&P
Standard & Poor's Rating Services
has upgraded bonds issued by the City & County of Honolulu, the city said yesterday.
S&P's upgrade, from AA-minus to AA, will allow the city to borrow money at lower interest rates. Honolulu's debt had been rated AA-minus since 1999.
"This shows we have been managing the city well, making the best use of our limited resources," Mayor Mufi Hannemann said.
Hannemann said the rating service cited Honolulu's growth in visitor traffic and property values, as well as its "focus on expenditure control." Also mentioned were last year's cancellation of $60 million in capital projects and the impending half-percent tax surcharge for the planned mass transit project, he said.
Hawaiian, Aloha top DOT rankings
Hawaiian Airlines
and
Aloha Airlines
fared well in the October service rankings by the U.S. Department of Transportation.
Hawaiian took first place in five categories measured: on-time performance, baggage handling, fewest oversales and fewest complaints. Aloha made the top five in all but baggage handling, and placed second in on-time performance.
Hawaiian has been top-ranked for on-time performance -- arriving within 15 minutes of schedule -- for 36 straight months, and six straight months in baggage handling.
NATION/WORLD
Growth in works for Universal City
UNIVERSAL CITY, Calif. »
NBC Universal
yesterday unveiled an ambitious plan to revamp the unique 390-acre complex that includes movie sets, office space and a theme park.
The 25-year master plan envisions an 80,000-square-foot expansion of the theme park, new high-tech soundstages and a residential development called "Universal Village."
The new plan calls for selling off 124 acres of mostly undeveloped land to a builder for a new residential community. The new plan would allow for expansion, including a revamp of its venerable tram studio tour.
Any construction is at least two to three years away as the company secures the permits and approvals needed for the entire project.
House arrest ordered for Cendant figure
HARTFORD, Conn. » A federal judge ordered home confinement yesterday for former
Cendant Corp.
executive E. Kirk Shelton while he appeals his convictions in a $3 billion accounting scandal at the travel and real estate company.
Shelton, the former vice chairman of Cendant, was sentenced last year to 10 years in prison on conspiracy and fraud charges. He was also ordered to pay $3.27 billion restitution to Cendant, including a balloon payment of $15 million and monthly installments of $2,000 after he is released from prison.
Shelton had been free on bond with some travel restrictions pending appeals of his convictions, which were upheld last month by the 2nd U.S. Circuit Court of Appeals in New York.
Microsoft warns of security hole in Word
REDMOND, Wash. » A newly disclosed flaw in Microsoft Word could let malicious hackers take control of victims' Windows computers by sending them e-mail with a Word document attached.
Microsoft Corp. informed computer users of the problem Tuesday, though the company classified it as a security "advisory." That makes it a less urgent warning than other security disclosures, though the company is investigating attacks that exploited the vulnerability. As of yesterday evening, the company had not released a patch to fix the problem.
The vulnerability affects versions of Microsoft Word sold from 2000 through 2006. Microsoft Word 2007, which is currently available only to businesses, is not vulnerable, the company said.
Ford raises borrowing capacity to $21.5 billion
DETROIT »
Ford Motor Co.
said yesterday it will raise its new borrowing capacity to as much as $21.5 billion, up from the $18 billion figure it announced last week.
The increase of up to $3.5 billion was due to "overwhelming support" by lenders, Ford said in a regulatory filing with the Securities and Exchange Commission.
The No. 2 U.S. automaker said last week that it planned to get the financing to help fund its restructuring and to cover anticipated losses in its automotive operations during the next two years.
Ford said it still plans to borrow $18 billion but wants the additional credit options for flexibility as it goes through the massive restructuring plan.
---
BUSINESS PULSE