---
'MIGHTY MO' SALUTES GUARD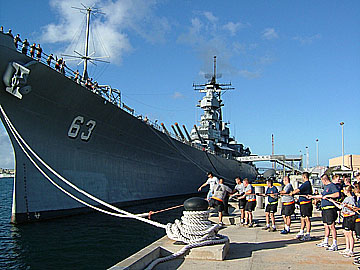 ---
BOOKSHELF
Cookie cookbook offers wide variety
For the baker on your Christmas list, here's an idea in the under-$15 range -- Muriel Miura's "Cookies from Hawaii's Kitchen" (Mutual Publishing). The veteran cookbook author has assembled a wide variety of recipes, organized by technique: bars, dropped, pressed, sliced, rolled and no-bake cookies.
You'll find old favorites (Stained Glass and Lemon Bars) and cookies with a local touch (Hawaiian Fruit Bars and Macadamia Nut Krispies).
It's all dedicated to Miura's best cookie audience, grandchildren Alissa and Stephen (the chocolate-chip cookie recipe bears Alissa's name).
The book sells for $13.95 at most bookstores or order online at www.mutualpublishing.com.
---
FOR A GOOD CAUSE
Get Top 5 recipes for $5 donation
The Top 5 recipes of the year from the Star-Bulletin's "By Request" column and food pages are available through December for a $5 donation to the Good Neighbor Fund. Send checks made to the fund, with a stamped, self-addressed envelope, to "By Request," Honolulu Star-Bulletin, 7 Waterfront Plaza, Suite 210, Honolulu 96813.
The recipes: Chinese Tea Cookies (Kong Sui Ban), Inari Tuna-Tofu, Guava Pound Cake, Korean Black Noodles (Chajiangmyun, pictured above), and the best and easiest recipe for macaroni and cheese you'll ever find.