---
FAST FACTS HAWAII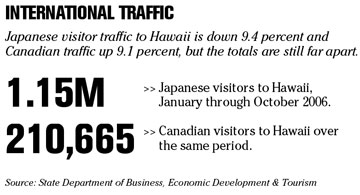 ---
HAWAII
Barnwell buys stake in Hualalai Resort
Barnwell Industries Inc.
said yesterday its Big Island development partnership has invested $3 million in two unrelated limited liability companies to purchase a passive minority interest in Hualalai Resort, which includes the Four Seasons Resort Hualalai at Historic Kaupulehu in North Kona, two golf courses and undeveloped residential property.
The Honolulu-based company, which owns 77.6 percent of Kaupulehu Developments, also said it received net proceeds of $1.5 million for real estate consulting services rendered in a separate transaction.
"As we enter our 51st year in business, we are pleased to have acquired an interest in Hualalai Resort, which our majority-owned Kaupulehu Developments partnership began development of in 1984," said Morton Kinzler, chairman and chief executive of Barnwell. "Hualalai Resort has been one of the most successful resort projects in the United States for 10 years."
Hualalai Resort was sold in June by affiliates of Tokyo-based Kajima Corp. to computer mogul Michael Dell's MSD Capital LP and Rockpoint Group LLC for an undisclosed price.
Hawaii part of insurance settlement
HARRISBURG, Pa. »
Zurich American Insurance Co.
will pay $122 million to resolve claims of bid-rigging and price-fixing in the commercial insurance market under a nationwide settlement negotiated by Pennsylvania and 10 other states, state Attorney General Tom Corbett announced yesterday.
The coalition in the settlement also includes California, Florida, Hawaii, Maryland, Massachusetts, Michigan, Oregon, Texas, Virginia and West Virginia. The amount to be paid to policyholders in all 50 states reflects the final terms of a settlement that was filed yesterday.
The states alleged that Zurich American failed to disclose it paid "contingent commissions" to insurance brokers and conspired with brokers in a scheme to overcharge commercial policyholders, Corbett said.
Zurich American also will pay an additional $20 million to the investigating states.
NATION / WORLD
Bank of New York to buy Mellon
NEW YORK »
Bank of New York Co.
has agreed to take over
Mellon Financial Corp.
in a $16.5 billion all-stock deal that will create the world's largest securities servicing company and one of the biggest asset managers.
The new company, which will be called Bank of New York Mellon Corp., will be the world's leading asset servicer with $16.6 trillion in assets under custody. It also will rank among the top 10 global asset managers with more than $1.1 trillion in assets under management.
The companies also said that they expect the deal will result in the elimination of about 3,900 jobs, or nearly 10 percent of their work force.
The deal requires approval by regulators and shareholders.
Delta, PBGC reach pension deal
ATLANTA »
Delta Air Lines Inc.
and the Pension Benefit Guaranty Corp. have reached a settlement involving the carrier's request to terminate its pilots pension plan that will award the government's pension insurer an unsecured claim of $2.2 billion.
The Atlanta-based company said in a bankruptcy court filing yesterday that the agreement also calls for Delta's reorganization plan to provide the PBGC with $225 million in senior unsecured notes. Delta retains the right to replace the notes with cash.
The agreement calls for the PBGC to complete the termination of the pension plan quickly, and, if it makes a final determination to terminate the plan as recommended by its staff, the termination will be retroactive to Sept. 2.
Wells Fargo to help people with bad credit
SAN FRANCISCO »
Wells Fargo & Co.
is launching a new program to help mortgage borrowers with poor credit records improve their plight -- and help the bank shake off years of accusations depicting it as a predatory lender.
The initiative, dubbed "Steps To Success," promises to provide free credit records, personal credit scores and more financial advice to customers who can't qualify for the best rates on home loans.
Wells Fargo plans to unveil the program today, following through on a pledge made by the bank's executives at a national housing symposium six months ago.
The new campaign continues Wells Fargo's recent efforts to polish its reputation in the so-called "sub-prime" mortgage market that caters to downtrodden consumers with blemished borrowing histories. Critics say Wells Fargo has been unfairly gouging sub-prime borrowers for years -- allegations the San Francisco-based bank denies.
Owner of Sahara Hotel & Casino dies
LAS VEGAS » Lynn Bennett, the owner of the Sahara Hotel & Casino on the Strip died in her home in Las Vegas on Sunday. She was 64.
Bennett was the widow of Las Vegas gambling industry pioneer William Bennett and influenced management at the Sahara since his death four years ago, the casino said.
The casino is owned through privately held Gordon Gaming Corp. The casino's director of marketing, Ron Garrett, said it was unclear who would next own the Moroccan-themed casino founded in 1952.
---
BUSINESS PULSE