---
FAST FACTS HAWAII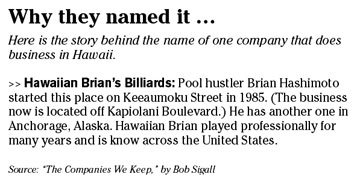 ---
NATION


Most workers do not shop online at work

Even as Web gifting becomes more popular, most workers won't shop online while at the office, according to a survey from

Spherion Corp.

Fifty-four percent of employees said they wouldn't use their work time for Internet shopping this holiday season. Nearly half said it wasn't acceptable to do so in the office even though 70 percent of their employers don't block access to retail sites.

Of the quarter of employees who do shop online while at work, two-thirds spend 15 minutes or more each time they go online. Adults ages 30 to 39 are more likely to shop online than any other age group.

"Using computers at work to buy gifts during the holidays may be a symptom of employees' ongoing difficulty in balancing their professional and personal lives," said Nancy Halverson, vice president of talent development at Spherion. "With growing personal responsibilities and increasing hours on the job, the line between home and work continues to blur."

The recruiting and staffing company polled 1,233 employed adults in October.
How to call customer service
No one likes to wait for customer service on the telephone while listening to elevator music, especially during the holidays.
Oscar Alban, a consultant for Witness Systems Inc. which creates call center monitoring software, offers the following tips to speed your call:
» Time it right: If you call after 10 p.m., you're more likely to reach inexperienced representatives. Also, avoid calling on Mondays, which is typically the busiest day for call centers. Wednesday through Friday are the best days.
» Be sneaky: To bypass the automatic prompts and reach a real person, choose the Spanish-speaking option. Most agents are bilingual and can help you.
» Be prepared: Have any account numbers or purchase information in hand. At the end of the call, make sure to get the representative's name, location and a confirmation number for future reference.
» Stay calm: Don't lose your temper. Nothing will get done if you do. If you need to ask for a supervisor, tell the representative that she has been helpful, but you have questions you would like to direct to a supervisor.
"Representatives really appreciate people who treat them well and will go out of their way to help them," Alban said.
Stuck in the middle with you
One-third of companies reported that their middle managers were unqualified for promotions for high-level positions, according to a recent survey from
ClearRock
.
Two-thirds rated their middle managers as qualified, while only 6 percent said they were very qualified.
"At best, most companies rate their middle managers as being in the middle of the pack and sorely in need of the strategic thinking and leadership skills that will help raise them to the next level." said Greg Gostanian, a ClearRock managing partner.
Strategic thinking and leadership skills ranked as the top one and two skills companies believe that middle managers need to develop. Communication, developing direct reports and motivating people followed.
However, only one-quarter of companies are providing more coaching and management development than two years ago while another quarter are giving less management preparation.
Instead, companies are spending more time developing employees who are in the early stages of their careers, according to Stevens.
ClearRock, an executive coaching and outplacement firm, polled 100 organizations.
---
BUSINESS PULSE