Lingle sees mandate to advance agenda
Former Gov. Cayetano advises change in plan for spending state surplus
Gov. Linda Lingle, Hawaii's first woman governor, starts the first day of her second term tomorrow.
She and former Circuit Judge and Lt. Gov. James "Duke" Aiona will take the oath of office, administered by Chief Justice Ronald Moon, at noon tomorrow at ceremonies in the state Capitol courtyard.
If you measure by votes, Lingle continues to lead the state as Hawaii's most popular governor, as she won re-election with more than 62 percent of the vote. But if you measure her by political power, Lingle is in the minority as only one of a few Republicans elected in a decidedly Democratic state.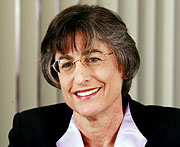 Governor's inaugural ceremonies set for tomorrow
The inaugural ceremonies will feature a 19-gun cannon salute, a military fly-over by four CH-47 Chinook helicopters, and a plumeria blossom drop on the crowd in the Capitol courtyard.

Students from Waipahu High, Mid-Pacific Institute, Manoa Elementary, Pearl Kai Elementary, St. Louis High School, Likelike Elementary, Maryknoll Grade and High School, Jarrett Middle School, Kamehameha Elementary and Peniel Educational Ministries have been invited to attend the ceremonies.

After a luncheon at Washington Place for Cabinet members and others, Gov. Linda Lingle will host an inauguration dinner on the grounds of Iolani Palace for 1,000.

The Governor's Office stressed that "no state funds are being used for this dinner." Tickets for invited guests were $250.
---
Star-Bulletin staff
In an interview last week, Lingle, 53, said her speech would aim to move her agenda ahead, both in state programs and the state budget.
"It will be a very forward-looking speech. It will set the tone and direction and provide an outline for the public of where I think we should be going," Lingle said.
Unlike four years ago, when she took office burdened by a $200 million deficit, Lingle now commands a state budget with a $700 million surplus.
Still, Lingle said a portion of the surplus would have to be given to public employees in the form of a pay raise.
"It is unrealistic to think that there are not going to be increases to government employee's salaries with the job market the way it is," Lingle said.
By contrast, Democratic former Gov. Ben Cayetano, who defeated Lingle in her first bid for governor in 1998, said the governor should use some of the surplus to restore budget cuts that both he and Lingle were forced to make when the economy was in the dumps.
"I would encourage her to invest in improving the educational infrastructure ... build more affordable rental housing and restore some of the social programs.
"If she doesn't spend the surplus, it will be eaten up by collective bargaining (pay raises)," Cayetano said.
After tomorrow's ceremonies, Lingle will take up the work of fashioning a Cabinet for her next four years. Last week, the governor said she would start to make decisions about her next Cabinet by the end of this week.
Already, members of the Democratic-controlled Senate, which must confirm her Cabinet, are signaling that the appointments may be controversial.
Sen. Colleen Hanabusa, who is set to take over as Senate president next month, said she sees some problems, although she declined to say publicly who would face the most opposition.
"I believe some of them will have problems. She knows who they are; she gets the same complaints that we get," Hanabusa said.
"I would give her the opportunity to assess whether or not we want to go through the process, because she knows the Senate is not above asserting its position," Hanabusa said.
Lingle, however, sees her new administration as moving forward with the strong will of the voting public behind it.
"When you win in a convincing way in a year where you saw so many Republicans not do well, you know it is a reflection not just about one person. ... I took the election to be a commentary that the team really did a good job," Lingle said.
For Hanabusa, who had considered running for governor before mounting an unsuccessful campaign for Congress this year, said the Lingle administration could have done much better.
"I thought she would do more," Hanabusa said, noting that she had been disappointed the governor did not build more prisons, waited until this year to address affordable housing and did not agree with the Legislature's position on drug treatment plans.
"Now that she is technically a lame duck, she can take more risks to show her leadership," Hanabusa said.
But Lingle said that despite efforts by Democrats in the Legislature "to whittle away at it," the governorship remains a strong chief executive.
If Democrats consider her a lame duck, Lingle said, they should reconsider the powers Hawaii's chief executive retains.
"We still appoint judges, we still appoint all the boards and commissioners, we still have line-item veto, we still have the authority to not release funds.
"And these are powers that you have on Day One, and you have them to the last day," Lingle said.
Lingle's scorecard
A look at some of Gov. Linda Lingle's legislative victories and defeats during her first four years in office
EDUCATION
» Local school boards: It was one of the signature issues of her 2002 campaign, but Lingle failed in her attempts in 2003 and 2004 to let voters decide whether to break up the centralized statewide school system into several locally controlled school boards.

» Weighted student formula: In 2004, Lingle called on lawmakers to allocate more funds to schools with greater educational needs, and sought to have 90 percent of funds be controlled at the school-complex level. Lawmakers passed a weighted student formula that puts 70 percent of school funds in principals' hands and allows school councils to review and approve fiscal plans.

» Charter schools: Lingle has tried unsuccessfully each year to lift the cap on charter schools.

» Collective bargaining: Lingle in 2003 was unsuccessful in pushing through a bill that would have removed school principals from unions.
TAXES
» Standard deduction: Since 2003, Lingle has sought to have the standard deduction raised to lessen the tax burden on the lowest wage-earners in the state. In 2006, lawmakers passed a bill to raise the standard deduction and change tax brackets by raising the taxable income thresholds for each rate.

» Ko Olina: In 2003, she won approval for $75 million in tax credits over 10 years for the development of an aquarium at Ko Olina. The credits had been vetoed the previous year by then-Gov. Ben Cayetano.
PUBLIC SAFETY
» War on ice: Lingle failed in attempts in 2004 to pass tougher laws against drug traffickers and to ease restrictions on the state's wiretap laws. Lawmakers in 2004 passed their own package of bills to combat crystal methamphetamine, emphasizing treatment and diversion programs. The Legislature in 2006 adopted a version of a bill to ease restrictions in the state's wiretap law.

» Cold medicine: In 2005 and 2006, she pushed through measures imposing regulations on the sale of common cold medicines that contain pseudoephedrine, an ingredient used to make crystal meth.
JUDICIARY
» Procurement: One of the key measures passed in her first year in office established broad-based selection committees -- whose work is open to public scrutiny -- to pick contractors for state work. Lingle said the measure would define her administration "as a government that likes things open."

» Campaign spending: Lingle in 2003 had proposed tough new campaign spending restrictions, including a ban on contributions from anyone benefiting from nonbid state contracts. Although the measure failed in 2003, Democrats in 2005 passed a bill limiting campaign contributions from out-of-state donors and state contractors, and increasing public funding for Office of Hawaiian Affairs candidates.

» Public land liability: Lingle was successful in pushing through a measure to install and maintain warning signs on hiking trails and other public lands, to give the state and counties protection from liability for damages caused by dangerous natural conditions. The proposal was aimed at limiting large monetary judgments against the state, such as the one stemming from the fatal 1999 Mother's Day rockfall at Sacred Falls.

>> Sex offenders: Lingle pushed through a measure to clarify the registration process for the state's online sex-offender registry, which previously had been limited in what information could be posted by a 2001 decision by the state Supreme Court.
LABOR AND EMPLOYMENT
» Workers' compensation: Lingle's administration has failed in attempts to bring about sweeping reforms in the state's workers' compensation laws. One of the key changes would allow employers to choose an injured worker's health care provider from an approved list of physicians.
HEALTH
» Mental health parity: Lingle has been visible in the Legislature lobbying for bills to improve care for mental illness. In 2003, she testified on a measure, which passed, to clarify the definition of "serious mental illness" and make permanent the law mandating parity of serious mental illness insurance benefits with benefits for physical illnesses.
ENERGY
>> Strategic plan: Lingle in 2006 introduced a broad package of bills aimed at reducing the state's dependence on imported fossil fuels through conservation and development of alternative fuels. Majority Democrats introduced their own package of bills, and the final legislation wound up being a bipartisan compromise.
HOUSING
» Affordable housing: Lingle and majority Democrats in 2005 each introduced their own package of bills aimed at increasing the amount of affordable housing in the state. A key difference was in tax credits. Lingle urged increased credits to give developers more incentives to build affordable units. Democrats said they felt current credits were adequate.

Sources: Hawaii State Legislature, Star-Bulletin archives.