DRAWN & QUARTERED
Graphic history ... is here to stay
Just when you get used to the term "graphic novel" to describe what is essentially a thick comic book, here comes "graphic history." Thanks to the recently published "9/11 Report" done in graphic form, and now to a new line of military histories in comic terms, it looks like the term is here to stay.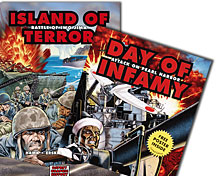 The histories are from Osprey, a British publisher that specializes in all things military, particularly pocket histories of famous battles and monographs about uniforms and weapons systems. They are marked by a heavy use of photographs and artwork by some of the finest technical illustrators currently employed, including South Africa's marvelous Angus MacBride and the Embleton family, Ron and Gerry. Now they've moved into what's even been referred to as "kid stuff," an imprint of war-themed comics.
The first six are now out: three American Civil War battles -- Antietam, Shiloh and Bull Run -- and three American Pacific War battles -- Pearl Harbor, Midway and Iwo Jima. I guess they know on which side of the Atlantic their bread is buttered.
The illustrator talent includes Larry Hama, the Vietnam veteran whose specialty was Marvel's "GI Joe" comic, and "Judge Dredd" veterans Dan Abnett and Steve White. The style is textbook and rather flat -- an illustrated lecture instead of an engrossing story.
But then again, this isn't literature, it's "history," whatever that is, but it doesn't have to be dull. By their nature, comics use a minimum of words to maximum effect and a maximum of illustrations to minimum effect. The trick is striking the right balance, and Hama's sparse descriptions and occasional word balloons are a model of clarity.
But true-war comics have an impossible hump to yomp over: Too real, they scare the kiddies and no longer become entertaining; too sanitized, they no longer have any power.
One of the difficulties in studying military history is the sheer volume of data available. The "fog of war" simply never dissipates. These Osprey graphic histories do an admirable job of simplifying the unimaginable and incomprehensible. I'm not sure they will inspire one to dig deeper; nor should they be used in the place of traditional histories and storytelling.
Storytelling -- that's the nut of it. Comics -- and literature -- have forever used the conventions of fiction to impart the emotional realities of conflict and combat, and the "facts" are pegs upon which to hang the story. From "The Red Badge of Courage" and "War and Peace" to "Sgt. Rock of Easy Company" and "The Other Side," all have more in common than their subject matter. It's the method of using the medium to convey the message. Even a "real" tale like "Flags of Our Fathers" is, at its core, a story, not a history.
The British comics industry has a long tradition of not only producing realistic military comics, but of using the comics medium as a way of expressing real actions and events. Osprey's new titles are pleasant diversions, but they're hardly groundbreaking. For that, go back 50 years and read Harvey Kurtzman's script for EC's "Two-Fisted Tales." They not only have the nuts and bolts of reality, they have the smell and taste of real fear as well.