---
ENTER TO WIN!


Hawaiian-style Barbie makes a gift of aloha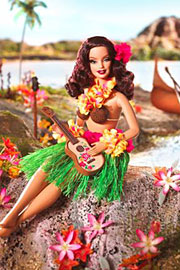 Just in time for the holidays, we want to share a bit of aloha by offering two readers an opportunity to win a Hula Honey Barbie doll, in conjunction with Mattel.
The doll could send a bit of sunshine to friends in cold climates. She wears a vintage-inspired swimsuit, grass skirt and faux coconut shell bikini top. Ukulele and flower leis complete her retro ensemble.
All you have to do to win is to answer a few questions about our travel features and mail your entry back to us. All who get the correct answers will be placed in a drawing for the two dolls. But you have to act fast. Entry forms are available in today's (Sunday) Honolulu Star-Bulletin on Page F1. The entry deadline is 5 p.m. Dec. 11, so we can get the dolls shipped out before Christmas.
Good luck!
TRAVEL / ISLE HOPPING


Aloha Airlines offers gift-ticket options

Just in time for holiday gift-giving, Aloha Airlines is offering round-trip Gift Tickets -- an actual ticket rather than a gift certificate -- valid for use now through Dec. 31, 2007.

Three gift-ticket options are available only online at www.AlohaAirlines.com, as follows:

» $120 Inter-island Gift Ticket (coach class): Good for round-trip coach travel between any two destinations in Hawaii on flights operated by Aloha Airlines. Valid on any day with no blackout dates.
» $500 Transpacific Gift Ticket (coach class): Round-trip coach travel between any Aloha Airlines destination on the mainland and Hawaii. Travel is valid for most days of the year. An additional fare increment will be collected from the passenger for travel on prime or peak travel days.
» $1,600 Transpacific Gift Ticket (first class): Round-trip first-class travel between any Aloha Airlines destination on the mainland and Hawaii. Travel is valid on any day with no blackout dates.

Recipients will still have to make their own booking by calling Aloha Reservations at 484-1111 on Oahu or toll free at 800-367-5250.
AAA Hawaii suggests gift memberships
According to the AAA, travel has become an increasingly popular holiday gift in recent years for those who want to treat their loved ones to exotic locations and exciting memories.
For those with limited budgets, a gift membership from AAA Hawaii is a practical, useful gift, with benefits every time one hits the road. For $55 -- a $20 discount off the normal first-year membership price of $75 -- gift-givers can provide a loved one with a year's worth of peace of mind on the road, access to quality AAA maps, discounts on hundreds of products and services, the award-winning Hawaii Westways magazine and more.
Those buying a gift membership between now and Dec. 31 will receive a gift themselves, a choice of a free two-in-one combination grill and cooler, or a certificate for a 1-pound box of See's Candies.
More options for saving money during the holidays are available in the AAA Hawaii Holiday Discount Book, available through AAA.
The book includes coupons good for member discounts on restaurant meals, local attraction admissions, local shopping malls, books, gift baskets and more.
Visit the AAA Hawaii office at 1130 N. Nimitz Highway, Suite A-170; go to aaa.com; or call 593-2221.
Airfare
Source: Intl. Travel Service.
* Aloha Airlines flies to Oakland Orange County, all others to San Francisco and LAX.