HIGH SCHOOL FOOTBALL
King Kekaulike brings D-II crown to Maui
Na Alii ride a wave of emotion to the first state football title for a neighbor island team
Spurred by a rousing sendoff from their Upcountry Maui campus yesterday morning, the King Kekaulike Na Alii last night became the first neighbor island team to capture a state football championship.
The King Kekaulike defense forced six turnovers -- with three going for touchdowns -- on its way to a 33-20 win over Kauai in the First Hawaiian Bank/HHSAA Division II final last night at Aloha Stadium.
"We grew up today," King Kekaulike coach J.W. Kenton said. "We grew up as a school."
King Kekaulike linebacker Randen Abafo scored two touchdowns in the first half and Na Alii running back Shannon Kamakaokalani rushed for 134 yards and a touchdown to lead Na Alii to the landmark win for the 11-year-old school.
Kyle Duarte also had a big night on both sides of the ball. The senior receiver/defensive back came up with an interception, recovered a fumble for a score and caught a touchdown pass for Na Alii.
"The first state championship for Maui, this means a lot to everybody on the whole island," Kamakaokalani said. "This is the best."
Na Alii departed their campus in Pukalani yesterday morning with the entire student body lining their path and applauding the players as they marched to the buses.
"They made us feel famous today," Abafo said.
The team touched down on Oahu around noon and went straight to Aloha Stadium, eating their pregame meal in the hospitality room.
Once the game started, they needed little time to take control of the all-neighbor island showdown, taking a 14-0 lead less than 2 minutes after kickoff.
"Finally, the neighbor island football teams are showing up and we're starting to be able to compete with Oahu," Kenton said. "It's a big deal for Maui, it's big deal for Upcountry. I'm just proud of these boys and I know their families are proud of them."
King Kekaulike needed a miracle touchdown on the final play to win their semifinal game against Iolani last week. There was no such drama last night.
Na Alii recovered two fumbles and intercepted four passes to take the lead and snuff Kauai's comeback hopes in the second half.
"I guess the pregame jitters and the magnitude of the game affected our players," Kauai coach Keli'i Morgado said. "Defensively, we played tough the whole first half -- we tried to overcome, but we came up short."
Kauai took the opening kickoff, and on the third play of the game, Abafo stormed in from the right edge and tipped Kauai quarterback Andrew Renaud's pass high into the air. The ball then settled back into Abafo's hands and he raced 22 yards for the game's first score.
"It didn't matter what I said," Kenton said. "I could see they were still nervous and that helped us out big time."
MAUI'S KING KEKAULIKE BEATS
KAUAI TO WIN TITLE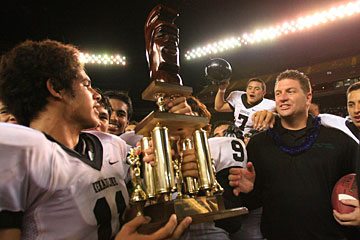 Third down proved to be disastrous on Kauai's next possession as well. A shotgun snap from the Red Raiders' 26 sailed over Renaud's head and into the end zone. Duarte chased down the loose ball and the extra point gave Na Alii a 14-0 lead at the 10:30 mark of the first quarter.
"Our coach always says whoever's on the field first has to set the tempo for our team," Abafo said.
Kauai got some momentum back when Pono Matthews took a shovel pass and weaved through the Na Alii defense for a 22-yard score. King Kekaulike continued the first-quarter shootout with Kamakaokalani breaking away for a 67-yard run to set up Duarte's 6-yard TD reception.
After Kauai cut into the lead with a 31-yard TD connection from Renaud to Tyrus Ceria-Lux down the right side, Na Alii turned in their third defensive score. Na Alii lineman Terry Roy stripped the ball from Renaud and Abafo scooped it up and scored from 38 yards out.
Kamakaokalani extended the King Kekaulike lead to 33-13 with a 27-yard touchdown run on Na Alii's opening drive of the second half.
Kauai converted a King Kekaulike miscue on a punt deep in Na Alii territory into an 11-yard touchdown for Brendan Young to close to within two scores. But the Red Raiders would get no closer.
---
DIVISION II CHAMPIONSHIP
King Kekaulike 33, Kauai 20
At Aloha Stadium
| | | | | | | |
| --- | --- | --- | --- | --- | --- | --- |
| King Kekaulike (8-3-1) | 20 | 6 | 7 | 0 | -- | 33 |
| Kauai (9-1) | 7 | 6 | 0 | 7 | -- | 20 |
KK--Randen Abafo 22 interception return (Shannon Kamakaokalani kick).
KK--Kyle Duarte fumble recovery in end zone (Kamakaokalani kick).
Kauai--Pono Matthews 22 pass from Andrew Renaud (Kainoa Lemke kick).
KK--Duarte 6 pass from Shelton Bangasan (kick failed).
Kauai--Tyrus Ceria-Lux 31 pass from Renaud (kick failed).
KK--Abafo 38 fumble return (pass failed).
KK--Kamakaokalani 27 run (Kamakaokalani kick).
Kauai--Brendan Young 11 run (Lemke kick).
RUSHING--King Kekaulike: Kamakaokalani 17-134, Javan Fulton 4-18, Michael Douglas 4-18, Abafo 1-13, Makoa Aikala 2-8, Shelton Bangasan 1-0, Edrian Dela Cruz 3-0, Duarte 2-(-9), Team 2-(-9). Kauai: Young 11-65, Matthews 4-23, Bradley Semana 2-18, Renaud 7-(-7), Team 1-(-26).
PASSING--King Kekaulike: Bangasan 2-6-0-8. Kauai: Renaud 19-44-4-236.
RECEIVING--King Kekaulike: Duarte 1-6, Abafo 1-2. Kauai: Matthews 6-88, Young 6-55, Semana 3-23, Jonathan Gebauer 2-40, Ceria-Lux 2-30.