---
FAST FACTS HAWAII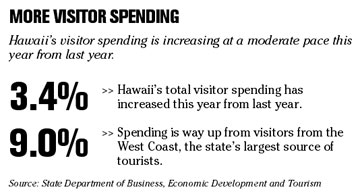 ---
HAWAII


Cyanotech to restate earnings for 3 years Cyanotech Corp.

said yesterday it is will restate financial results for its last three fiscal years, stemming from an auditor's review of the company's historical treatment of inventory-related costs.

The Kona-based company said it will file its financial results "as soon as practicable" for the fiscal years ending on March 31 in 2004, 2005 and 2006.

The company said the portions of the financial statements that will be restated are the consolidated balance sheets as of March 31, 2006 and 2005, and consolidated statements of operations, stockholders' equity and comprehensive income, and cash flows.

Cyanotech also will reclassify certificates of deposit from cash to investments.

The company's shares, which underwent a 1-for-4 reverse stock split last month, closed yesterday up 1 cent at $1.86.
Kauai condo resort to begin sales
A $105 million Kauai condominium resort project, the Royal Palms at Poipu Beach, will start taking sales reservations in the middle of this month.
The first phase will offer 120 units, with 44 more to follow in the second phase, on a total of 22 acres next to the Kiahuna Golf Club and Poipu Shopping Village. One-, two- and three-bedroom units will be priced between $600,000 to $1.3 million, and reservations beginning Dec. 17. Sales are being handled by The O'Neill Group.
The project is a partnership between Honolulu-based U.S. Pacific Development LLC and Ledcor Properties of Canada. The developers will restore 3.5 acres of an agricultural preserve, and create a walking path through it.
Completion of the project is slated for the summer of 2008.
U.S. Pacific is also redeveloping the NCR Building, a commercial structure on Kapiolani Boulevard, into residential units.
Horizon Lines gets first new ship
Horizon Lines Inc.
has taken delivery of the first of five new containerships, the Horizon Hunter, from the Hyundai Mipo shipyard in South Korea.
The Hunter will begin trans-Pacific service for Horizon in the first quarter. It not be able to carry domestic cargo from the mainland to Hawaii, but its deployment will increase the shipper's Hawaii capacity, said Ku'uhaku Park, government and public affairs manager for Horizon.
The Hunter's capacity is 2,824 20-foot containers, and it can run at 23 knots.
The ship will be in subcharter service until it is deployed for Horizon's trans-Pacific route, which originates in Tacoma, Wash., and stops in Oakland, Calif., Hawaii, Guam and the Far East before returning to Tacoma.
The four remaining ships are expected to be deployed in the spring.
Last month, Horizon announced a general rate increase of an average 3.3 percent, effective Jan. 1, following a similar increase by Matson Navigation Co.
ProService opens office on Kauai
ProService Hawaii, which specializes in outsourcing employee administration, has expanded to Kauai.
The company, which is headquartered on Oahu, will open its first Garden Isle office in Lihue at 1895 Haleukana St.
The company has a growing family of businesses on Kauai, said Dustin Sellers, president of business development and marketing for ProService Hawaii. ProService also has offices in Hilo and Kona on the Big Island, and in Kahului, Maui.
NATION


AMD, Nvidia facing antitrust investigation

SAN FRANCISCO » The Justice Department is investigating

Advanced Micro Devices Inc.

and

Nvidia Corp.

in a federal probe of possible antitrust violations in the computer graphics card industry.

Both Silicon Valley companies, the two leading makers of PC graphics cards, said they have received subpoenas from the Justice Department, although the agency has not made any specific allegations.

In separate statements, AMD and Nvidia said they were cooperating with the investigation.

Gina Talamona, a spokeswoman for the Justice Department, said the agency does not comment on specific companies under investigation.

"I will confirm that the antitrust division is investigating the possibility of anticompetitive practices involving the graphics processing units and cards industry," she said in an e-mail.

Founded in 1993, Nvidia of Santa Clara is one of the top sellers of programmable graphics processors, many of which are used in video games.

AMD is one of the biggest makers of semiconductors and the main rival of Intel Corp., the dominant player in the chip industry.
Movie pirate sentenced to 7 years in prison
LOS ANGELES » A man convicted of sneaking camcorders into movie screenings and selling the pirated tapes in video stores was sentenced to seven years in federal prison yesterday.
"It is hoped the sentence will deter further unlawful conduct and protect the public," said U.S. District Judge Dean D. Pregerson.
Johnny Ray Gasca was convicted in June 2005 of three counts of copyright infringement as well as using a fake Social Security number and of an escape charge for fleeing his attorney's custody while awaiting trial.
Gasca gained notoriety as the first person to be charged in a federal crackdown on video piracy. He represented himself during a weeklong trial, saying he didn't intend to profit from his actions. He said evidence was embellished to make him appear to be a "prince of piracy."
---
BUSINESS PULSE