HAWAII GROWN REPORT
Sky's the limit for Loo
Jen Loo strikes it big for Idaho State of the Big Sky Conference
JEN LOO just wanted to get through her senior season with the Idaho State women's soccer team when offseason practice began last spring, but things changed when Allison Gibson became the Bengals' third head coach in four years.
Loo was a key member of Idaho State's first NCAA tournament team as a freshman striker, a position she never played in high school, finishing third in scoring with 11 points on four goals and three assists.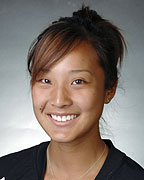 BY THE NUMBERS
Where Jen Loo ranks in ISU's career lists:

» Tied for third with 105 shots
» Sixth with 44 shots on goal
» Tied for eighth with 9 goals
» Ninth in matches played with 74


Source: Idaho State



A new coach took over her sophomore season and the Bengals did not qualify for the Big Sky Conference tournament the next two years.
That did not prevent Loo (Mililani '03) from earning All-Big Sky Conference first-team honors as a striker her sophomore year or repeating with first-team accolades as a defender her junior year. Yet, the enjoyment had faded.
"I didn't expect a lot from a new coaching staff. I didn't think a lot of changes would happen," Loo said.
GIBSON KNEW THE history and understood the difficulty of repeated coaching changes.
"We met with Jen and the other seniors and told them, 'We need to rely heavily on you and your class,' " said Gibson.
"I think it was hard for anyone in that group. They looked at us kind of sideways thinking, 'What are we going to do?' "
It took time, but eventually the returning players trusted the new coaching staff and changes did take place.
"The girls were happy to be playing soccer again. We found our passion for the game. I think we played for each other and not as individuals. We just had fun," Loo said.
This year, the Bengals won the Big Sky regular-season title with a 5-2 record, captured the postseason crown and made their second NCAA tournament appearance.
Loo was selected to the all-conference first team for a third time and added another honor when she was named to the Big Sky all-tournament team after Idaho State beat Sacramento State in the title match, 4-3 on penalty kicks.
"I think once Jen saw what we were going to do and trusted us, she just completely blossomed. You could see it in her leadership and her ability to process coaching information. She believed in the program and embraced that," Gibson said.
AN OUTSIDE LEFT back her junior year, Loo moved to the center back position in Gibson's four, flat-back defense this season. She savors the role of a defender, saying there isn't the pressure of trying to score, which is so hard to do.
"I could tell Jen would anchor our defense. She has speed, size (5-foot-8) and an ability to read the game. She saved us so many days on the back line," Gibson said.
Her final collegiate game was a 3-2 overtime loss to Utah in the NCAA tournament, a match that the Utes tied with 30 seconds left in regulation on a penalty kick.
"We felt we were robbed. We were 30 seconds away from beating the No. 10 team. It was sad," Loo said.
Yet, by the time the Bengals had returned to the Pocatello, Idaho, campus, Loo was looking on the bright side of her final season.
"Playing my last game was not as bad as I thought. I felt we accomplished so much during the season. We showed everybody we were a good team and it wasn't a rebuilding year," Loo said.
"At center back I felt like I had a bigger role. I had more opportunities to be a leader, but I am not one of those people who makes motivational speeches."
Gibson said, "Jen has a silent strength. Players would look to her to save the day. I will miss her next year. She set the bar for my recruiting. I know what I need in the back line and she is an example of that for sure."
LOO, WHO KNEW she wanted to go away, considered Hawaii, Sacramento State and Oregon before deciding on Idaho State.
"They were very interested in me and gave me a good scholarship. I had fun on my recruiting trip. Being around the girls on the team (then) made me feel comfortable," Loo said.
Her highlights bookend a standout career with the Bengals.
"The first highlight is definitely making it to the NCAA tournament my freshman year and beating Utah in the first round," Loo said. "But, this year was more satisfying, being a senior, coming in first in the regular season and taking the conference tournament."
Loo's career goal is to become a pharmacist and work in a hospital. She has entered ISU's school of pharmacy and hopes to graduate in 2010 with a doctor of pharmacy degree.