Our Picks for the Weekend
---
THEATER


Learn a little lesson

As part of its Dark Night Series, the actors and technicians of Kumu Kahua Theatre -- aka Odd Squad Productions -- will tell two seasonal tales equally dark in tone. "Dark Night, Silent Night" is composed of two cautionary tales for the holiday season. First, a young man learns about life and death through an unlikely friendship with a magical snowman. Then an old man, in the face of death, tries to change his ways after living a life of fame and fortune.

The stories are written and directed by Denny Hironaga and Wayne Takabayashi. Tickets will be $10 general, $8 kamaaina and $5 students. The theater's box office at 46 Merchant St. will open a half-hour before the start of performances at 7:30 p.m. Monday and Tuesday.

Call 536-4441 for information or reservations.
FAMILY


Watch the city light up

Honolulu City Lights kicks off its festivities with a tree lighting ceremony and parade on Saturday beginning at 6 p.m. The electric light parade will start at Aala Park and proceed down King Street.

A half-hour concert starting at 5 p.m. at Kawaiaha'o Church precedes the events.

Honolulu Hale's Christmas tree exhibit and wreath display will be open for viewing until 11 p.m., and there is a holiday concert on the grounds at 7:30 p.m. This year's theme is "Ku'u Home -- Our Home," and acknowledges Honolulu as a special place where diverse cultures intertwine. The wreath display's theme is "Plantation Holiday."

Families can also board an antique fire truck and take tours through the downtown area for city lights viewing. For more information, see Page 12.
FREEBIE


Take in the art scene

The Chinatown/Downtown area hosts First Friday, its monthly gallery walk, 5 to 9 p.m. this Friday.

As usual, Ong King Arts Center, 184 N. King St., offers every form of art possible: Zachary Opaskar's visual art, concerts by Quadraphonix, dance performances by As I Am, a dramatic stage piece by THEaTRE: H.U.T.C. (Honolulu Underground Theatre Collective), slam poetry and the sounds of DJ Joulz.

Other happenings include: Christmas music at the Hawaii State Art Museum by Jimmy Borges, Shari Lynn, Jan Brenner and the Honolulu Boy Choir; "The Sun Never Sets" art exhibit at The ARTS at Marks Garage and Hawaiian music, chant and dance at Daspace.

Many eateries in the area also stay open late for the event, and some venues host events beyond 9 p.m. Call 521-2903 to find out more.
MUSIC


Relieve holiday stress

Trying to stay away from the Christmas hustle and bustle? Students and faculty from the University of Hawaii at Manoa will be holding three concerts to help ease the holiday stress.

On Friday, Esther Yoo will direct the UH choir in "Music Down in My Soul," a concert of choral favorites from Palestrina to contemporary gospel, at 7:30 p.m. at Kawaiaha'o Church.

At 3 p.m. Sunday, students from the ethnic and dance classes will give their end-of-semester show featuring the Chinese Ensemble, Okinawan and Korean Dance, Japanese gagaku, Javanese gamelan, Tahitian Ensemble, and Hawaiian Hula and Chant groups. The Pau Hana Concert will be held in the Orvis Auditorium.

And finally, the UH Manoa Symphony will perform works such as Rimsky-Korsakov's Scheherazade, Prokofiev's Overturn on Hebrew Themes, Max Bruch's Kol Nedrei and more, 8 p.m. Monday at the Blaisdell Concert Hall. Henry Miyamura will conduct.

All events are free so sit back and enjoy!
FOOD


If

Don Quijote-Kaheka Food Court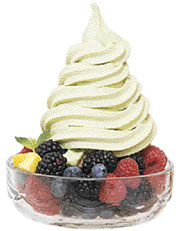 Does the thought of another holiday meal like Thanksgiving dinner leave you feeling queasy? These are hard times for those who love desserts but who, not likely to dress up as Santa, could do without the extra fat.
Well, the time is right to head out to Don Quijote-Kaheka (formerly Daiei for those slow to change), where a new Italian frozen yogurt shop called If has opened outside, in the food court.
"If" is a shortcut for "fiore," the Italian word meaning "flower," as an expression of clean, healthy freshness.
A basic cup of yogurt will cost you $3.25 ($3.75 for green tea yogurt), with fresh fruit, nut or candy toppings running 95 cents for one item, $1.50 for two items or $2.25 for three. Choose from diced papaya, kiwi, strawberries, pineapple or whole blackberries and raspberries, plus milk and white chocolate chips, slivered almonds and more.
Get it all wrapped in a freshly made crepe for $5.95.
It's a welcome treat on yet another hot afternoon.
Send questions, stories or other story ideas or comments to: Features, Honolulu Star-Bulletin, 500 Ala Moana Blvd., Suite 7-210, Honolulu, HI 96813 or e-mail
features@starbulletin.com
.
Please include your phone number.