In-the-know shoppers line up for instant classics
SMART SHOPPERS weren't standing in line to buy a PlayStation 3 or Tickle Me Elmo on "Black Friday" last week. Those in the know made their way to
Fitted Hawaii
's showroom near Ala Moana Shopping Center for a crack at four custom-designed New Era baseball caps that were made available to the general public for the first time. The Pride line stirs up memories of
Les Murakami
and his UH Rainbow uniforms of yesteryear, while the Warrior line features a likeness of
Kamehameha the Great
on the front.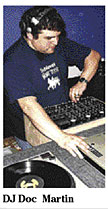 Only 74 hats per design were made, which guaranteed a crowd at the store. Fitted's Keola Rapozo said the line snaked from the door out to Kona Street much sooner than anticipated, forcing them to open up an hour earlier than originally scheduled. Lucky for me, they still had enough hats in my size when I showed up that afternoon.
If you're feeling lucky yourself, give Fitted a call at 942-3100. You just might be able to get your hands on the hats that have become instant classics ...
If baseball caps aren't your thing, check out In4mation at Ward Warehouse. They'll introduce two new sneaker designs this weekend that are the result of partnerships between the store and mainland shoe companies.
On Saturday, sneakerheads will be able to cop a collaboration between In4mation and DVS that was designed in honor of local surfer Kekoa "Bam Bam" Bacalso and limited to just 300 pairs. Sunday brings the release of a shoe designed by In4mation, Methamphibian and DC Shoes ...
EVEN ISLAND Snow is getting into the swing of things, hosting a special launch party at its Ala Moana store from 6 to 8 p.m. Friday.
The event will commemorate the release of the Slick Tarmac shoe, designed by the artist Slick in conjunction with Gravis Shoes and Island Snow. Only 250 pairs were made, and the only place they'll be available for purchase is here in Hawaii.
If you can't make it to the store, check out this event's official afterparty at NextDoor, featuring a return appearance by DJ Doc Martin ...
IF YOU haven't had a chance to check out Lotus Soundbar yet, this would be a good weekend to do it. The new Waikiki nightclub debuts "The Ginza" on Friday, a biweekly party featuring DJs from The Main Ingredient, Nitelite and Nocturnal Sound Krew. Promoters Moguls Entertainment, Evol Entity and Racesauce are also responsible for "The Light" at the O Lounge. On Saturday, Andy Caldwell will be the featured guest ...
IT'S ANOTHER big night of mixed martial arts fights on Friday, when "ICON Sport: Unstoppable" goes down at Blaisdell Arena.
While Robbie Lawler had to pull out of his scheduled bout after re-injuring his hand, I'm still excited to see what happens when Jason Miller faces Frank Trigg with Miller's ICON title on the line. Other notable matchups include Sidney Silva vs. Jay Jack and Tyson Nam vs. Mark Oshiro ...
MORE PICKS for this weekend: Omni returns to the Hawaiian Hut on Friday for "Verse Two," featuring Kauai's Xtra Cab and Maui's No Boundriez ... Sick Dog Productions drops into Qi Cafe in Waikiki on Saturday for "Re-Energize," a BYOB party with DJs Lava, Sovern-T and Shawn G manning the decks ... Kelly Hu is the special guest host at "SKYLiNE" on Saturday ...