---
FAST FACTS HAWAII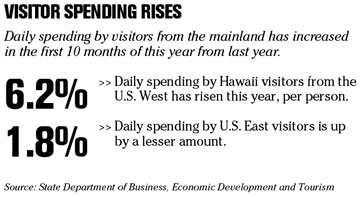 ---
HAWAII
Local 5 reaches deal with Waikiki Marriott
Hotel workers union Local 5 and the Waikiki Beach Marriott announced last night that they have reached a tentative agreement on a four-year labor contract for approximately 500 Waikiki Marriott workers.
The union said details of the agreement will be released after Local 5 members at the Marriott hold a ratification vote at an undetermined date.
The agreement with the Marriott comes just a few weeks after workers at the Hyatt Regency Waikiki ratified their contract. The pact with the Marriott is similar to agreements reached with Hilton Hawaiian Village, the four Sheraton hotels in Waikiki, and the Hyatt.
Negotiations between the union and the Kahala Resort are due to begin next week.
Hawaiian to buy 3 planes it leases
Hawaiian Airlines' parent has signed a letter of intent to buy three of the seven Boeing 767-300 ER aircraft that it leases from
Ansett Worldwide Aviation Services
.
The aircraft purchases, which are subject to financing, are expected to close this month. No purchase price was disclosed.
Hawaiian Holdings Inc.'s long-term lease agreements, which had been renegotiated during the airline's bankruptcy, allowed Ansett to exercise early termination options beginning in March 2007 as long as Ansett gave six months notice. The newly amended leases removes the recall provision on the other four aircraft, shortens the terms of the leases and adjusts the lease rates.
"We are extremely pleased to have reached this agreement with AWAS, which provides both near-term certainty by removing the call options on our aircraft, and medium-term flexibility by shortening the lease terms on the remaining four aircraft," said Mark Dunkerley, president and chief executive of Hawaiian.
Earlier this year, Hawaiian bought four 767s to expand its West Coast service and to protect itself against possibly losing planes to Ansett. Hawaiian now will own seven of the 18 767s in its fleet. The carrier leases 11 Boeing 717s that it uses for interisland flights.
[HAWAII INC.]
NEW JOBS
»
Lead Hawaii Inc.
has hired
Joseph Mendoza
as executive vice president and chief operating officer. The company provides emergency care training programs.
» Rider Hunt Levett & Bailey has named Rob Reynolds as administrative manager. His responsibilities include managing the bookkeeping and various administrative functions. He has over five years of professional administrative experience from the U.S. Army.
» Brookfield Homes Hawaii has hired Ken Becker as vice president of sales and marketing. He will oversee all aspects of sales and marketing for the company and its neighborhoods across Hawaii. Becker previously served as vice president of corporate marketing for a large homebuilder in Las Vegas, and has more than 30 years experience securing marketing, advertising and public relations for homebuilders. Craig Okamoto has been appointed chief financial officer. He will be responsible for establishing the financial systems for the company's projects. Okamoto has more than 30 years financial experience in real estate and has worked with major regional commercial and residential development, property management and investment companies.
NATION / WORLD
South Korea's exports increase to record
South Korea's exports rose more than expected in November to a record as companies sold more chips, cars and other goods to buyers in the U.S., Europe and Asia.
Exports advanced 19.8 percent from a year earlier after rising 10.8 percent in October, the Ministry of Commerce, Industry and Energy said today in Gwacheon, South Korea. That was stronger than a 14.5 percent median gain estimated in a Bloomberg News survey of 11 economists.
Increased overseas shipments, which make up 40 percent of the economy, will help extend the nation's longest economic expansion in a decade. The government this week raised its estimate for export growth, while Samsung Electronics Co., the world's second-largest maker of semiconductors, forecast "very strong" first-quarter orders for computer memory chips.
Heinz's profit hurt by higher tax rate
H.J. Heinz Co.
, the world's biggest ketchup maker, said second-quarter profit dropped 6 percent, hurt by a higher tax rate.
Net income fell to $191.6 million, or 57 cents a share, from $203.8 million, or 60 cents, a year earlier, Pittsburgh-based Heinz said yesterday.
Sales increased 3.5 percent to $2.23 billion from $2.16 billion.
Government warns of Net attack
WASHINGTON » The government issued an alert yesterday to U.S. stock market and banking Web sites about a possible Internet attack from a radical Muslim group, but said the threat was unconfirmed and seemed to pose no immediate danger.
The notice was issued after officials saw a posting on a "Jihadist Web site" calling for an attack on American financial web sites in December, said Homeland Security Department spokesman Russ Knocke.
"There is no information to corroborate this aspirational threat," Knocke said.
The Web site calls for attacks against American economic sites in retaliation for Muslims being held at the U.S. prison at Guantanamo Bay, Cuba, which houses prisoners accused of ties to terrorism groups, said another government official.
---
BUSINESS PULSE