DRAWN & QUARTERED
It's a (weird) girl thing
Two anime series focus on the universal tribulations and triumphs of teenage life
Ah, the pitfalls of high school, especially for incoming freshmen. Having to navigate new classes, new teachers, new rivalries, jealousy and heightened awareness of the opposite sex, it's a wonder that anyone looks forward to the new school year at all.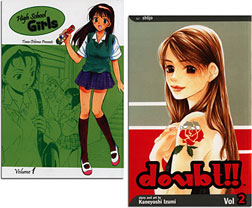 Of course, the rules change slightly if you're a high-spirited, stubborn, tough young woman who refuses to simply sit down and cry at everything that's flung at you as a newcomer to the established cliques.
Now, while standing up for oneself is a good thing, the heroines in these two manga series take it to an extreme that would probably spark a gang war anywhere else except in the comic world.
It's difficult to read either of these series without wanting to hit your head on the nearest hard surface in humor-tinged shock. I'm not sure what these manga tell us about what high school is like in Japan, but I'm glad I didn't go through what these girls did.
In "High School Girls" by Towa Oshima, friends Eriko Takahashi, Yuma Suzuki and Ayano Sato are headed to the all-girls Yamasaki Private Academy for high school after attending a public junior high school.
You can tell from the get-go that things are going to be interesting when in the first story, the three girls, led by the eager Eriko, sneak into the school wearing their new uniforms to spy on what the idealistic teen imagines as a bastion of beauty, grace and purity.
Eriko's fantastic vision of private-school girls is dashed when the trio peer into the swim team's room and find it a holy mess, complete with months-old food, piles of pubic hairs and the stench of mixed odors. In succeeding stories, even more of the peculiarities of going to an all-girls school are introduced, further eroding poor Eriko's fantasy.
The series continues with various trials of high school and teen-girl life, with almost everything from dieting to semester exams colored by sexually suggestive phrases that are in fact innocent -- at least for the most part.
While "High School Girls" gets raunchy at times, it's mostly girls getting comically erroneous ideas about sex or giving misguided advice about boys -- all ridiculous enough to make anyone from virgins to experienced whoopie-makers laugh and maybe even blush just a little.
Underneath it all is a subtle message: Parents, talk to your girls about sex so they don't get crazy ideas from friends, magazines or TV.
Perhaps the most frightening part of "High School Girls" is the part of the synopsis on the back of Volume One that says it's "based on the author's own real-life experience."
But it is that core of truth that, although combined with the usual comic exaggeration, makes the manga more natural than other teen series. Blunt discussions about subjects such as menstrual cycles and body hair remind me of similar talks and misconceptions I'd had in my teen years, and I'm sure other women would feel the same way.
It's also what makes "High School Girls" a bit disturbing as you realize that, yes, girls do certain things and girls do gossip in this fashion. Not that I have any illusions about the innocence of most girls, but the lengths they will go to to deal with these things might still come as a slight shock.
THE SEXUAL high jinks are toned down in "Doubt!!" by Kaneyoshi Izumi, with most of this manga's absurdity directed at girls' eternal obsession with their looks, but that doesn't keep the heroine from getting wild ideas about boys.
Here, junior high schooler Ai Maekawa is what is known as a "jimi," a plain and nerdy girl, with freckles, her hair in a messy ponytail and, well, less-than-sexy undergarments. Teased and bullied throughout, Ai completely makes herself over into a beauty and attends a different high school where none of her junior-high friends are around, and she quickly becomes the most popular girl.
Also just as quickly, Ai attracts the attention of the school's two most popular guys: stoic playboy Sô and Yuichirou, the former of which Ai is determined to make the her boyfriend and the latter of which earns her the enmity of Mina, who's had a crush on Yuichirou since grade school.
But tough Ai battles it out with Mina and wins, earning the girl's grudging friendship -- a delicate affair ready to disintegrate at the slightest sign of Ai going after Yuichirou.
Ai's main fear is of course that her new classmates will find out her jimi past. That exposé comes early, with a former junior high classmate threatening to reveal Ai's secret. But what should have been a critically embarrassing revelation instead is taken in stride by her classmates, who marvel at how beautiful Ai has now become.
Yet her classmates' acceptance doesn't make Ai herself any more willing to accept her past. She's still afraid of being seen as a jimi, and that fear unexpectedly gives her a backbone as she desperately works to keep up her image and uses any wiles to do so -- including using her rivals' own tactics against them.
While "Doubt" tries to send the message that true beauty comes from within, that moral is almost lost in Ai's superficiality. She takes almost every opportunity to remind herself that she's pretty and popular now and therefore will not stand any abuse or challenges to her position. It's a shallow reason for her strong drive that has a humorous irony to it.
The story gets better once things calm down and bits of Ai's honest, sweet personality are revealed. But these illuminating moments are still few and far between, as most stories start with Ai trying to figure out how best to protect what's hers -- and her plans often include making herself as gorgeous as she can be.
Eventually, the rivalry between Sô and Yuichirou over Ai comes to a head, potentially leading to the final breakup of the friendships between the boys and between Ai and Mina.
"Doubt" has completed its run of six volumes, while "High School Girls" is currently at six volumes, with book seven due out any day now. Also, according to the Web site Anime News Network, Media Blasters has confirmed an upcoming release of the "High School Girls" anime.