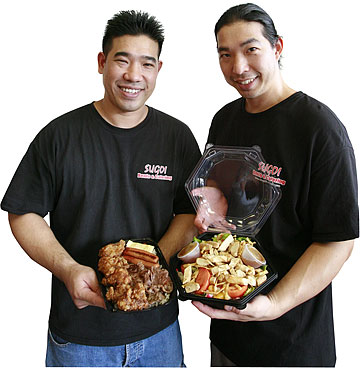 CINDY ELLEN RUSSELL / CRUSSELL@STARBULLETIN.COM
Brothers Zack, left, and Ron Lee display plate lunches from their restaurant, Sugoi Bento & Catering. "My auntie had all these cool recipes, and we thought it was the bomb," said Zack.
Sugoi: Garlic chicken and bentos
Inspired by their aunt's recipes, Zack and Ron Lee have turned Sugoi Bento & Catering into a popular eatery
The back kitchen area at Sugoi Bento & Catering in Kalihi is constantly busy -- with metal pots clanging, silver knives chopping, and food sizzling in industrial-sized woks.
Run by brothers Zack and Ron Lee, the six-year-old eatery at City Square Shopping Center on Kalani Street has proven that an aunt's home recipes can be transformed into profits. Among Sugoi's top-selling menu items from their aunt's recipe book are garlic chicken, mochiko chicken and sesame sauce.
Zack Lee, 32, is the owner of the restaurant, while his younger brother, Ron, 30, is the general manager.
Sugoi is a Japanese exclamation which translates into "awesome" or "wow."
"My auntie had all these cool recipes, and we thought it was the bomb," said Zack Lee. "But we didn't ever think we could turn it into a business."
According to Lee, the restaurant's name was inspired by his wife, who used to hear "Sugoi!" from Japanese visitors as a professional hula dancer aboard the Star of Honolulu.
Sugoi specializes in bento box lunches and plate lunches, along with Yakisoba noodles and homemade hamburger steaks. For those who want breakfast, a local-style offering of two eggs and rice, Portuguese sausage, spam, Loco Moco and the Sugoi wrap are available.
A catering menu, about 30 percent of the business, offers everything from short ribs to macaroni salad, fried rice, gobo, nishime, shrimp tempura, cone sushi and spam musubi.
They get along
HOME COOKING
Sugoi Bento & Catering:
» Address: City Square Shopping Center, 1286 Kalani St. B-106
» Telephone: 841-7984
>> Hours: Monday through Saturday, 8 a.m. to 7 p.m.; closed on Sunday
» Web site: www.sugoihawaii.com

Believe it or not, the two brothers -- both McKinley High School graduates who grew up in the neighborhood playing baseball -- say sibling rivalry isn't a problem.
"We get along," said Zack Lee, the more vocal of the two. "We always have."
Ron, who took courses at the culinary school at Kapiolani Community College, is happy working in the kitchen, while Zack inspects the boxes going out and talks to customers at the counter.
Since the restaurant opened in August 2000, its revenue has grown steadily. Over the past year, revenue doubled because the brothers decided to keep Sugoi open for dinner as well as breakfast and lunch.
Previous hours were only from 10 a.m. to 2 p.m. six days a week. Beginning in May, the restaurant extended its hours, which are now from 8 a.m. to 7 p.m. Monday through Saturday. It is closed on Sunday.
The brothers found that there was customer demand during the later hours, both from workers getting off at later hours as well as nearby residents. Zack estimates there are now about 400 customers per day.
"We should have done it earlier," he said. "But better late than never."
Another new offshoot of the restaurant business is the Sugoi sauce, now available in 16-ounce bottles at Wholesale Unlimited, Times Supermarket, Tamura's and Marukai. The sauces come in three flavors: spicy garlic, garlic, and sesame, and are also available online.
Zack said the idea for the bottled sauces came from Ron, who wondered if customers might want the spicy garlic flavor on steak or something besides chicken and ahi?
Lee said he tested the sauces out at the annual Made-In-Hawaii festival, and was surprised by the interest from buyers. The sauces -- now available at a Web site launched earlier this year at www.sugoihawaii.com -- should generate a 15 percent increase in sales next year.
How it all started
Neither brother had ever run a restaurant before, though younger brother Ron always knew he wanted to cook.
Older brother Zack had worked as a waiter at the now-closed KC Drive Inn at the top of Kapahulu Avenue, where he gained a valuable mentorship from its owner.
He was on the path to becoming a special education teacher. But when he wasn't able to enroll in core courses at the University of Hawaii at Manoa in time, he figured he had to do something productive with his spare time.
One day, while sitting over lunch with a friend, Ross Okuhara, the two decided, why not start a business?
The concept for Sugoi was born, and its home would be right in the hometown neighborhood for the two brothers.
"We were looking for a location with a lot of parking," said Lee. "This place was brand new."
Sugoi was one of the first tenants to move into City Square. Lee said they built out the space themselves, with two loans in hand, and an uncle who was hired to do the construction.
The downside was the cost, double what it would otherwise have been if the space already came with a kitchen. The upside was that they got to design their own kitchen.
In 2003, Zack Lee bought his partner out and became the sole owner of the restaurant. Okuhara went on to pursue other interests.
Lee did some remodeling, added more items to the menu and hired more staff. He keeps the menu fresh by adding something new at least once every three months.
Currently, there is a staff of 10, most of whom came to Sugoi through word of mouth or as friends of friends.
Lee says having good workers is one of the most important parts of running the business. Instead of spending dollars on advertising, he prefers to funnel them to the employees in bonuses. Once a year, he takes them all on a trip to Las Vegas.
The brothers plan to keep Sugoi at City Square because they like the location, which Lee says is a big draw for foodies.
Have they ever thought of opening a second location?
"Many times," said Zack Lee. "For the most part, though, there's just one of me and one of my brother... At our place, the cook really needs to be skilled in how many ingredients to throw in."
For now, the focus will be on improving the current restaurant and expanding the bottled sauce business.
Sugoi caters to a mostly local crowd, but does get mainland and Japanese visitors who saw Sugoi in a Japanese magazine, on the Food Network, or through former food critic Matthew Gray's Hole-in-The-Wall tour.
Gray has for two years featured Sugoi as one of the stock restaurants in his tour, which highlights the plate lunch as a popular local food. Some of the visitors on his tour taste their very first Spam musubi at Sugoi.