| | |
| --- | --- |
| | Newswatch |
---
Woman gets 10 years for counterfeit scheme
HILO » A woman who was a member of a counterfeit check ring on the Big Island has been sentenced to 10 years in prison.
Maggie A. Rodrigues, 29, of Puna was already on felony probation for shoplifting when she cashed the bogus checks at retail stores and financial institutions in late 2005.
As a result, her probation was revoked, and she was sentenced to five years for shoplifting and five years for multiple counts of theft and forgery.
Rodrigues, mother of five minor children, had asked Circuit Judge Glenn Hara for the sentences to run concurrently. But Hara denied the request Wednesday and ordered the sentences to run consecutively.
Rodrigues was involved with more than 10 other people in a scheme to defraud residents, retailers and financial institutions by creating and passing counterfeit checks, Hawaii County Prosecuting Attorney Jay Kimura said yesterday.
Tiger shark sighting closes Lahaina beach
WAILUKU » A 2-mile stretch of Lahaina beach was closed for two hours yesterday after a shark sighting.
The tiger shark, about 18 to 20 feet long, was first seen between 9:30 and 10 a.m. next to Mala Wharf, where it was eating a turtle weighing more than 200 pounds, said Archie Kalepa, a county ocean safety supervisor.
"It was tremendous," Kalepa said.
Kalepa said the shark was so big that some bystanders thought it was a great white.
He said some Lahaina residents reported having seen the shark outside the reef while they were paddling a canoe, but never inside the reef.
Shoreline areas from Hanakaoo Beach Park to Baby Beach were closed from 10 a.m. to noon yesterday after the shark was sighted along the coastline, a state official said.
| | |
| --- | --- |
| | Police, Fire, Courts |
---
HONOLULU


Police looking for suspected crystal meth trafficker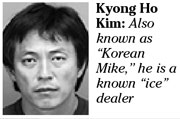 Police want the public's help to find Kyong Ho Kim, also known as "Korean Mike," who they said is a crystal methamphetamine dealer.
Kim is sought for a $300,000 state warrant for first-degree promoting dangerous drugs and third-degree promoting detrimental drugs.
Police said Kim, 38, is known in Waikiki for trafficking "ice" and has been jailed for other crimes. He has been seen in many Waikiki hotels, they said.
WAIKIKI


Police say man admits to sexual assault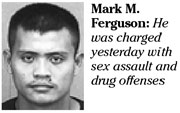 Authorities charged a 21-year-old man yesterday with sexually assaulting a 23-year-old woman in Waikiki on Saturday.
Mark M. Ferguson was arrested Tuesday on suspicion of first-degree sexual assault, and police say he admitted to the crime. Police said an unknown man approached the woman from behind between 3 and 3:15 a.m. last Saturday as she was unlocking her parked vehicle, police said. He then allegedly pushed her into the vehicle and sexually assaulted her, police said.
He was charged yesterday with first-degree sexual assault and drug offenses. Bail was set at $50,000.
Police officers catch three robbery suspects asleep on the beach
Police arrested three men who allegedly robbed another man in Waikiki and then went to sleep on the beach.
Police said the victim invited all three suspects to his hotel room at about 5 a.m. yesterday. At the hotel room, the 30-year-old victim was assaulted and robbed of his wallet, police said.
Police later found the suspects, 20, 28, and 27, sleeping on the beach and arrested them for investigation of second-degree robbery.
LEEWARD OAHU


Runaway girls found in stolen vehicle

Two teenage runaway girls were arrested Tuesday night after police stopped them for driving at night without lights on. Police said officers stopped the driver, a 15-year-old girl, and her companion, 16, on Farrington Highway in Waianae at about midnight. After running a check on the license, the officer found that the car had been stolen.

Police arrested the driver on suspicion of driving a stolen vehicle and driving without a license, police said. Both girls were arrested as runaways.
Off-duty officer nabs suspected car thief
Police arrested a 20-year-old woman who allegedly was driving a stolen car in Pearl City.
Police said an off-duty officer noticed the woman driving at about 9 a.m. yesterday in an area where stolen cars are abandoned.
The officer then learned that the car had been reported stolen. The officer detained the woman until on-duty officers arrived and arrested her for investigation of auto theft.
Man, 70, arrested in threats against family
Police arrested a 70-year-old Ewa Beach man who allegedly threatened family members with a knife.
Police said the man was drunk and upset at his 74-year-old wife and 37-year-old daughter at about 9:45 p.m. yesterday and threatened them.
Police arrested the man for investigation of first-degree terroristic threatening.
NEIGHBOR ISLANDS


Search for man swept out to sea continues

HILO » The Hawaii County Fire Department planned to resume a search today for a 19-year-old California man missing since yesterday morning after being pulled into the ocean by a large wave from a sea cliff south of Hilo.

A 22-year-old woman with him was pulled from the sea by a Fire Department rescue helicopter and taken to Hilo Medical Center for observation. Neither person's name was released.

The woman is the girlfriend of the missing man's brother, said Fire Department incident commander Ty Medeiros.

The victims were washed into the sea at about 8:30 a.m., Medeiros said. Bystanders threw a bodyboard to the woman, and she was able to stay away from the rocky shoreline and its 20-foot cliff, he said.

The man was caught in surf at the base of the cliff and was not seen again after he fell in.