---
FAST FACTS HAWAII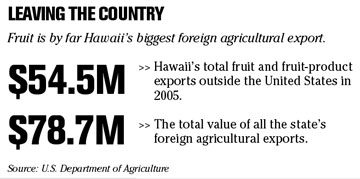 ---
NATION


Regulators approve CBRE acquisition

DALLAS »

CB Richard Ellis Group Inc.

, the world's largest commercial real estate services company, has been cleared by federal regulators to acquire rival

Trammell Crow Co.

for nearly $1.8 billion.

Dallas-based Trammell Crow announced yesterday that the final regulatory step was completed when the Federal Trade Commission approved early termination of a waiting period required under antitrust law. The deal is expected to close next month.

El Segundo, Calif.-based CB Richard Ellis agreed in October to buy Trammell Crow for about $1.79 billion, or $49.51 per share.

The deal would create a company with about $4.4 billion in annual revenue, more than 10 percent of the commercial real estate market, and let CB Richard Ellis tap Trammell Crow's list of blue-chip corporate clients.

Trammell Crow shareholders must still approve the deal at a special meeting Dec. 18.
Some stores sell out of Wii
Nintendo Co.
's Wii game console sold out in some U.S. stores as shoppers snapped up limited supplies in today's kickoff to the holiday shopping season.
Mary Beth Fanning, a homemaker from Medina, Ohio, left a GameStop store empty-handed after arriving an hour before the 7 a.m. opening. A dozen or so people were ahead of her, she said.
Nintendo, based in Kyoto, Japan, pledged to ship 4 million of the $250 Wii consoles by the end of the year and replenish supplies at a rate of 250,000 a week. That led stores including Toys "R" Us Inc. to express confidence they wouldn't disappoint shoppers. Some retailers took pre-orders, meaning customers didn't have to wait in lines when the consoles first went on sale on Nov. 19.
Sony Corp., Nintendo and Microsoft Corp., maker of the Xbox 360 game console, are vying for leadership in the $20 billion console market. Microsoft got the jump by coming out with the Xbox 360 last year.
Google settles with Belgian journalists over copyright
Google Inc.
, the world's most-used Internet search engine, reached a settlement with Belgian photographers and journalists in a copyright dispute over how the company's news service links to newspaper content.
The agreement removes two of five groups from a Brussels lawsuit that seeks to prevent Google from linking to Belgian newspaper articles for free. Company spokeswoman Jessica Powell declined to give the terms of the agreements with copyright agencies Sofam, which represents 3,700 photographers, and Scam, which represents journalists.
The settlements may show a willingness by Mountain View, Calif.-based Google to resolve disputes with content providers trying to prevent the company from linking to Web sites without compensation. Book publishers and authors in the U.S. are also challenging Google's plan to scan copyrighted books and make them searchable online.
WORLD


Oil prices rise after deadly attack

LONDON » Crude-oil prices rose yesterday after a deadly attack on an oil facility in Nigeria, and as the U.S. dollar weakened due to speculation of further interest rate hikes in Europe.

Light sweet crude for January delivery rose 66 cents to settle at $59.90 a barrel in electronic trading on the New York Mercantile Exchange.

Brent crude rose 68 cents to close at $60.03 on the ICE Futures exchange in London.

In other Nymex trading, heating oil ended 3.05 cents higher at $1.6970 per gallon, unleaded gasoline rose 1.02 cent to settle at $1.5990, and natural gas finished 23.8 cents higher at $7.956 per 1,000 cubic feet.
150-year-old scotch up for auction
A bottle of Scotch whisky that's about 150 years old may attract bidders willing to pay as much as $19,000, the auctioneers said.
The Glenavon Special Liqueur Whisky, bottled on Speyside in northeast Scotland some time between 1851 and 1858, may be the oldest bottle of Scotch in existence, according to Bonhams, which will auction it in London on Nov. 29. The bottle contains 14 fluid ounces, slightly more than a modern half-bottle.
"There is an increasing interest in old whisky," Richard Harvey, head of European wine at Bonhams, said yesterday. "We have had a lot of interest from Asia, particularly Japan. I think there will be a lot of telephone bidding."
Prices for Scotch malt whisky have risen. In September last year an anonymous Asian collector paid $75,100 for the last bottle of 1926 Macallan malt whisky, a record for a public auction.
Swedish truck maker rejects hostile takeover
STOCKHOLM, Sweden » Swedish truck maker
Scania AB
yesterday formally rejected a $13.3 billion hostile takeover bid by German rival
MAN AG
, saying talks had broken off between the companies.
The Scania board reiterated its position that MAN's bid "substantially undervalues" the Swedish company. The board also held out the possibility the company may reward shareholders with a dividend of $1.4 billion in 2007.
Scania also said the German truckmaker overstated the short-term benefits of the takeover while underestimating the long-term benefits of a combination.
---
BUSINESS PULSE