WEEKEND
Taking it outside
Clubs are still navigating how to get smokers in and out
WHEN HAWAII'S no-smoking law went into effect last week, it removed two of the final locations where smokers could light up with impunity.
Yea or nay
An informal poll of 21 smokers and 54 nonsmokers asked the question: "Are you in favor or against the new no-smoking law on Oahu?" Results:

» For: 48 people

» Against: 27 people
The only smoke you'll see in a Honolulu nightclub these days is from a smoke machine. And forget about having a cigarette with that cocktail; now you have to put the drink down and take it outside.
The law's backers call it a step forward, a decision that will save the lives of customers and co-workers. Opponents see it as overbearing, forcing change when the decision should be left to local business owners, not legislators.
AROUND 11 p.m. last Friday, it was business as usual in Chinatown. Indigo was celebrating its 12th anniversary on Nuuanu Avenue, and people crowded the sidewalk along Hotel Street in front of Bar 35 and NextDoor.
The only noticeable difference was a line of about a dozen people amid the passing pedestrians, all of them smoking cigarettes. So much for the 20-foot rule.
"I thought there would be a lot more people trying (to smoke inside)," said Sean, a doorman at Bar 35 who didn't want to give his last name. While he knew customers were breaking the law by standing on the sidewalk directly in front of him, it's a trade-off he was willing to make in order to help keep the peace inside.
"They've been pretty respectful, and will step out of the way of people passing," he said. "So far, it's been fine. But you know what the real test will be? First Friday."
At NextDoor, owner Chris Kahunahana seemed resigned to the idea of asking his customers to take their cigarettes outside. He said his staff was trained to follow the law.
"We're required to enforce it, so we're going to have to be proactive," he said. "But what I think would make more sense is that a venue could choose to be a smoking venue or a non-smoking venue, because then people could choose.
"Of course it's a good thing for people, but personally I'm a smoker, so it's gonna suck."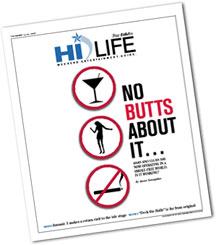 "WE'VE CREATED the buzz and public awareness we wanted to in order to inform people about this new law," said Julian Lipsher, state Health Department coordinator for tobacco control. "It's hard not to know about it."
Thanks to an intensive public relations campaign, most are aware that smoking is prohibited in almost all public places and that smokers must be at least 20 feet from building windows and entrances. The specific rules governing enforcement, however, won't be finalized for some time.
According to Lipsher, it could take six months to complete that process.
"In the six months since the governor signed this (law), we've gone out and done all these meetings with different sectors of the community," he said. "And we bring back these comments and concerns to incorporate into the drafting of the rules.
"The rule-making process is a deliberate process."
For the time being, the state will depend on individual business owners to ensure compliance. Despite rumors to the contrary, no "smoking police" will patrol local nightspots searching out nicotine fiends who light up in the wrong places. The process will be complaint-driven, with the state pursuing the most blatant offenders.
"This is not about prosecution or persecution," Lipsher said. "We will follow up on complaints that are made ... the establishment assumes some responsibility because they can get fined.
"And if there's multiple complaints, we will transmit those over to their licensing authority and ask that they consider that in the issuance or renewal of a license."
FOR SOME stand-alone nightclubs, front-door staff discovered that allowing customers to leave the premises to smoke caused problems.
Pipeline Cafe erected a holding pen of sorts for smokers right outside its front door. Close to 30 people were in the area shortly after midnight on Friday, with door staff struggling to deal with the usual long entrance lines while also keeping an eye on those coming out, to make sure no alcohol was leaving the club.
Inside, bouncers were told to give customers a warning the first time they were caught smoking. If caught again, they would be physically removed from the building.
At Zanzabar last weekend, those old enough to drink received stamps on their hands that allowed for re-entry, with smokers being told to walk all the way to curbside to light up. Smokers under 21 were charged a $10 cover every time they left and tried to come back in.
"The unders, once they come in, they gotta stay in," explained Zanzabar general manager Parson Iosua. "It's a security issue for us, so we use that rule to keep them from going outside to drink."
Smokers will just have to "rough it," he said. And although he is one himself, Iosua says he agrees with the new law and thinks the majority of his clientele does, too.
"I think it's a very positive thing," he said. "A lot of people knew a change was coming, and we haven't had any major problems."
BAR AND CLUB employees, like the general public, have different views on the new law. NextDoor bar manager Josh Hamm recently quit smoking after 15 years, and keeping smokers outside will help him avoid the cravings.
"It's really hard to quit if people are surrounding you with cigarette smoke all day long," said the 28-year-old Makiki resident. "But I think they should at least give the club owners a little bit more leeway than just saying yes or no to smoking, and I think it will especially affect the bar business.
"People are still gonna go out, but I think we'll see less liquor sales for the first year, until we find a balance or people find a way around it."
Michael "Mike D" Adachi, head DJ at Pipeline, has no plans to quit smoking. And as the person responsible for keeping the music going inside the club, it means he no longer has the ability to take a smoke break while he's at work.
"I have no option," he said. "Sure, we can take a five-minute break, but I can't go anywhere."
In order to abide by the law, Adachi would have to fight his way through the crowded club in order to get outside and smoke. It's a process that takes 10 to 15 minutes or more, depending on how many bodies are in his way.
"And even if I played a seven-minute song, I could only afford one or two puffs before I'd have to run back inside," he said. "I'm sure there's a lot of people who don't like second-hand smoke, and that's understandable. But nightclubs are a different element."
ONE ESTABLISHMENT that has benefited from the new law is Eastside Grill.
The Puck's Alley sports bar went smoke-free more than two years ago, and owner Robbie Acoba said more than a few customers took their business elsewhere. Now that the playing field has been leveled, so to speak, he's seeing old faces returning.
"What we're seeing is that now that everything is non-smoking, they're coming back," he said. "And going non-smoking brings in another kind of crowd, and everybody loves it.
"Don't get me wrong -- smokers have their rights, but now that's how it is."