| | |
| --- | --- |
| | Island Mele |
---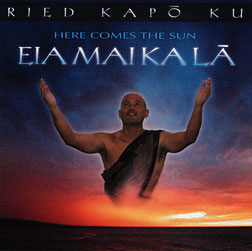 Eia Mai Ka La
Kapo Ku
(The Mountain Apple Company MACD 8582)
Ried Kapo Ku introduces himself as an imaginative contemporary hapa haole artist with this impressive collection of beautifully executed recordings. George Harrison's classic "Here Comes the Sun" provides the melody and the English lyrics for the title track; translations of the Hawaiian lyrics aren't provided but presumably echo Harrison's sentiments. An interesting assortment of stringed instruments combines with light reggae-style rhythms to give Ku's bilingual remake a distinctive sound, and the occasional use of electronic effects emphasizes key passages without overwhelming the acoustic instruments.
"In My Room," a hit for the Beach Boys in 1963, is repackaged with the addition of Hawaiian lyrics and the use of what sounds like iliili (Hawaiian percussive pebbles) in the rhythm section. Individual performance credits aren't included in the liner notes, but Ku and his musicians succeed again in creating an entirely fresh version of a Hot 100 classic.
"Ue O Muite," better known to American audiences as "Sukiyaki," the title that Capitol Records gave the U.S. release of Kyu Sakamoto's smooth pop version in 1963, is made over as acoustic Japanese reggae by Ku and co-producer Jim "Kimo" West. It, too, is a praiseworthy accomplishment.
Ku also distinguishes himself as a songwriter. His ability to blend Hawaiian and Western instruments while juxtaposing English and Hawaiian lyrics makes this album worth a careful listen.
---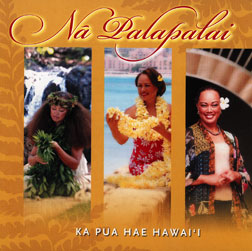 Ka Pua Hae Hawai'i
Na Palapalai
(Koops 2 Entertainment KPSE 1004)
Na Palapalai -- Kuana Torres, Keao Costa and Kehau Tamure -- and producer Shawn Kekoa Pimental took their sweet time finishing the trio's long-awaited new album, and -- no surprise here -- the wait was well worth it. The crisp falsetto harmonies that open "Hualalei" are all it takes to set the mood and sell the 15 songs that follow. "Hanohano Wailea," a contribution from Kihei de Silva, is a superb demonstration of their smooth three-part high harmonies, but although that song certainly stands out, traditionalists will enjoy every other song as well. There is no filler material here.
Aaron Sala (piano), Paul Kim (steel guitar), Shawn Ishimoto (guitar) and producer Pimental (guitar, bass, percussion and keyboards) provide instrumental support on several selections. Kim's steel guitar enhances the melody on "Ka Manu 'Ohala," and Sala's piano adds breadth to "Lei Kula Na Ali'i," to mention two examples.
Hawaiian speakers will find the lyrics to the new songs in the beautiful liner notes booklet. All others will need a Hawaiian dictionary and a lot of free time to acquire a rough idea of what these songs are about.
---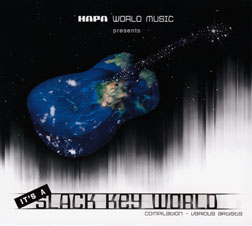 It's A Slack Key World
Hapa World Music Presents Various Artists
(Slack Key Records 001)
Barry Flanagan and Nathan Aweau take a half-step back from their public persona as HAPA and share the spotlight with other artists with this beautifully produced compilation. On some tracks they play together, on others as soloists. There are also collaborations with guest artists such as Gaylord Holomalia or Ernie Cruz Jr. , and several tracks where the duo steps aside entirely -- Imua Garza takes over on "Kaua'i Beauty," and it's Shawn Ishimoto soloing on "Kamalani O Keaukaha."
Aweau distinguishes himself as a vocalist on "Ka Ipo Lei Manu," and swaps the "slack-key" format for modern jazz with an impressive interpretation of "Your Smiling Face" on electric bass. Flanagan steps into the solo spotlight with a pair of instrumental gems -- "Nani Polipoli" and "Kalena Kai."
No information is provided about the slack-key tunings used here, but taken simply as music for music's sake, this is beautiful.
John Berger
, who has covered the local entertainment scene since 1972, writes reviews of recordings produced by Hawaii artists. See the Star-Bulletin's Today section on Fridays for the latest reviews. Reach John Berger at
jberger@starbulletin.com
.