Former DJ Gina-Lynn rounds up a radio reunion
FORMER HONOLULU radio personality
Gina Oda
flew in from the Big Island to celebrate her birthday last weekend, settling in for a night at Skybox that turned into a reunion of sorts.
For those who might not remember, Oda (known on-air as "Gina-Lynn") worked at KKHN-FM before the frequency flipped to what is now known as 102.7 Da Bomb. After leaving the islands in 1999, she spent a few years in California and Arizona before moving home with her husband, former KIKI-FM programming director Alan Oda. These days the two are retired from broadcasting and own an Allstate Insurance office in Hilo.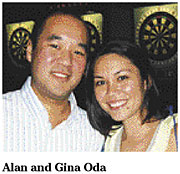 Former radio co-workers who stopped by to wish Oda a happy birthday on Saturday included Bruddah Bryan, Intern Cliff, Roland "RoRo" Corpuz, Cedric Duarte and Fred Rico. Childhood buddies Lessie DeRamos, Elki Duwel and Elton Perkins were there, as were sisters Kehau Abe and Kanani McCullen, Aloha Airlines flight attendant Lyn Correa and fellow birthday girl Geraldine Miguel. Here's to the only person who ever managed to coerce me into singing a rendition of Billy Ray Cyrus' "Achy Breaky Heart" (or anything else, for that matter) live on the radio ...
CONGRATS TO director Zac Heileson, who took home $1,000 and first place at the "Showdown in Chinatown Championship" on Nov. 11.
More than 30 short films were submitted to event organizer Torry Tukuafu, who selected a dozen to be screened at NextDoor as part of this year's Island Independent Film Festival. Unfortunately, the screenings started more than a half-hour late, and Tukuafu announced there would be an intermission after the first four films.
Since I had other stops to make that night, I missed Heileson's winning film, along with second-place finisher "You Don't Have to Leave," directed by Vince Keala Lucero and James Vanderpoel. And while I did see Chris Roher's "Half," I missed 3 Toad Team's "Iris," which tied with Roher's film for third place.
Good thing the Hawaii Film Office's Mynette Louie stuck it out, providing more detailed results via her online blog than what is currently posted on the official "Showdown in Chinatown" Web site ...
YOU'VE GOT a rare opportunity to spend some time in a nightclub with a Star-Bulletin columnist this weekend.
Nope, I'm not talking about myself -- it's really easy to kick it with me in Clubland, if you know where to look. But if you're a fan of Charley Memminger's column, "Honolulu Lite," make plans to be at Panama Hattie's Saturday for a stand-up performance and book signing that starts at 8 p.m.
Memminger will join comedian Bo Irvine on stage, then stick around to sign copies of his new book, "Hey Waiter, There's an Umbrella in My Drink!" Copies will be sold. Tickets are $15; call 531-4242 ...
WEEKEND PICKS: It's fight night in Iwilei on Friday, with "Punishment in Paradise: Champions Collide" going down at Dole Cannery. Kaleo Kwan will take on Dain Agbayani and Harris Sarimento faces off against John Visante Jr. in the evening's two main events. More than a dozen bouts are scheduled for the undercard, which starts at 6 p.m. ... Triple Deluxe debuts a new monthly, "O Snap," at the O Lounge on Friday ... Empire Est. celebrates its one-year anniversary with a party at Brew Moon on Saturday ... And Oahu LUV presents a farewell party for DJ Simple Greene during "Sanctuary" at Ong King on Saturday. He's moving to the mainland ...