---
FAST FACTS HAWAII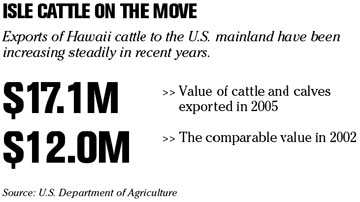 ---
[HAWAII INC.]
AWARDS
» World Floor Covering Association has named
Aaron Okamoto
of
American Carpet One
a certified flooring executive. This designation certifies the highest competency level of flooring industry professionals, and requires rigorous examination and specific industry educational training and work experience.
» Lacy E. Browne, a Realtor associate with Castle & Cooke Realty, has been awarded with the accredited buyer representative designation. The denomination is the benchmark of excellence in buyer representation.
» Hawaii Jewelers Association has named Tommy Kakesako as 2006 Jeweler of the Year for his example of excellence in service to his country and his trade. He was a distinguished veteran of the 442nd Regimental Combat Team during WWII. After the war, he opened Kakesako Brothers Jewelers on Alakea Street with his brother Kenneth. Kakesako helped to found the Hawaii Jewelers Association and has been a member since, also serving two terms as its president.
» The following real estate agents as having earned the certified residential specialist designation: Chrystal Ahn, Susan Onishi Andrade, Kobe Berrington, Susan Borochov, Charlotte Chang, Terry Craven, Karen Davidson, Howard Dinits, Robyn Fujimoto, Arla Harvey, Kevin M. Hornito, Frances Kuba, Nanny Lorberbaum, Sharon M. Madsen, Nancy Mallory, Luu Thi McCarty, Cynthia Morgan, Brad Nelson, Duane Nishimura, Joseph H. Pedeferri, Andrea J. Pfeil, Kelly Shaw, Robert G. Staples, Pat Strausse, Lynn T. Toma, Beverly Will, Debbie Wong, and Clara Yokoyama. The designation recognizes a person's professional accomplishments in both experience and education.
» The following real estate agents as having earned the certified real estate brokerage managers designation: Darcie Y. Kaneshiro, Winnie W. Lu, Joanne A. Matsuoka, Jane Stubenberg, Darrell M. Takanishi and Edmund Wong. The designation is awarded to those who demonstrate excellence in real estate brokerage management.
» The Golf Clubmakers Association has named Mike Moynahan of Kamaaina Clubmakers as one of the top 10 clubmakers of the year worldwide for 2006-2007. Moynahan's shop is in Upcountry Maui.
On vacation
Erika Engle is on vacation. TheBuzz will return on Tuesday.
WORLD
Ontario pension plan buys ports
HONG KONG » Ontario Teachers' Pension Plan, Canada's third-biggest retirement-fund manager, agreed to buy four container terminals in North America for $2.35 billion to benefit from rising demand for sea cargo shipments.
Ontario Teacher's Pension Plan will buy the terminals from Orient Overseas (International) Ltd., the Hong Kong-based company said in a statement filed to the Hong Kong Stock exchange today. The terminals are in New York, New Jersey and Vancouver, the statement said.
Financial companies and port operators are buying terminals, as rising exports from China and other Asian nations boost sea freight movements. About 90 percent of world trade moves by sea.
U.S. politicians have opposed the sale of container terminals in the country to some foreign companies, citing security concerns. United Arab Emirates-based DP World was forced to agree to sell six U.S. terminals it acquired as part of its takeover of Peninsular & Oriental Steam Navigation Co. in February for $6.8 billion.
Regal selling hotels to REIT
HONG KONG »
Regal Hotels International Holdings Ltd.
said today it will sell its five Hong Kong hotels for at least HK$14 billion ($1.8 billion) to a real estate investment trust it plans to list on the city's stock exchange.
Hong Kong-based Regal will gain at least HK$4.6 billion from the sale of the hotels, the company said in a statement to the stock exchange today. Regal plans to sell 50 percent of the property trust, which will be named Regal REIT, to the public in an initial public offering, the statement said.
The sale may offer investors a chance to tap a surge in tourism to Hong Kong, which expects a record 27 million visitors this year. It will be the first sale of a property trust backed by hotels in Hong Kong. Hotel occupancy in Hong Kong averaged 86 percent in the year's first nine months, up from 84 percent a year ago, the Hong Kong Tourism Board said last month.
EU says Microsoft meets deadline
BRUSSELS, Belgium » European Union regulators said
Microsoft Corp.
handed in information on time to meet a deadline yesterday about its Windows operating software that should help other software companies.
The data will now be tested to confirm that the company has finally complied with a 2004 antitrust ruling. EU spokesman Jonathan Todd said this would likely take "months rather than weeks."
The European Commission, which fined Microsoft 280.5 million euros ($357 million) in July for not providing the "complete and accurate" data to allow server software to interface with Windows.
Air France in talks with Alitalia
MILAN, Italy »
Air France-KLM
, Europe's biggest airline, said yesterday that it had begun talks that could eventually lead to the takeover of
Alitalia
, the Italian carrier.
Alitalia, which is half-owned by the Italian government, is actively looking for a partner. But analysts see any deal as uncertain as long as the company continues to lose money.
Alitalia has forecast that it will be profitable in the fourth quarter.
In recent years, Alitalia has continued to be affected by labor unrest and an inability to meet the challenge of rising fuel prices and competition from low-cost airlines like EasyJet and Ryanair.
Cell-phone TV seen catching on
STOCKHOLM, Sweden » Watching television on cell phones will be a mass phenomenon in 2008, Sweden's
LM Ericsson
predicted yesterday, saying the maker of telecommunications gear will work closely with Japan's
Sony Corp.
to develop new media solutions for wireless connections.
About one third of the world's cell-phone users will regularly be watching TV broadcasts on their handsets in two years, which will open up lucrative opportunities for content producers and carriers, said Per Nordlof, Ericsson's director of Product Strategy, at a joint press briefing with Sony in Stockholm.
---
BUSINESS PULSE