| | |
| --- | --- |
| | Newswatch |
---
Lions clubs love a parade (or 3)
Three Lions Clubs on Oahu will hold their annual Christmas parades this week, passing out thousands of pounds of treats. The Liliha-Palama Christmas Parade starts at 5:30 tomorrow from Liliha and Judd streets to Kohou Street. The Kalihi Children's Christmas Parade starts at 6:30 p.m. tomorrow from Kalihi Union Church on North King Street to the Kamehameha Shopping Center. And on Saturday the Hawaii Kai Holiday Parade on Lunalilo Home Road, from Kamiloiki Park to Koko Marina Center, starts at 10 a.m.
Kapiolani construction suspended for holidays
Beginning today, the city will suspend work on water and sewer construction on Kapiolani Boulevard throughout the holiday season.
"This is welcome news, especially for those who are expecting heavy seasonal traffic," Mayor Mufi Hannemann said.
The $32 million, two-year project, which involves replacing decades-old infrastructure, will resume after Jan. 12.
Traffic patterns that were in effect before the work began in September -- including full contra-flow lanes during morning and afternoon rush hours -- will commence again while work is suspended. That means a fourth lane will be coned off on Kapiolani between McCully and South streets for the morning and evening rush hours.
Bacterial threat eases in Ala Wai after spill
The city pulled warning signs yesterday about possible contamination at the Ala Wai Canal, after the state Department of Health indicated it had low levels of bacteria.
Up to 800 gallons of raw sewage were spilled into the canal Tuesday afternoon after the city attempted to switch from the cracked main line to the emergency bypass system.
The data from that morning before the spill actually had higher levels of bacteria than yesterday's data. Watson Okubo, monitoring and analysis section chief at the Clean Water Branch, attributed it to a slight rise in tide during the spill.
High surf is forecast for east-facing shores
Swimmers and beachgoers are warned about a high-surf advisory for east-facing shores on Oahu until 6 p.m. today, issued by the National Weather Service in Honolulu.
The Oahu Civil Defense Agency said a north-northeast swell and strong tradewinds could generate dangerous ocean conditions.
---
SHINING STARS
---
Kosasa named HMA physician of the year
Hawaii Medical Association presented its Physician of the Year Award to
Dr.
Thomas S. Kosasa
, medical director of the Pacific In Vitro Fertilization Institute, and professor and chief of reproductive endocrinology at the University of Hawaii's John A. Burns School of Medicine.
In line with celebrating its 150th anniversary, HMA also honored the following:
» President's Award: Dr. John S. Smith, who worked to establish the Tripler Orthopedic Residency Program and the Queen's Medical Center -- UH Residency Program.
» State Administrator of the Year: J.P. Schmidt, Hawaii state insurance commissioner.
» 2006 HMA Outstanding Legislators: Rep. Dennis Arakaki, House District 30; and Rep. Lynn Finnegan, House District 32.
» 2006 Print Media Reporter: Helen Altonn, Honolulu Star-Bulletin.
» 2006 Broadcast Media Reporter: news reporters at Hawaii Public Radio.
---
The Office of Hawaiian Affairs gave a $100,000 grant to the Ma'ili Land Transitional Housing Program to assist homeless families with children on the Waianae Coast. For more than 20 years the program has been one of two transitional housing programs that helps families transition to permanent housing and become self-sufficient.
---
"Shining Stars" runs Monday through Thursday.
| | |
| --- | --- |
| | Police, Fire, Courts |
---
Witnesses sought in woman's death
Police are looking for witnesses who might have seen Norla Kaleo a few days before her body was found Sunday in a drainage ditch near the Disabled American Veterans Hall on Nimitz Highway.
"When they found her, her body was badly decomposed," said Kim Buffett, coordinator of CrimeStoppers. The cause of death is still under investigation.
Police said Kaleo's family last spoke with her at about 9 p.m. last Thursday and reported her missing the same day.
"When they talked to her, she was disoriented. She was a little confused. She may have been wandering in the area," Buffett said.
Police found her body at about 2 p.m. on Sunday. Kaleo, 27, was 5 feet 5 inches tall, 300 pounds, with brown hair and eyes, and wearing gray shorts.
Kaleo's car, a white 2000 Ford Focus four-door sedan with license number JPY-489, was found abandoned on Nimitz Highway near Lagoon Drive.
Police are looking for witnesses who might have seen Kaleo or her car between last Thursday and Sunday.
Anyone with information is asked to call CrimeStoppers at 955-8300 or *CRIME from a cellular phone. Free cellular calls are provided by Cingular, Nextel Hawaii, T-Mobile and Verizon Wireless Hawaii.
ACCIDENT NEAR PUNAHOU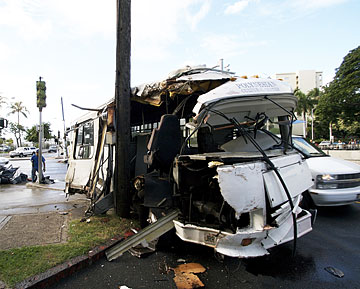 NEIGHBOR ISLANDS
Public urged to help find missing pair
Officials with the Kauai Police Department are asking for the public's help with finding two adults who have been missing for weeks.
Susan Scanlon, 54, of Koloa last made contact with friends on Nov. 6, and they are concerned about her welfare and safety, police said.
Scanlon is 5 feet 4 inches tall, 140 pounds, and has green eyes and shoulder-length brown hair. She has a fair complexion and a medium build.
California resident Clifford Culloden, 59, last contacted a family member in April. Culloden's parents are requesting that anyone who sees Culloden have him call home at 218-236-7674.
Culloden is 5 feet 9 inches tall, 150 pounds, and has blue eyes and white hair with a receding hairline. He also has a short beard and a mustache, a fair complexion and a medium build.
Anyone with information about Culloden or Scanlon is urged to call Kauai police at 241-1711.
HONOLULU
Wife stabbed husband in Halawa, police say
Police arrested a 25-year-old woman who allegedly stabbed her husband with a knife last night in Halawa Heights.
Officers responded to a residence on the 99-700 block of Nahiolea Street at about 6:20 p.m. and found the man, 20, suffering from a stab wound. An ambulance took him to the Queen's Medical Center in serious condition, police said.
The woman was arrested for suspicion of second-degree attempted murder.
Sobriety checkpoints set for holiday safety
Drivers should expect increased sobriety checkpoints on Oahu from today through New Year's Day to deter alcohol- and drug-impaired drivers, police said in a news release yesterday.
"HPD will be setting up checkpoints and continuing to step up anti-speeding operations to make the roads safer," said Chief Boisse Correa, adding that the public should call 911 to report dangerous driving.
Already, from Oct. 8 to Sept. 30, 2007, police are conducting at least one sobriety checkpoint every week at unannounced times and locations in partnership with the Hawaii Department of Transportation.
Twelve percent of the 76 fatal collisions this year were determined to be alcohol- or drug-related.
Officers chase, catch suspect in car break-in
Police arrested a 37-year-old man who was seen allegedly breaking into a car in Makiki early yesterday.
Police said officers went to Emerson and Green streets at about 2 a.m. after receiving an anonymous call about a man breaking into a vehicle.
When officers arrived, the man ran. Officers caught him after a short chase, police said, and arrested him for investigation of attempted auto theft.
Taxi passenger held after assault of driver
A 37-year-old man allegedly assaulted a taxicab driver early Tuesday, according to police.
The suspect was drunk when he got into the cab in town at about 1:20 a.m., police said.
When the cab reached its destination, the driver and customer argued outside the cab, and the suspect punched the cabbie twice, police said. The driver got back in the cab, and the man allegedly reached in and grabbed a piece of communication equipment from the driver and threw it in some bushes. Police arrested the man for investigation of third-degree assault and unauthorized entry of a motor vehicle.
Owner of stolen car spots it at Kalihi eatery
A man whose vehicle was stolen spotted the car Monday and called police who arrested a juvenile for suspicion of auto theft.
Police said a 20-year-old man was driving with a friend in Kalihi at about 8:15 p.m. Monday when he found his stolen car at a restaurant.
Police were called and arrested the juvenile who was in the car. Police did not provide further details. The suspect was later released pending investigation.
WAIKIKI
Suspect ID'd, arrested on allegation of rape
Police arrested a man in his late 20s Tuesday for allegedly raping a woman in Waikiki early Saturday.
Police said the man attacked the 23-year-old woman as she was getting into her car at about 3 a.m., raped her and then fled.
Police said the man was identified Tuesday and arrested at about 11:15 p.m. for investigation of first-degree sexual assault.
Alleged stickup man busted in park robbery
A 21-year-old man who allegedly robbed another man at gunpoint last week has been arrested, police reported.
Police said the suspect pointed a pistol at a 28-year-old man in a Waikiki park at about 7:55 p.m. on Nov. 14 and demanded money.
The suspect fled after getting some, police said.
Police arrested the suspect Tuesday for investigation of first-degree robbery.