---
FAST FACTS HAWAII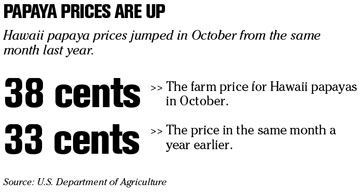 ---
HAWAII
Horizon Lines to boost Hawaii shipping rates
Horizon Lines LLC
will raise Hawaii shipping rates by an average of 3.3 percent and boost its terminal handling charges effective Jan. 1, following the lead of its larger competitor,
Matson Navigation Co.
The company said its costs have jumped by double digits in Hawaii and the West Coast. Horizon also is putting money back into its Hawaii service, including $9.5 million in facility improvements to accommodate five new ships coming into service in the spring.
From the mainland, per-container rates will increase by $100 for shipments from points served by truck, or $175 if by rail. Rates for shipments from Hawaii will also go up. Per container, shipments to port terminals or inland points served by truck will rise by $50, while containers needing rail transport will cost $125 more.
Horizon Lines also will increase terminal handling charges an additional $150 per container for shipments to Hawaii and $75 per container shipped from Hawaii. The increases will boost the terminal charge for westbound shipments to Hawaii to $475 and for eastbound containers from Hawaii to $240.
NATION
Star-Bulletin owner buys papers
SEATTLE » The King County Journal Newspapers are being sold to
Black Press Ltd.
, which publishes the Honolulu Star-Bulletin and owns more than 100 community publications in western Canada and the United States, both sides announced yesterday.
Peter Horvitz, president of Horvitz Newspapers Inc., which owns the King County papers, and David Black, president of Canada's Black Press Ltd., jointly announced the purchase agreement in a faxed statement.
The sale is expected to close at the end of the month. No terms were announced.
King County Journal Newspapers publishes the daily King County Journal, the weekly Mercer Island Reporter and Snoqualmie Valley Record and the monthly Snoqualmie Valley Living. It also publishes nine community newspapers produced twice a month.
Black Press Ltd.'s Sound Publishing subsidiary also bought the Akron Beacon Journal in Ohio earlier this year.
Monster fires its top lawyer
Monster Worldwide Inc.
, owner of the most-used online job list, fired general counsel Myron Olesnyckyj amid a probe into whether executives manipulated the dates on option grants.
Olesnyckyj, 45 and suspended from his job Sept. 16, was dismissed for cause, the New York-based company said yesterday. Monster cofounder Andrew McKelvey quit the board last month after refusing to cooperate with the company's inquiry.
Paul Allen selling part of DreamWorks stake
Paul Allen, the billionaire
Microsoft Corp.
co-founder, raised $224 million by selling 28 percent of his stake in
DreamWorks Animation SKG Inc.
Allen, a DreamWorks Animation director, sold 8.45 million shares at $26.53 each, according to a filing yesterday with the Securities and Exchange Commission. Allen, the company's largest shareholder, will still own 21.7 million DreamWorks Animation shares worth $636 million.
Allen was an early investor in DreamWorks with director Steven Spielberg, music producer David Geffen and animation studio chief Jeffrey Katzenberg. The studio spun off its animation operation in 2004 and sold its live-action unit to Viacom Inc. in February.
While Allen sold shares, Spielberg, Geffen and Katzenberg each bought $10 million worth of DreamWorks stock this week, according to SEC filings.
---
BUSINESS PULSE