| | |
| --- | --- |
| | Newswatch |
---
PEDALING PAST THE METAL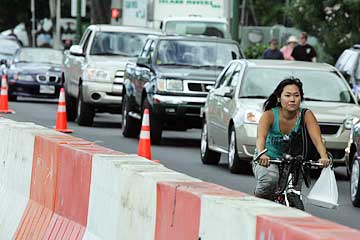 False alarms reported of Civil Defense siren
Two Civil Defense sirens sounded yesterday, but not for an emergency.
The Oahu Civil Defense Agency is looking into what may have triggered the false alarms.
The first occurred at 12:35 p.m., and calls poured into the Civil Defense Office and 911, the agency said in a news release.
Most of the calls were from East Honolulu, although reports from Waikiki and Kapahulu were also received.
A second siren in the Diamond Head area then sounded about 1:10 p.m.
Harold Buckle, Oahu Civil Defense Agency spokesman, said it is possible other sirens were triggered. That is being investigated.
Man, 43, indicted in teen seduction online
An Oahu grand jury returned an indictment against an accountant accused of enticing a 15-year-old girl over the Internet to have sex with him.
Brian Y. Uejo, 43, is the second to be prosecuted under a new state law that increases the punishment for first-degree electronic enticement of a child to at least a year in jail.
Uejo, who went by "elusive632002," was arrested last week outside the McCully-Moiliili Public Library, where he allegedly arranged to meet the girl. He remains in custody in lieu of $20,000 bail.
Earlier this year, a grand jury returned an identical indictment against a Maui businessman who arranged to fly a 15-year-old girl from Honolulu to have sex with him. Robert McKnight Jr. is expected to go to trial in January.
Maryknoll School plans blood drive
Students at Maryknoll School will host a blood drive from 8:30 a.m. to 2 p.m. Dec. 4 in the school library, 1402 Punahou St.
Refreshments will be provided to all participants.
Doc sets talk on vegetarianism
"Choosing Vegetarian: A How-To Guide for Eating Healthier" will be discussed by Dr. Michael Greger, a general practitioner specializing in clinical nutrition and a founder of the American College of Lifestyle Medicine, at 7 p.m. Dec. 9 at McCoy Pavilion, Ala Moana Beach Park. Greger is the author of "Carbophobia: The Scary Truth Behind America's Low Carb Craze" and "Bird Flu: A Virus of Our Own Hatching." For more information, call 944-8344 or visit www.VSH.org.
---
SHINING STARS
---
Okumura fund aids mentoring project
The
Okumura Family Fund
of the Hawaii Community Foundation awarded $5,000 to
Big Brothers Big Sisters of Honolulu
to fund the Construction Academy Mentoring Project at Waipahu High School.
---
Actus Lend Lease employees will volunteer as big brothers and sisters to students of Waipahu who are enrolled in Honolulu Community College's Construction Academy. Mentors for the after-school program will come from Actus construction and project management offices at Hickam Air Force Base and Schofield Barracks.
---
Pacific Resources for Education and Learning announced the award of two major five-year grants, totaling more than $850,000 in the first year, from the U.S. Department of Education to the Parental Information and Resource Centers. The centers are in the Federated States of Micronesia, and the Republic of the Marshall Islands.
The centers work to establish strong partnerships between parents and schools, help parents with child rearing, and ensure that children are well-prepared to begin school.
Pacific Resources is on Oahu and is one of 10 Regional Educational Laboratories in the United States funded by the U.S. education department.
---
"Shining Stars" runs Monday through Thursday.
| | |
| --- | --- |
| | Police, Fire, Courts |
---
CENTRAL OAHU
Robber sought in attack at gas station
Police are looking for a man who robbed another man at a Wahiawa gas station early yesterday.
Police said a 23-year-old man got out of his car at the gas station at Kamehameha Highway and Kilani Avenue about 1 a.m. when he was approached by another man wielding a knife.
The suspect demanded the victim's wallet and cell phone and then fled on foot, police said.
He is described as in his early 20s, 5-foot-10 and 240 pounds. He had straight black hair, a mustache, a blue short-sleeve jersey and dark shorts.
HONOLULU
Pedestrian, 45, injured by car in Salt Lake
A 45-year-old Salt Lake man is in critical condition after being hit by a car Monday night.
Police said the man was crossing Ala Ilima at the Ala Lilikoi intersection in Salt Lake about 9:15 p.m. when he was hit by a car traveling north on Ala Lilikoi.
The man was in a crosswalk but crossing against the light, police said.
He suffered head and leg injuries when he was hit and dragged by the 1993 Maroon Ford Aerostar Van driven by a 44-year-old Salt Lake woman, police said.
He was taken to the Queen's Medical Center.
Man, 20, charged in sexual assault on teen
Police charged a 20-year-old homeless man yesterday for allegedly sexually assaulting a 14-year-old girl at Kahala Mall.
Preston-Paul Afong was charged with third-degree sexual assault for allegedly touching the girl inappropriately at Kahala Mall at 5:30 p.m. Tuesday.
The girl reported the assault to police and identified Afong, police said.
Afong was arrested. He was charged yesterday, and bail was set at $15,000.
Teenager from Idaho reunited with family
A teenage girl visiting from Idaho was found unhurt early today, police said.
Meriah Flores, 13, was reunited with her family just after midnight. She was reported missing after leaving the Ilikai Hotel in Waikiki at about 1:30 p.m. Friday.