---
FAST FACTS HAWAII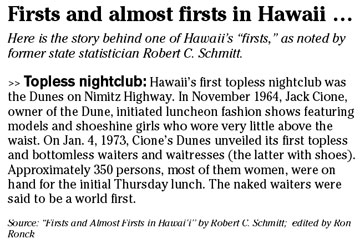 ---
NATION


Keep your guard up against identity theft

Tis the season for identity theft. As the holiday shopping season gets into full swing, identity thieves have more opportunities to scam consumers.

"This time of year should be filled with festivity and celebration, but sadly, retailers aren't the only ones busy during the holidays," said Kirk Herath, chief privacy officer at Nationwide. "Identity thieves see prime opportunities for stealing and using financial information as consumers make more trips to the mall and spend more online."

Herath offers the following tips to foil their plans:

» Look over your shoulder: Thieves often grab credit card numbers or personal information while customers wait in long checkout lines. Shield your wallet from wandering eyes and watch for techie thieves using camera phones to snap pictures of your credit cards.
» Check out the checkout clerk: Thieves behind the register can run a card through an unauthorized, second machine to scan personal information, a practice called "skimming." Try to pay with cash whenever you can. If you're using a card, watch the clerk closely and double check your statements for counterfeit charges.
» Online vigilance: Don't give out your Social Security number to any Internet retailer. No legitimate business would ask for the information. Also, don't trust e-mails asking you to update billing information via a link.
Military educated about car buying
Military service members feel more comfortable with auto financing than the general population, a recent study showed.
Three-quarters of retired or active service members said they feel informed about vehicle financing, compared to 58 percent of general consumers.
Americans Well-informed on Automobile Retailing Economics, a nonprofit specializing in auto financing education, sponsored the study and polled 3,806 Americans, including 200 retired and active service members.
Military members are more likely to read up on financing than the average American. More than one-third said they spent three hours researching the subject, while just over one-quarter of general consumers did. However, 70 percent of service members would like more information from the vehicle financing industry.
"It's extremely encouraging to see that military service men and women exhibit the same level of discipline when planning for a major purchase as they do in their jobs," said Eric Hoffman of AWARE.
Standing in line goes to end of line
The holiday shopping season undoubtedly means overstuffed carts in long, winding checkout lines. Where would you rather be?
According to a survey from Visa USA, 42 percent of customers would eagerly swap cleaning their bathroom for standing in line, and one in five would rather wait in traffic than wait in line. Eighteen percent prefer going to the dentist, whereas 12 percent would choose to be stuck in an elevator.
To make time tick by while waiting, 45 percent watched people pass by, while 44 percent read or listened to music. Nearly three in 10 made new friends, and 19 percent made a date. Nearly one-quarter added more items to their shopping cart, but 32 percent left without buying a thing.
The number one pet peeve for those waiting in line are customers who dig for change, pay with large bills or write a check. Most customers think the fastest payment methods are debit or credit cards and cash.
Visa polled 1,000 consumers waiting in lines in New York City.
---
BUSINESS PULSE