Vietnam: Beautiful contrasts amid controlled chaos
Tourists can fill their trip with unique and affordable moments
The wise tourist gets the most out of Vietnam by diving right into the best and wackiest parts of Vietnamese life.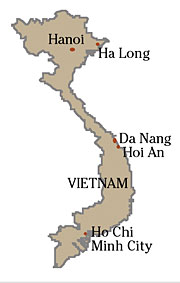 Have a $4 hair wash and blow-dry at Binh's Salon on Xuan Dieu Street in Hanoi, or ask for a gin and tonic while get your hair styled at VuDoo Salon on the city's Cao Bat Quat Street.
Don't be put off by motorbikers seemingly intent on running you down, the Cao Dai people who include Joan of Arc and Shakespeare among their prophets, or the Dzao women who shave their heads and eyebrows.
Instead, consider it destiny when you walk into Hanoi's leading restaurant, Bobby Chinn, and discover that the owner's grandparents lived on St. Louis Heights. And that Donald Berger, owner of the popular Vine restaurant in the capital city, was once the chef at the Mauna Kea Beach Hotel.
Struggle with the math of a money comprised of 16,000 dongs to the dollar, and don't say no to that dinner of Praying Mantis Prawn, Deep Fried Squid Balls and Steamed Fish with the Five Tastes. It costs about 50,000 dongs with a beer thrown in.
Here's my guide to some great moments in Vietnam:
Sapa
Sapa is terraced, mile-high country in the far north on the Chinese border. The Chinese invaded in 1979 and briefly occupied Sapa and Lao Cai before being thrown back by the same kind of Vietnamese artillery that beat the French at Dien Bien Phu and the Americans at Khe Sahn.
There's no airport, so your option short of a hellish drive is an overnight train ride from Hanoi. You can get an ordinary sleeper for cheap, but a combination of narrow-gauge track and old cars that jump and sway will likely keep you awake. If you book yourself into the Victoria Sapa Hotel (about $120 a night with a great breakfast), you can also book on the better-quality Victoria Express sleepers at $120 round-trip per person.
Spend at least two days here. If you arrive at the Lao Cai train terminal on a Sunday morning, rent a driver and go first to the Bac Ha town market. It's a photographer's dream and so much better than the one in Sapa.
The Victoria and the Royal both have excellent travel desks to help you with treks or car trips to many minority villages. The largest groups here are the Hmong, the Muong, the Dzao and the Thai, who are accustomed to tourists photographing them.
Sapa is loaded with restaurants. Everybody loves Baguette & Chocolat for lunch, and I think my best dinner was in the Victoria. Dinner for three with 10 percent tax and 5 percent service charge was $114. Serious beer drinkers head for the Red Dragon Pub downtown.
It snows in Sapa in winter, and rain and fog are not unusual any time, so bring a raincoat, rain hat, umbrella and sturdy shoes.
Exotissimo Travel books the Victoria Hotel and train at www.exotissimo.com.
Ha Long Bay
Everybody going to Vietnam needs at least two full days afloat on Ha Long Bay, one of the great natural wonders of our planet. It's a truly breathtaking waterway with towering limestone spires. It's like a dream.
The bummer is that the bus drive each way from Hanoi is about 3 1/2 hours. And the factories along the route are truly atrocious.
But, endure you must in order to board one of the junks to Neverland. Many upper-income tourists like the upper-end Emeraude, which is practically a cruise ship in comparison with the junks. But it does not have a kayaking permit. So we went with our Hanoi-resident daughter's choice, the Dragon's Pearl, for two nights and three days. The rooms are very small, and you shower while standing at the bathroom sink, so the floor gets awfully wet. But you get the feel of an old Chinese junk, the passenger list is small and the food is terrific.
Price for two with kayaking was $189, transportation from Hanoi included.
Ha Long Bay is a UNESCO World Heritage site, but the town is not and the Vietnamese are ruining it by adding gaudy hotels and new construction on the waterfront. That's a shame. Close your eyes until you get on the boat and head into the bay. Then prepared to be stunned.
Book a Ha Long cruise through the agency Handspan at www.handspan.com.
Hanoi
Some people like Hanoi and others do not. My wife has always been more of a Saigon person. I agree that Hanoi's traffic is chaotic and the architecture aside from the old French buildings is an eyesore, but I've always appreciated the city's many lakes and tree-lined streets.
Chic stores, such as Ipa Nima, Three Trees and Things of Substance exist for tourists, and the cost of women's clothing and handbags made here is embarrassingly cheap because of low labor costs. In the Nha Tho shopping area, you'll find embroidered handbags, silk, lacquer, scarves and, of course, Vietnamese flag shirts. La Casa carries high-end decorative items at low-end prices. Hanoi Moments is known for ceramics.
American Mark Rapoport's 54 People Atelier is where you find unique items culled from minority villages around the country.
You only live once, so splurge and stay at the Sofitel Metropole Hanoi. It's been there under various management operations since 1901, is the class act and is famous for its $8 chocolate buffet. The cost is $279 plus tax a night through March 2007.
For the serious tourist, the best ticket in town (2,000 dongs) is to the new Ethnology Museum.
Hanoi's culinary development hasn't been as progressive as Saigon, but it's getting there. I've mentioned Bobby Chinn and Vine, two restaurants favored by diplomats and swanky residents. But you must try Quang An Ngon, an outdoor area where the food is set up in what resembles vendor carts. The Emperor has a courtyard setting and is a bit pricey, but my daughter swears by it if you can get a balcony seat.
One of my favorites is Hoa Sua on Ha Hoi Street, a restaurant in an old villa which trains street kids for the restaurant business.
And don't forget those hairdressers I mentioned at the top of this article!
Hoi An
Hoi An used to be quiet, unhurried and unknown when I took my first tour group there. Now it's on the regular tourist run just south of Da Nang and a stop for every tour group heading along the coastal corridor.
Its Chinese and Japanese architecture date to its trading heyday of the 1700s. The streets are so narrow that cars are banned. But nobody thought to ban motorcycles and motorbikes, which make walking a nightmare and create a din that lasts most of the day.
Still, people keep coming because of the tailors and shoemakers who can make you almost anything overnight. Bring a magazine photo of some designer dress and they'll crank that out overnight, too. My wife purchased a silk kimono fitted and hand-embroidered with a custom dragon with red eyes. Cost: $17. She got a pair of shoes made for $9. Alas, when they were delivered just as we were leaving, they were too big.
We stayed in the Hung Vinh No. 1 Hotel to be downtown. For a daily rate of $40, the room was claustrophobically small, there were iron bars on its one window and we had the feeling we'd never get out if there were a fire.
To get to Hoi An, fly into Da Nang and hire a driver, for about $10, to take you about 45 minutes south. New, excellent resorts await near the river just outside of town. The town's restaurants are big on well-prepared seafood dishes, with dinner seldom costing more than $3.
Did I mention beer? Well, Vietnam's is as good as anybody's. Hanoi, Halida, Tiger and Larue are the best brands. The old Beer 33, now called 333, has gone way downhill since the war years.
Saigon
The classiest bar in town, on the ninth floor of the Caravelle Hotel, is called the Saigon Saigon Bar, so I see no need to call the place Ho Chi Minh City.
Saigon is where anything goes. Communism never got a grip here. It's become a high-rise city you can see from miles away. But, by golly, they've managed to regulate traffic.
The shopping's fantastic along Dong Khoi Street, but much more expensive than in Hanoi. Saigon is more expensive, period.
My old landlord's house and shop are still there, but under new ownership. He had fled the north after the communist takeover in 1954. When the communists came into Saigon, they took his property and gave him a worthless chit for it. He and his children now live in America. They had to start over with nothing but a suitcase of clothes.
Our housekeeper from my NBC correspondent days still lives there. She's 83 and not doing well. Vietnam's communism only seems to guarantee free health care and other benefits to insiders and war heroes. The workers in my hotel said they fend for themselves. So do my old housekeeper and her sister. You pay for school now, too. And corruption is epidemic.
I stayed at the new Park Hyatt Hotel; the rack rate is $220 without breakfast. There's not much available in a top-flight hotel under $200, but if you can handle the Pham Ngu Lao backpacker district near the Central Market, there are clean rooms to be found for $12 a night.
Restaurants? They abound, but you should put Indochine and the Temple Club on your "must" list. One is in a garden villa, and the latter is in a brick building that feels like a private club.
Breakfast the first day should be at Givral's, a city landmark across from the Continental Hotel. Have the pâté chaude and frozen coconut ice cream in a coconut shell.
---
Bob Jones is a MidWeek columnist. He has been a regular visitor to Vietnam as a reporter or tour leader since 1964.